#auction #artinvestment #lisbon
1 Fevevereiro a 24 Fevevereiro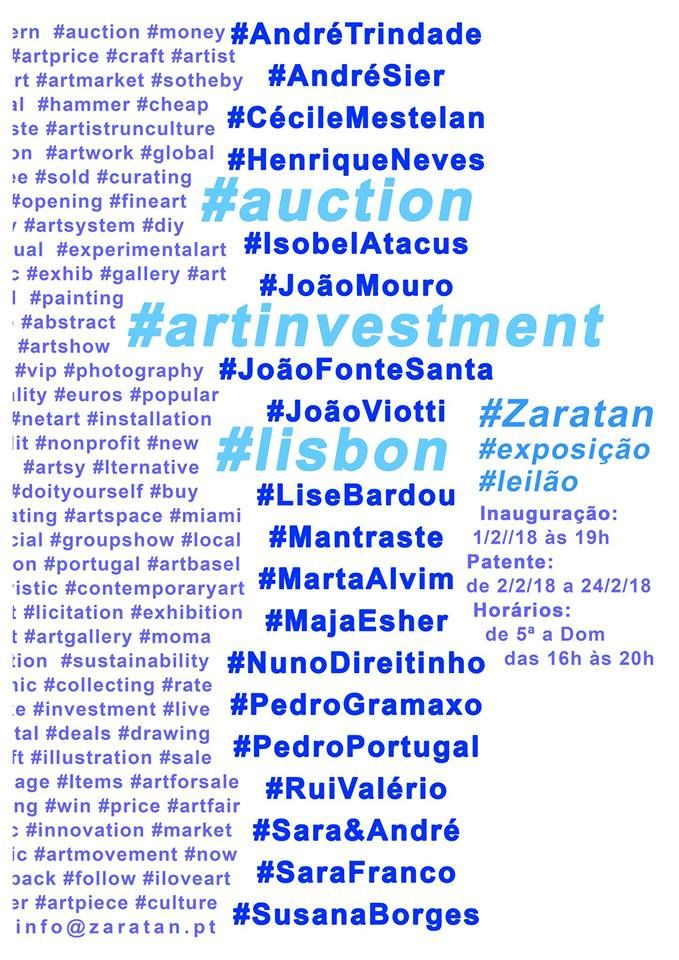 #auction #artinvestment #lisbon



Auction-exhibition
With: André Sier, André Trindade, Cécile Mestelan, Henrique Neves, Isobel Atacus, João Mouro, João Fonte Santa, João Viotti, Lise Bardou, Mantraste, Marta Alvim, Maja Esher, Nuno Direitinho, Pedro Gramaxo, Pedro Portugal, Rui Valério, Sara & André, Sara Franco, Susana Borges
#auction #artinvestment #lisbon is structured as an auction-exhibition. It aims to originate a micro-investigation about the value of an artwork, starting from a peripheral position in relation to the market
The contemporary art system is articulated in structures and circuits of production, circulation, sale and valorization, in which various actors play different roles of synergy or antagonism.
By mocking the structure of the auction [as a market institution characterized by an explicit set of rules] Zaratan [as an independent art space] seeks to test possible alternative ways to enter into the world of so-called commercial art, but always presenting experimental and challenging work without bending to market trends or concerns.
Moreover, the analysis of the connection between the aesthetic value and the economic value of an artwork is crucial to understand the general meaning of artistic production as a peculiar phenomenon of the culture or subculture in which we live.
The value of a work of art, considered only from the point of view of the one who loves it, possesses it or wants to possess it, is immeasurable. As the aesthetic value can not be completely objectified or quantified, a work has value as long as it can be publicly appreciated, that is, it needs a public space where the evaluations of forms can happen.
The institutional art channels - museums, galleries, foundations - used to provide this function, and they do so to some extent, when they are not corrupted by individuals who manipulate art only as an investment. The current money system has made many of the great institutions of public culture into a circus of promotion and commercialization, forgetting the importance of the connection between public and artistic creativity.
Responding to the absence of alternative modes of cultural production and sustainability, Zaratan intends to become this space for discussion and to involve the collective participation in order to instigate a public debate on the valuation of contemporary aesthetic production, using the format of an aucton.
Auction rules:
- To participate in the auction it is necessary to appear in person at Zaratan - Arte Contemporânea, to deliver a bid in a sealed envelope.
- Win the participants who have made the best bids, as long as the minimum price has been reached.
- The participant becomes aware of the minimum value of the pieces only when the auction is closed, at the end of the exhibition, when the envelopes are all officially opened in a public event.
-Auctions are held from 1 February, from 7 pm, until February 24, until 7 pm.
- For more informations: info@zaratan.pt