Verme + Subasement | Chain Split Tape (Vol. 1)
12 Março 2016 19h00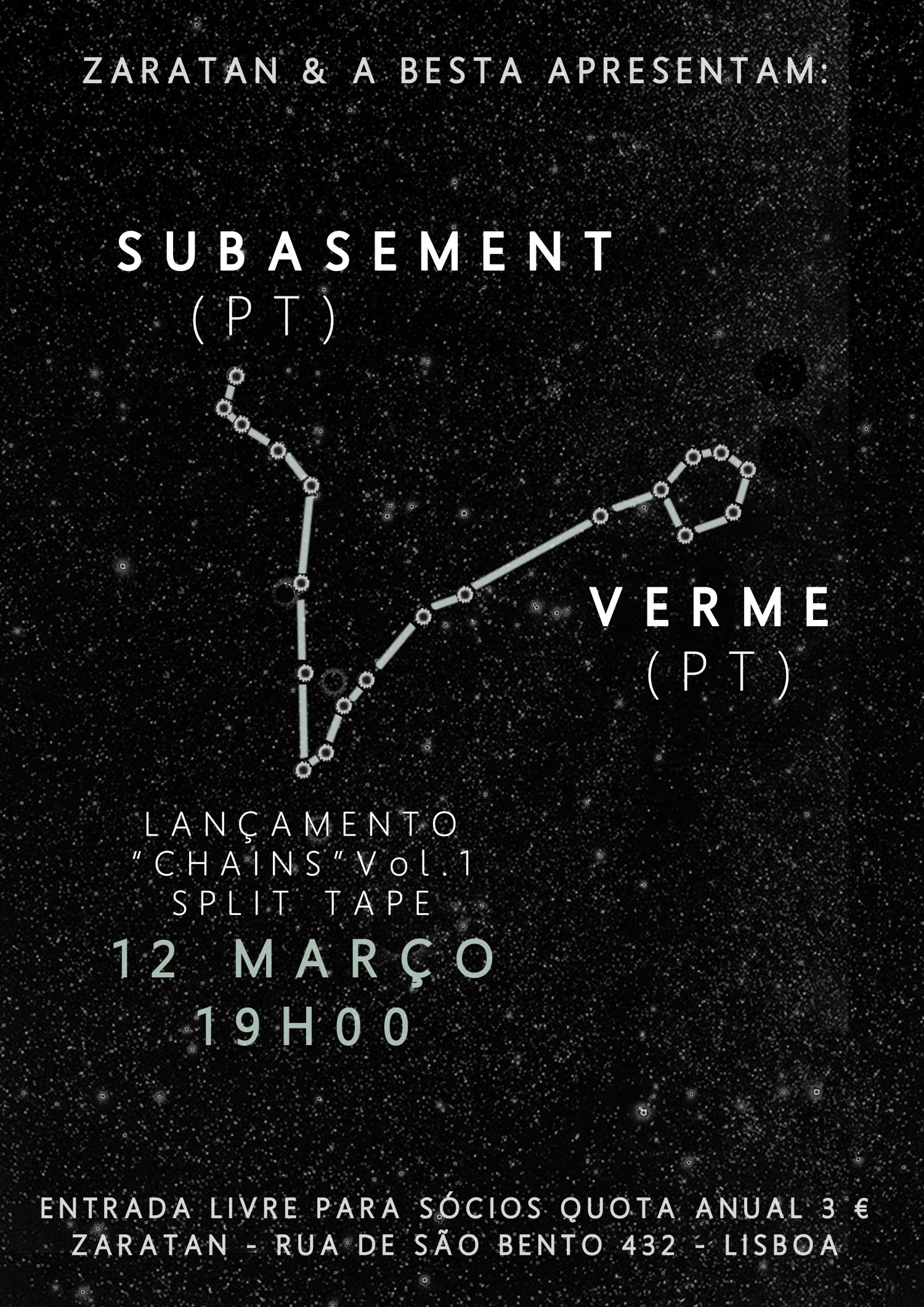 VERME (side A) + SUBASEMENT (side B)Concerts and release of "Chain Split Tape", Volume 1
On the 12th of March, at 7pm,
Zaratan - Arte Contemporânea
and
A Besta
presents two concerts by
Verme
(pt) and
Subasement
(pt), to celebrate the release of the first volume of "Chains", a series of split tapes edited by a Besta.
Continuing the research of Zaratan, in the crossing between music and visual arts, the concerts organized in collaboration with the a Besta include the production of a graphic edition, printed in risography by Stolen Prints. We invited the visual artist, illustrator and designer Mantraste to create two risographies, inspired by the sounds of Verme and Subasement. The artworks are printed in a limited edition of 25 copies, signed and numbered. They are for sale on the same day for 5 euros and at Zaratan's Espaço Múltiplo later.
From the connections that appear through the schizophrenic arising of names, projects and ideas within the collective a Besta, "Chains Split Tape" has born. Edited on a 90 minutes K7, they are split 45 for each artist / band / project. Chained to the same tape, each side is an independent album, but also means a future connection between these projects, throughout concerts and new creations. From this strong and noisy waterfall, new projects will spring up to fit into new volumes.
The first volume of "Chains Split Tape" brings the first album of two recent projects in terms of their active presence in a Besta. The side A, with Linhas by Verme, mark the end of a one year experience (2015) sequencing and programming with LMMS (Linux Making Music Studio), in places as everyday as expected (train, bus and stops). After an insistent processing, recycling samples, arose the guidelines for a project that presents itself rarefied and multiple.Subasement with Exobase, in the side B, is the summary of a recording, programming and mixing work, initiated in 2013 by Tiago Eira. The escapism of Exobase takes us on a journey between different worlds of a parallel universe, on a ship powered by slow rhythms, much in need to be repaired.
BIOS:Subasement
Born from the desire to learn the constant urban run through the sounds that roam between trip-hop and downtempo. It is the electronic incarnation of Tiago Eira (a-nimal) in the production and control of the machines, looking to make real this will. Emerge from the sub-soil of a Besta, as another example of the existing variety within this collective. Apart from that, the will and run, it remains the sounds in the form of walls in a house without a roof. Silence echoes like bricks. No windows.

Verme
Although refer, generally, to a group of long and soft animal, Verme is a bodythat has a coated shell. Verme is the melting of times, of digital signals, of samples derived from analog signals, of the furious beats. What undermines and corrodes. Downtempo, idm, trip-hop, noise, drone, loop. Veme is a name, a predicative of the subject, or a mask. Joao Sousa (a-nimal, deslize, o poema (a)corda) explores open source software, different techniques of digital music and the manipulation of real-time loops with different common tools.

Mantraste

Born in 1988 in Caldas da Rainha, in 2009 he attended the course in illustration ESAD.cr, where he ended up graduating in Graphic Design in 2013. It is a nature lover and passionated about popular mysticism. He was one of the winners for Sardines at the Festas de Lisboa in 2011, and distinguished by the magazine "Sábado", as the author of the best illustration and design cover in 2015. Now he works as a graphic designer and illustrator for clients such as Casa da Música, NOS Discos, 20 | 20 Editora, Diário das notícias, among others.