QAFAR RZAYEV | "The Story of a Boy with White a Bed Sheet"
29 Março 2023 16h00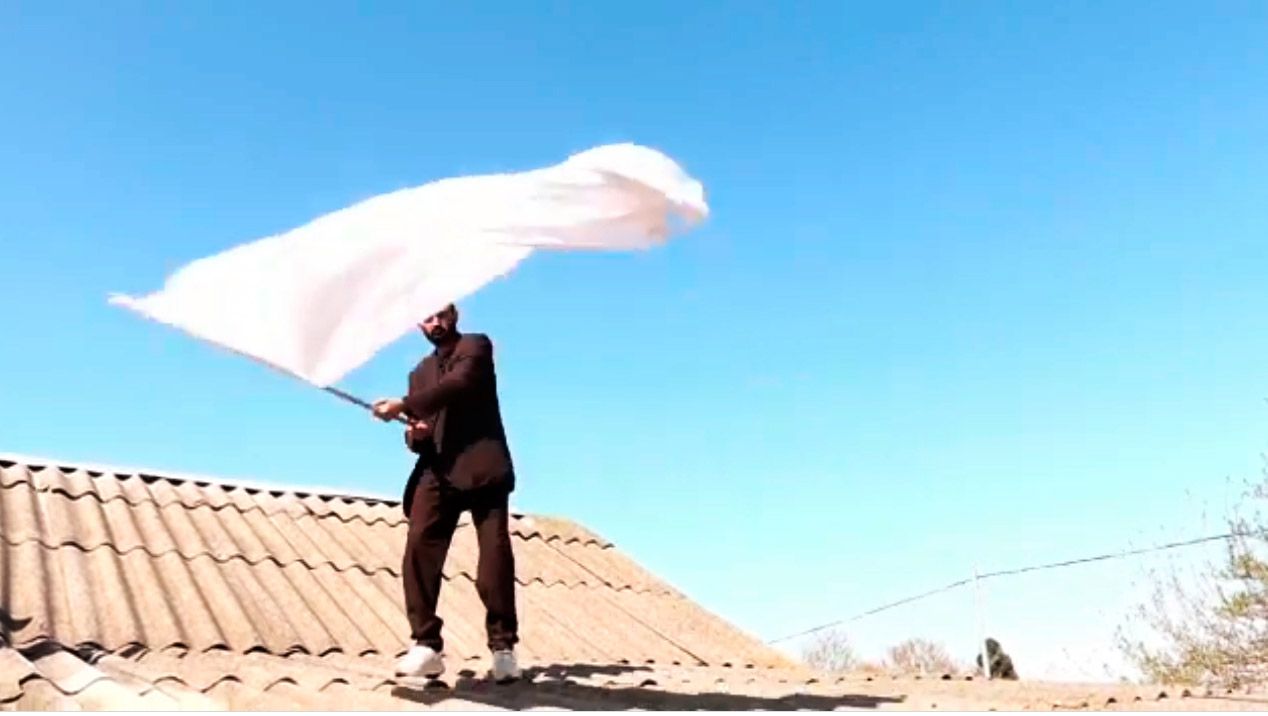 Zaratan AIR | Open Studio
QAFAR RZAYEV | "The Story of a Boy with a White Bed Sheet"


EXPOSIÇÃO | March 29 to April 1 2023, 16:00 – 20:00
ENTY | Free
INFO | residencies@zaratan.pt


We are glad to invite for the opening of "The Story of Boy with a White Bed Sheet", a pop-up exhibition by Qafar Rzayev, artist in residency at Zaratan.
The works presented are part of a larger ongoing project, where the artist reflects on his personal story and traumas: the war, the pandemic, the life in exile.
Zaratan's gallery is obstructed by a set of colorful disc-shaped sculptures, apparently harmless, which make it difficult to pass. The veiled tranquility of the set dissipates when we realize the threat and imminent danger that we do not see: we are walking on a minefield. In Azerbijan, Qafar's home Country, there's a territory occupied for more then 30 years where leftover mines, remnants of endemic conflicts, often injure or kill civilians. The installation denounces the consequences of contamination by war explosives in post-conflict zones and claims a safe and usable space.
The title of the exhibition stems from a performance the artist realized in Granja: the action of unfurling a bed sheet from the roof of his house. The large white flag is a direct and effective reference to the idea of peace and purity that opposes the hubbub, conflict and contradictory nature of the present moment.


BIO: QAFAR RZAYEV was born in 1993 in Ganja, Azerbaijan. After two years of undergraduate studies at university, he quit the school to devote his time and energy to art. In 2016 he started intervening on the walls in Ganja city with street art and graffiti works . His artistic practice often engages with conceptual art and social interventions, with the aim to create a positive impact in his community and to challenge traditional ways of thinking. Recently, public and participatory art, which are based on collective narratives and memories, have become his main medium to explore contemporary issues such as civil society, gender equality, and social responsibility. His work is often inspired by Azerbaijani history and culture, focusing on the narratives of the places and people that surround him. Recently, he has been exploring the memories and traumas of the First and Second Karabakh war, working on his ongoing project "The Story of Boy with White Bed Sheet".


His residency at Zaratan is supported by 'EU4Culture Mobility Grants,' which is funded by the European Union.