ROXANNA ALBAYATI | Chasing Freedom
24 Novembro 2022 16h00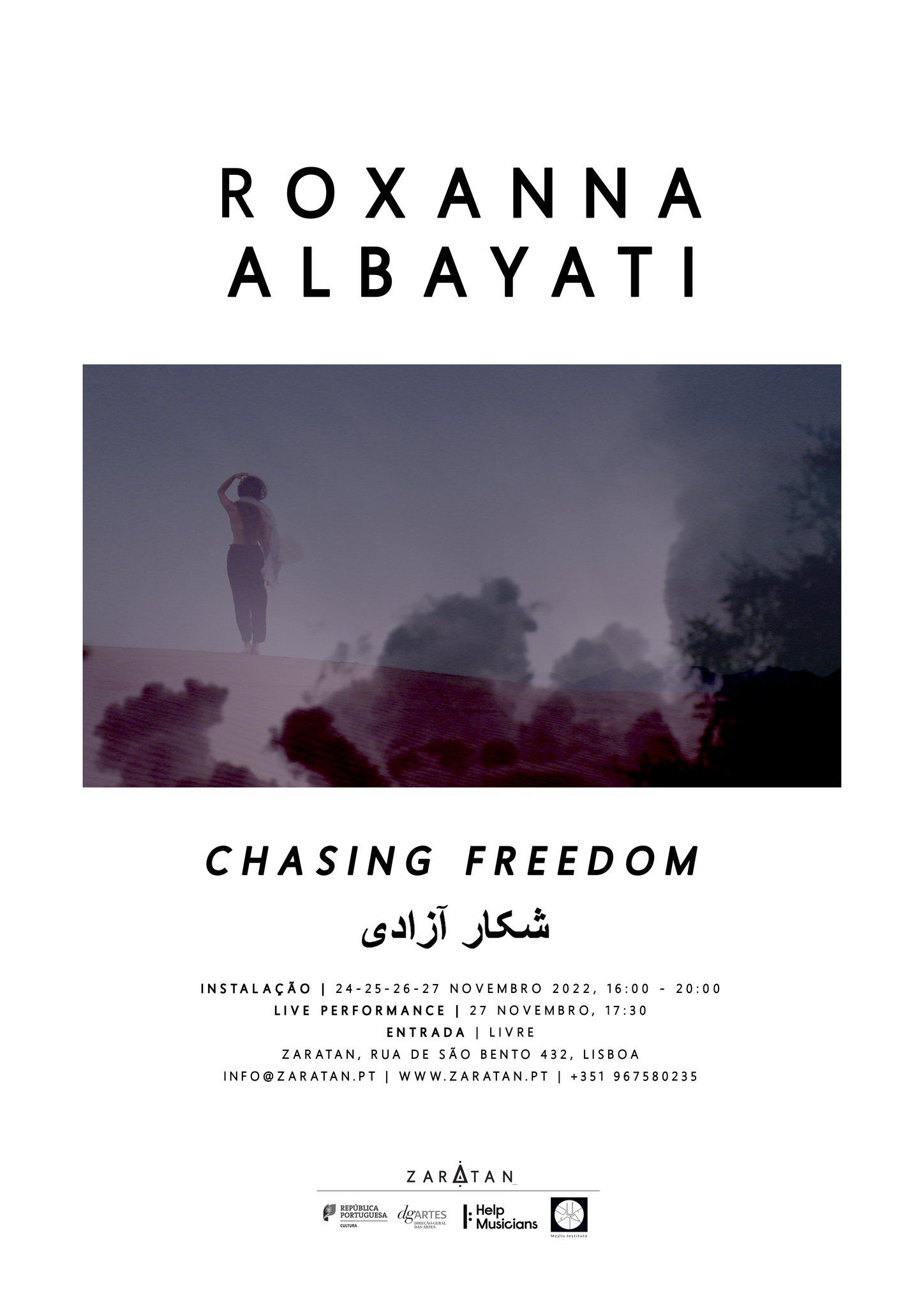 Zaratan AIR
ROXANNA ALBAYATI | Chasing Freedom


INSTALLATION | 24-27th November, 15:00-20:00
LIVE PERFORMANCE | 27th November, 17:30
ENTRY | Free
INFO | residencies@zaratan.pt
SUPPORT | República Portuguesa – Cultura / Direção-Geral das Artes | Help Musicians | Mejlis Institute
We are glad to present SHEKARE AZADI (Chasing Freedom), an interdisciplinary project which has been forming over the course of 2022, where Roxanna Albayati has spent the year interrogating different environments and herself within these spaces. This personal as well as location-based journey has explored her ever-evolving concept of identity, freedom and becoming. From Dubai, to Armenia, to Sicily, Roxanna ends the journey in Portugal, presenting her work alongside the backdrop of the current uprising in Iran, where Iranian's are fighting for "Zan, Zendegi, Azadi (Women, Life, Freedom)."
The project takes the shape of a multimédia installation and a live performance, with Rebecca Moradalizadeh and Rodrigo B. Camacho.
Composed of words, photos, timelines, videos and music collected during the last year, the audiovisual installation is directly entangled with the live performance, serving as a score for the construction of the live event (November 27th, 17:30)


ROXANNA ALBAYATI (b. 1994, London) is an interdisciplinary artist and music educator. Her practice centres around combining experimental music with performance art, exploring topics surrounding identity, sense of belonging and the body. Her music merges cross-cultural improvisation with Iranian classical music and the physicality of performance. Although predominantly a cellist, Roxanna also uses her voice, ghaychak and her body to materialise and realise her experimentations, fascinated by the process and natural evolution of discovery. Her teaching, artistic and research practices often cross paths, where, through constantly embodying a/r/tographic principles, Roxanna places herself at the centre of inquiry, in order to strengthen and inform the basis for creative and educational practices.
PERFORMERS:
REBECCA MORADALIZADEH (b. 1989, London) Luso-Iranian visual artist, performer and art-educator, lives and works in Porto. She holds a Master's in Museum and Curatorial Studies and a degree in Fine Arts – Multimedia from FBAUP. Since 2010 she has presented her work in exhibitions, festivals, residencies and artist talks in Portugal and abroad. The areas he explores are performance, video, photography, installation, design and gastronomy, focusing on issues of the body, identity, territory, memory, archive and vestiges, highlighting the autobiographical project LandMarks Series created in 2015.


RODRIGO B. CAMACHO (b. 1990, Funchal) is an interdisciplinary creator and curator. As an essayist, he produces critical historiography of a philosophical and sociological nature. In artistic production, he is interested in communication and linguistic structures and incessantly re-excavates issues related to different forms of violence in political production and participation. His studies in organizational complexity and emergence lead him to take increasingly ecological approaches to the cultural projects he develops in the fields of visual and performing arts, albeit with a special focus on contemporary experimental music.