OLGA WARDEGA | "Remaining / Remanescente"
27 Outubro 2022 16h00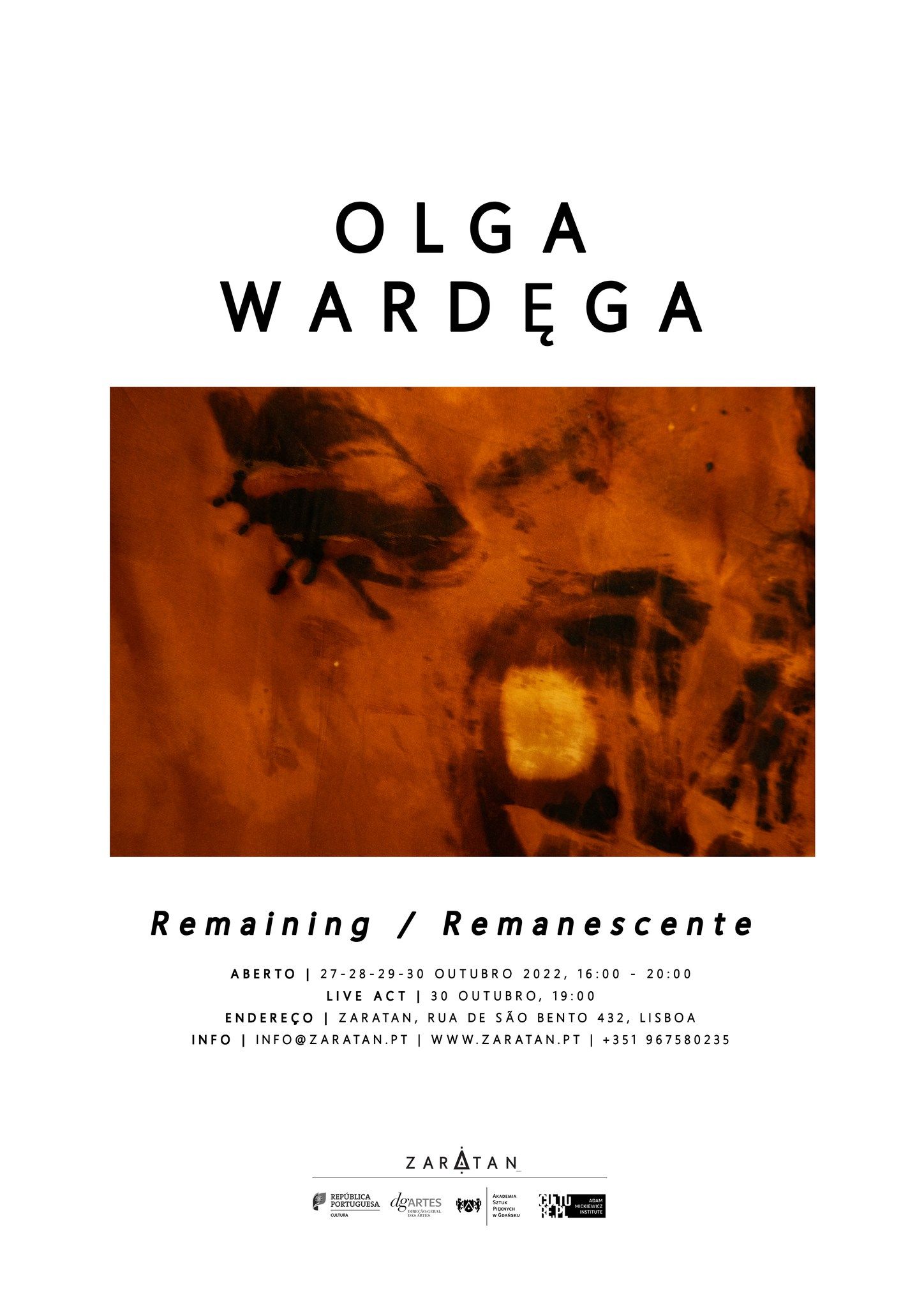 Zaratan AIR | OPEN STUDIO
OLGA WARDEGA
"Remaining / Remanescente"


OPEN STUDIO | 27-28-29-30 October 2022
LIVE ACT | October 30, 19:00
INFO | residencies@zaratan.pt
SUPPORT | República Portuguesa – Cultura / Direção-Geral das Artes & Adam Mickiewicz Institute


We are glad to present Remaining / Remanescente, a flash studio exhibition by Olga Wardega developed during her residency at Zaratan.
In a desire to blur the boundaries between public space and gallery space, the project presents a series of painted textiles and documents their installation in abandoned spaces. Ruined sites lead one to reflect on the past and the passage of time. Many of them are browned, some are under construction, others are forsaken and are being reconquered by nature.
Exploring the relationship between abandoned places and painting, Olga Wardega is sensitive to the idea that these spaces, once full of life, are now memorialized with the remnant that was left behind. Bringing hand-painted textiles out of abandoned ruins is a gesture intended to highlight what may have been lost or perhaps what we're trying to hold.
There is also a sense of fragility coming from the action of installing artworks and shooting photos in unstable, decaying and difficult-to-reach places: climbing through debris and taking the risk of falling. While the paintings become a dot in the landscape, the ruined sites become the canvas and frame, expanding the scale and shifting the perspective from "micro" to "macro".
Experimenting with artisanal, batik-type dyeing techniques, the forms and figures drawn on the fabrics are painted in a style that purposely resembles a crumbling wall: the peeling paint, abrasions, scars and cracks emphasize the impermanence of memory.
The exhibition is complemented by an audiovisual live-act (October 30, 19:00) developed in a collaboration between Olga Wardega (visuals), Emanuel Diaz (Saxophone), Christoph Zeckel (Synthesizers) and Mariana Coelho (dance).
They present an experimental performance of interdisciplinary improvised communication, focused on creating somatic harmony. A triangular dialogue of music to exercise vision, hearing and movement.
BIO:
OLGA WARDEGA is a Polish visual artist. Drawing inspiration from the colours, structures and layers of her immediate surroundings, she paints through the mediums of installation, video and video-mapping projection. Through her work she aims to inspire the viewer to experience their own environment differently. She obtained a master degree in painting from the Gdansk Academy of Fine Arts and has shown her works in numerous individual and collective exhibitions in Poland, Portugal, Spain, Italy, Switzerland and France.
IN COLLABORATION WITH:
CHRISTOPH ZECKEL (synthesizers) is a German/Malaysian experimental musician and sound artist based in Porto. Seeing sound as a playground and a field of exploration through analog, digital and acoustic sounds, his work and music create immersive sound experiences that aim for self-reflection, a shared emotional bridge with the listener and uninhibited curiosity toward deep listening. For the last few years he has presented his work in live performances, sound installations and workshops in various venues and events such as Qualquer Galeria, Division Zero, Térmita, Open Box, Espaço Musas, Zona Autonomia and this year in several venues in Poland and Albania. When he bakes bread at day time, he thinks about you, me, surfing and sound.
LINKS:
https://christophzeckel.bandcamp.com
|
https://soundcloud.com/christophzeckel
|
EMANUEL DIAZ (saxophone) is originally from Santiago de Chile, producer, musician and multi-instrumentalist, he began his music studies in 2008 in a self-taught way, dedicating himself mainly to the clarinet and saxophone. Parallel to his university education, he founded in 2013 the project "Insultanes" of fusion of Balkan music with Latin American and urban music, as a clarinettist, saxophonist, composer and arranger, editing an album in 2017. Now is based in Porto, with two projects, Curcumbia, a Latin cumbia band, and Balklavalhau a Balkan gipsy ensemble, researching from traditional to electronic music.
LINK:
https://www.instagram.com/manu.vento/


MARIANA COELHO (dance) or Mariana Miranda likes people using her name's variations. Please be creative but also kind. She enjoys nature and walking by the beach. One day she lost her mind and ate pasta with chicken cause she's also Portuguese.
LINK:
https://www.instagram.com/mirandar_amarianar/