Zaratan AIR TUULIKKI RAATIKAINEN | Open Studio
27 Abril 2022 16h00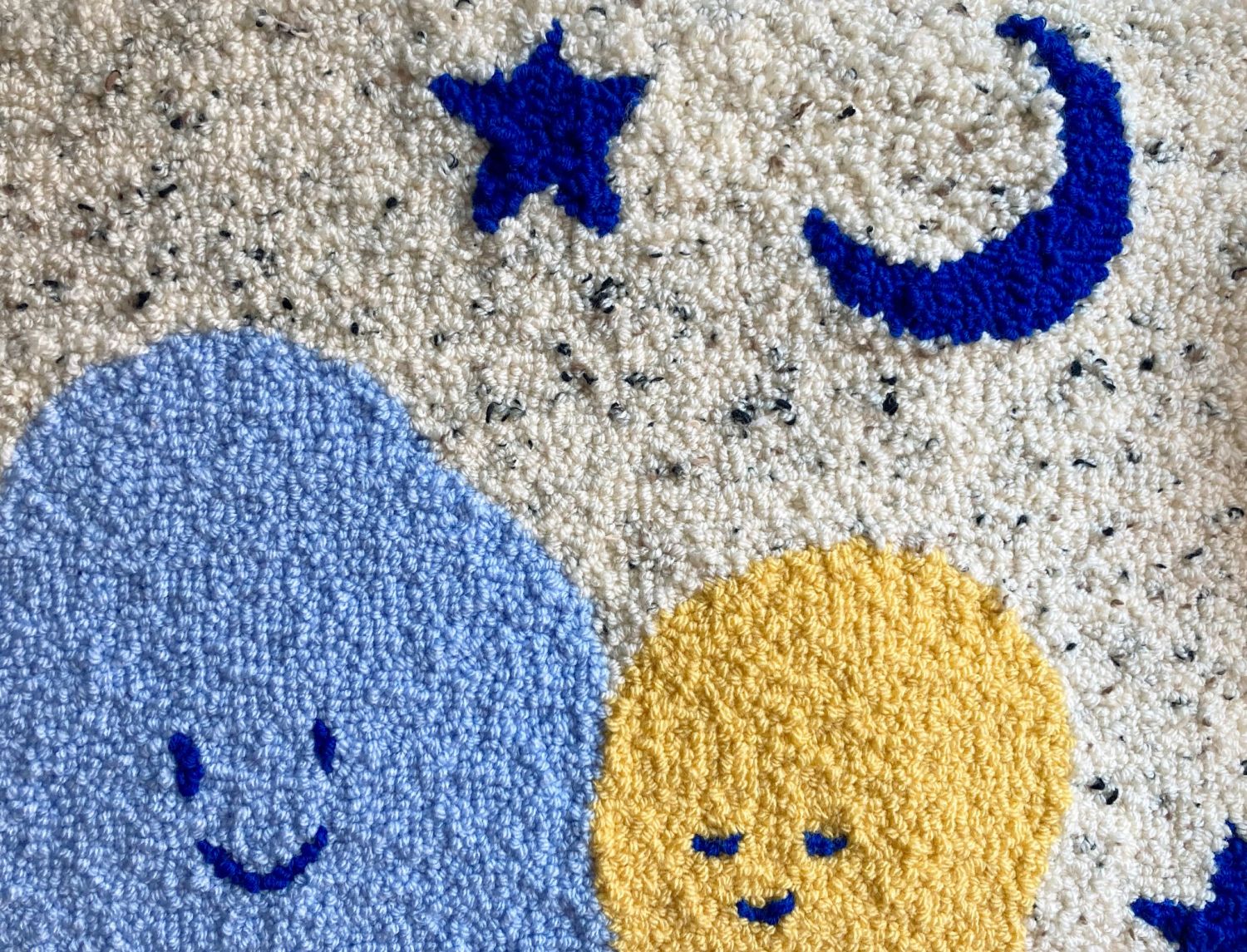 Zaratan AIR
TUULIKKI RAATIKAINEN | Open Studio
OPEN | 27-28 April 2022, 16:00-20:00
ENTRY | Free
+ INFO | info@zaratan.pt
SUPPORT | República Portuguesa – Cultura / Direção-Geral das Artes
We are pleased to invite you to the open studio of Tuulikki Raatikainen, artist-in-residency at Zaratan.
On this occasion she is presenting a large textile piece titled "Dripping Honey Make Me Melt" and a risograph poster.
The two artworks create a contrast in time conception: while printing a layer of color with the riso machine takes just a few seconds, the textile piece is made with a punch needle by hand, taking a lot of time and patience.
The process of creating this textile piece is seen by the artist both as a month-long meditation as well as writing a really long love letter with a punch needle tool and yarn.
The ritualistic repetition of a gesture generates a dichotomy - hypnotic/comforting, but also boring/frustrating - that can be used as a key to read the aesthetic dimension of Tuulikki's art practice: her child-like and playful images often hide a dark reflection on anxiety and self-criticism.
This artwork will become a part of a larger set of pieces – both oil paintings and textile pieces – which will be exhibited in Finland next year.
BIO: TUULIKKI RAATIKAINEN (1990) is a multidisciplinary artist based in Helsinki, Finland. Her artistic practice started at a young age with analog photography. She studied photography and film at Edinburgh Napier University, in Scotland, and has completed her studies in fine arts at Pekka Halonen Academy of Arts in Finland. Currently she works mostly with oil painting and textile art, but is also interested in print making and ceramics, never leaving photography behind.
Her work is often originated from themes such as anxiety or loneliness. The final pieces often don't portray these feelings strongly, and instead focus on expressing hope, and at times, even frantic joy. The ideas for her work mostly come to her as spontaneous, emotional images, sometimes appearing when she is falling asleep or even in her dreams. The pursuit of keeping the original visual idea and intuitive feeling alive while working results in a child-like approach which is enhanced by the use of bright and fresh colors. Her whole artistic practice can be seen as a kind of protest to heartache, depression and self-criticism.
At the moment she is working at her studio in Helsinki, on a new series of paintings and punch needle pieces – titled Weak Fingers, Heavy Bodies. The series continues on exploring her earlier themes, but takes a new focus on using natural forces and phenomena to depict human feelings.