SUPER-DIVAS #2 | METAMORPHOSIS (Carla Badillo Coronado & Nuno Afonso)
29 Janeiro 2022 17h00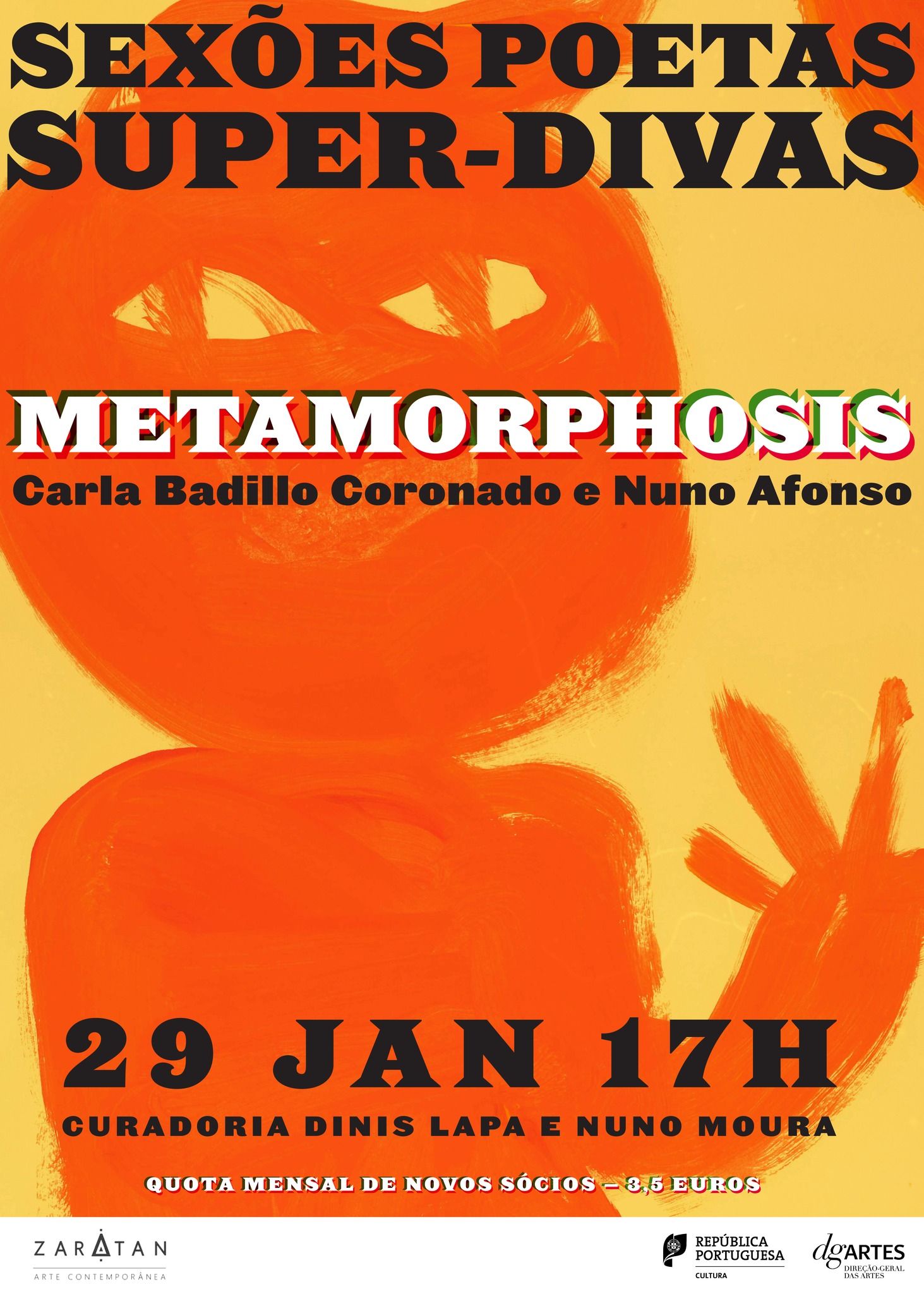 SUPER-DIVAS #2 | METAMORPHOSIS (Carla Badillo Coronado & Nuno Afonso)
WHEN | 29 Janeiro, 17:00 – 20:00
ENTRY | 3,5€ (monthly member fee) *[In the context of the Covid-19 pandemic, to visit the space the use of a sanitary mask is mandatory and the entrance is subject to maximum capacity, in compliance with the DGS measures. To book your place: booking@zaratan.pt]
INFO | info@zaratan.pt
What drives poets? Sung sex, of course. But, being poets, it's ultrasex. That is why this cycle dedicated to super hot super divas is urgently needed. Dinis Lapa and Nuno Moura send jests into the air and then a divine ray pierces them with the names of the mega sexiest poets in Portugal. All of them are somehow connected to music. Super-diva prima-donnas is what they are. «Sexões» are, therefore, sex sessions with the sexiest poetry super-divas. The feast is served.
In this second session of the Super-Divas cycle, there will be a live performance by Carla Badillo Coronado (voice, synth, poetry, toys) and Nuno Afonso (guitar, MIDI, voice, samples), who have collaborated since 2016 under the name METAMORPHOSIS (
https://metamorphosisproject.bandcamp.com
).
On this occasion, there will also be the release of a publication that has been created as an extension of the previous session of the cycle, which counted with the participation of Gonçalo Gato and Vasco Gato.
BIOGRAPHIES:
METAMORPHOSIS | With several performances in national and international territory, the music of Metamorphosis (Carla Badillo Coronado and Nuno Afonso) seeks sound territories that could be characterized as abstract, shamanic or simply hybrid. Although the spectrum of electronics takes on a more prominent body, there is, above all, a free spirit that defies the natural state of things. The sonic pulse of their pieces makes room for spoken word and vocal improvisation, rescuing an energy of free jazz, the seismic magma of the Andes and a magnetism of North American minimalism.
They are now returning from an incursion into the Caucasus, marked by holistic experiences whose dimension naturally intertwines with music - and its constant revelations.
In this debut at Zaratan, that will be their first presentation of 2022, a real-time portal will be expected (and no guaranteed return). [
https://metamorphosisproject.bandcamp.com
]
CARLA BADILLO CORONADO | (Ecuador, 1985) Traveller, migrant and poet, the sound art of Carla Badillo Coronado (aka Durga Black) is made up of experiences and lived situtions, mixed up with everyday and dream. The fusion of these languages is a permanent flow that runs through her work, from writing to music. There is, above all, a liberating, hybrid and self-conscious freedom.
Between rap, collage, electronics and spokenword, she creates new worlds in sound installation format. Pieces such as «MATERIA INTERFERIDA», «333» or «Pelo de Medusa», build small dream theaters, with a sci-fi flavor and elegant electronic forms.
In the literary spectrum, she has published four books, including, in poetry, «El color de la granada» (Loewe Foundation International Poetry Prize for Young Creation); and in fiction the short novel «Abierta sigue la noche» (2016).
In 2021, she won the Looren Latin America Literary Translation Residency Grant, organized by the prestigious Translation House Looren, and the I-Portunus mobility grant in the Music category, promoted by the European Commission and the Goethe Institute, allowing her to travel to Armenia to develop her upcoming project. [
https://durgablack.bandcamp.com
|
https://carlabadillocoronado.wixsite.com/project
]
FALÉSIA | Operating since 2014, Falésia is a solo creative alter-ego of Nuno Afonso, born in Portimão in 1982 and residing in Lisbon for the last decade. Electric guitar is the basic instrument of his workflow, although it rescues other instruments and other resources. Based on a free approach, in technical and musical terms, many of his improvisations and compositions are guided by the approach to minimalism and the sound spectrum of a more exploratory nature. It is in moments of tension and contention that he seeks a soulful luminosity and greater textural expressions. The fascination with the volcanic nature of things is a constant guide on his path as a sound artist, more than a musician. Some of his works published in 2021 include: «Erzulie», «Ad hoc», «Seiva», «RAW MEDITATIONS» and «Vivarium», the latter appearing with the sound and graphic fanzine Saliva.
In musical writing, he has a background linked to publications Kling Klang, Mescla Sonora and Vice; currently collaborates with ZDBmüsique and Rimas e Batidas. He is also one of the residents at Radio Quantica. [
https://falesia.bandcamp.com/
]
CURATORSHIP AND ORGANIZATION | Nuno Moura & Dinis Lapa
PRODUCTION | Zaratan
POSTER DESIGN | Angelo Encarnação
GRAPHIC DESIGN | Pedro Serpa
SUPPORT | República Portuguesa – Cultura / Direção-Geral das Artes