EM OBRAS - Laboratório experimental Final Exhibition
4 Novembro 2021 16h00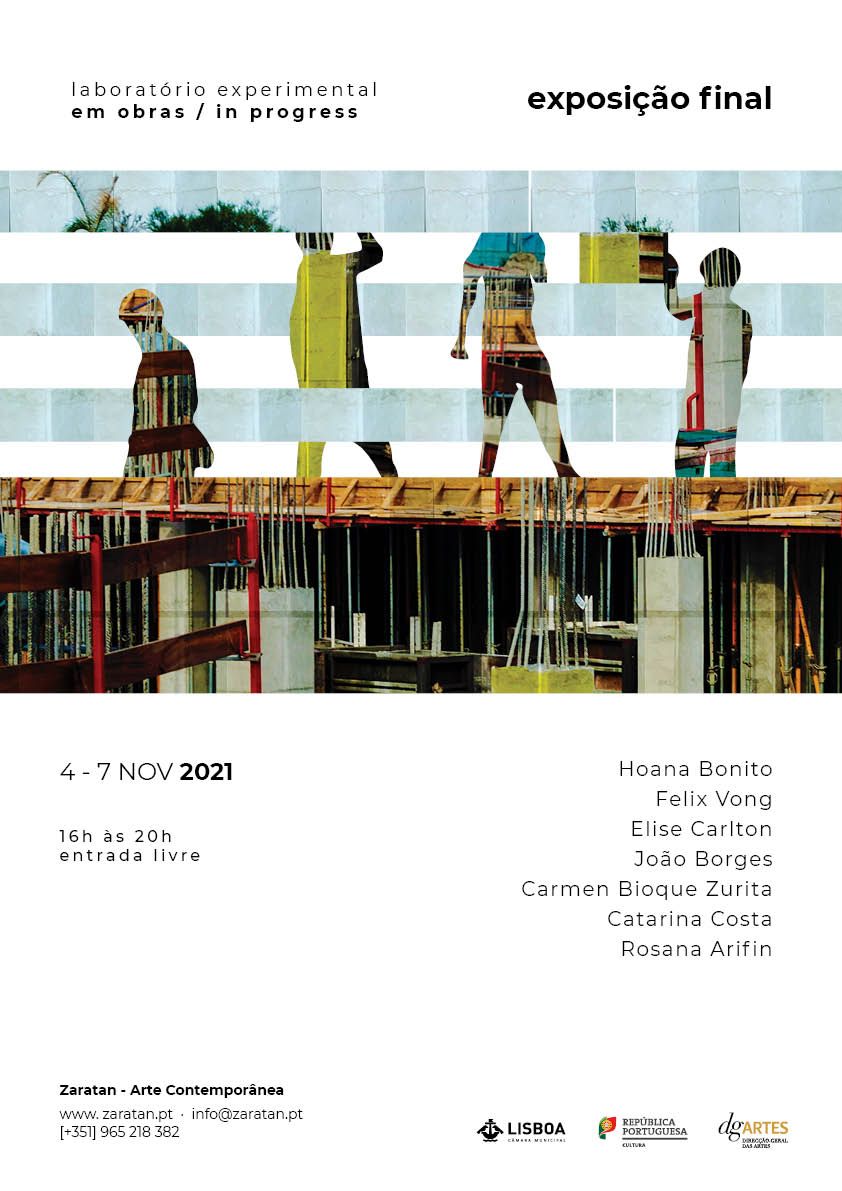 EM OBRAS - Laboratório experimentalFinal Exhibition
OPEN | 4-5-6-7 November 2021, 16:00 - 20:00
ENTRADA | Livre
INFO |
www.zaratan.pt/en
We are glad to announce the final exhibition of the experimental laboratory EM OBRAS, which occurred during 13 days at Zaratan, and counted with the participation of João Borges, Carmen Bioque Zurita, Catarina Costa, Elise Carlton, Felix Vong, Hoana Bonito, Rosana Arifin.
Detached from traditional teaching methods, the laboratory emphasized practice, improvisation, debate and collaboration. Discussion of artworks, its formal qualities, its environment, the meaning it creates, the work of the artist and the viewer – all these have educational features and are examples of Zaratan's curatorial approach to educational activities. The aim is not just to organize the exchange of knowledge, but first of all, to create discursive spaces: an open context for the existence of contemporary artistic practice.
After an intense period of collective work with 5 artists/trainers, the gallery space of Zaratan became a stage for the participants to share the output of the activities developed during the workshop, where the physical space is filled with thought and transversal productions: both individual and collective.
With the support of Câmara Municipal de Lisboa and República Portuguesa – Cultura / Direção-Geral das Artes.
BIOGRAPHIES:
CATARINA ALVES COSTA (Canada, 1992) master's in architecture (2016) from Faculdade de Arquitetura da Universidade do Porto (FAUP). Architect PhD student (2018) for the development of the research "A Arquitetura em Fernando Lanhas" and researcher in Territory Dynamics and Morphologies at CEAU's group (Center for Studies in Architecture and Urbanisme). Curator, with researchers Luís Viegas and Rui Américo Cardoso, of the "e-Nunciar FLanhas: tópicos desenhados" exhibition (2019) in Fundação Instituto Marques da Silva. Particular interest in the themes: 18th century architecture. XX, Tradition and Modernity, Plastic Arts, Formulation of Knowledge, Multi-, Pluri-, Inter- and Transdisciplinarity.
ROSANA ARIFIN was born in 1999 and resides in Ljubljana, Slovenia. MSc student in Architecture at Faculty for Architecture in Ljubljana, currently interning in two architecture firms, with a summer study abroad experience. She has participated in several collective exhibitions and architectural installations, where the relationship with contemporary art intersects with research and spatial exploration. Her creative thinking intends to run away from pre-established paths. By bringing together the relationships between space, materials and communities, she seeks the precarious balance between fluctuations, temperatures, and atmospheres that surround her.
ELISE CARLTON is a writer and visual artist born in Houston, Texas, living in Lisbon, Portugal. Their written work has been published in Poet Lore. Their visual work has been exhibited in England, Finland, Mexico, Portugal and the US, and published in London-based publications, Roundtable Journal and Brenda Magazine. They are queer (they/she) and multi-heritage Brown (detribalized, racialized). They work mostly with text, illustration, animation, installation and sculpture.
HOANA BONITO studied visual arts in her hometown, at the University of Brasília and is currently studying the Master of Artistic Practices in Visual Arts at the Faculty of Fine Arts of Évora. She has dedicated herself to bring the artistic universe and aesthetic fruition to the blind community through the teaching of Photography and Art history.
Through performance, painting, art education, installation, drawing, cinema and other media, the artist, photojournalist embodies different roles around observation and how interactivity can (trans)form points of view.
JOÃO BORGES (Lisbon, 2000) finished in 2020 a course in Visual Arts and specialization in Artistic Textile Production at António Arroio, in Lisbon. He studied Fashion and Textile Design at ESART for a year, before making the decision to devote himself to the study and practice of the visual arts. His interest in textile art permeates his ability to convey poetic and cultural narratives. The relationships between fabrics and new technologies allow it to intensify interdisciplinary dynamics, in a continuous interweaving of recycled materials and poetic content.
CARMEN BIOQUE ZURITA was born in Córdoba, Spain. She has recently completed her BA (Hons) studies in History and Practice of Art and Design at Kingston University, London. She is currently a Master's student in Multimedia Art at the Faculty of Fine Arts in Lisbon. Interested in the interaction of visual arts, design, sound and space. Her practice oscillates between writing and visual creation through graphic design, photography, drawing, collage, moving images. Her work demands the appreciation of the community and the collective, asserting that from an existential point of view cultural stimuli is what brings us vital significance and as such it holds an indispensable social capital.
FELIX VONG was born in Macau, where he obtained a degree in graphic design and advertising. He currently lives in Lisbon, where he is attending a Master's degree in Multimedia Art at the Faculdade de Belas-Artes, specializing in photography. Through study, investigation, and practical experiences he continually seeks to generate new approaches to the photographic medium. Recently, he became interested in the analog image, not only in the literal sense (the use of photographic film), but also in the expanded means, through the manipulation of the printed image in collages, artists' books and other three-dimensional works and practices.
ARTISTIC AND TECHNICAL TEAM:
Artistic direction and curatorship: Gemma Noris and José Chaves
Artists/Trainers: João Fonte Santa, Isobel Atacus, Nuno Direitinho, Susana Borges, Vasco Costa.
Press office: João Chaves
Production: Andreia Páscoa
Technical assistance: João Chaves and José Fonseca
Graphic design: Joana Souza
Support: Câmara Municipal de Lisboa | República Portuguesa – Cultura / Direção-Geral das Artes.