LIGA #4 | João Fonte Santa + Mané Pacheco
12 Dezembro 2021 16h00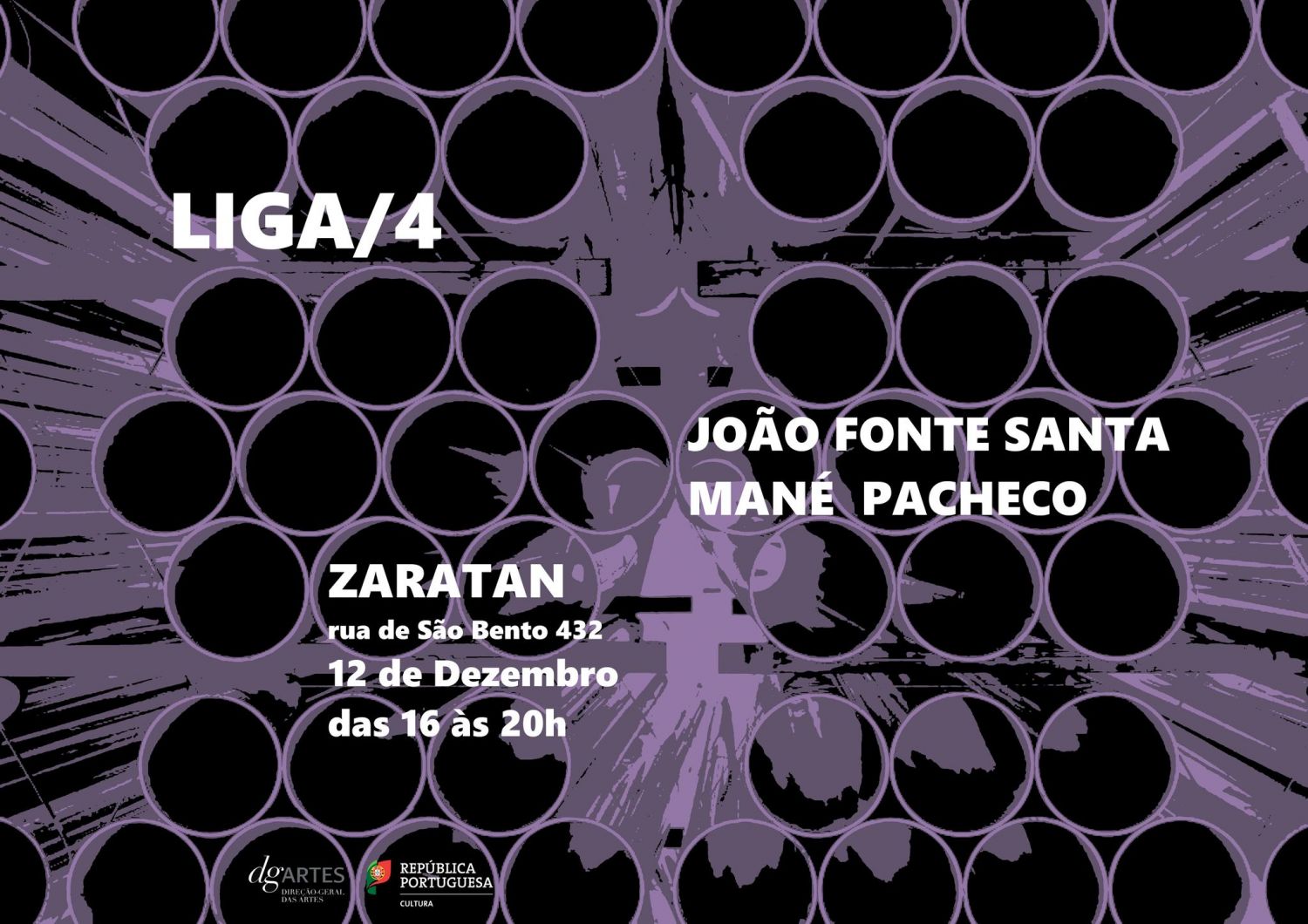 LIGA #4 | João Fonte Santa + Mané Pacheco
SCHEDULE | December 12, 16:00 – 20:00
FREE ENTRY* [In the context of the covid-19 pandemic, the use of a sanitary mask is mandatory to attend public events]
INFO | info@zaratan.pt | +352 967580235 |
www.zaratan.pt
SUPPORT | República Portuguesa – Cultura / Direção-Geral das Artes
It is common in the production of metals to use alloys ("liga"), that is, combining metals with other elements (usually non-metals) and the result of the mixture gives rise to materials that generally differ from the base metals, providing them with new qualities, namely increasing the its mechanical strength, hardness or resistance to corrosion.
LIGA is an ephemeral one-day event, which proposes, in each session, the fusion and friction between two different artists and artistic practices.
In this edition, taking place on December 12th, there will be a collision between João Fonte Santa (who is also the cycle's curator) and Mané Pacheco.
Biographies:
MANÉ PACHECO (Portalegre, 1978), works and lives in Lisbon. She studied and worked in Environment and Education for Sustainability, something she maintained as she trained in Drawing (SNBA), Painting (Ar.Co), Urban Design Postgraduate studies (C.P.Design/University of Barcelona) and a master in Multimedia Arts (FBAUL). Her practice is multidisciplinary where all her training areas merge into an artistic body of work (drawing, sculpture, installation, video, photography and performance), connecting such diversity of interests. Mané Pacheco has been regularly exhibiting their work since 2010-
JOÃO FONTE SANTA studied Painting at the Faculty of Fine Arts of the Classic University of Lisbon. He started by dedicating himself to the production of underground comics in the context of the emergence of fanzines. Slowly, however, his work would assert itself in the field of painting. Working from an extensive background of pop culture images and references, his work is as visually appealing as it is pertinent in the way it presents a particularly critical view of the world. He has been exhibiting regularly since the mid-1990s.