Release of "V de Vagem" by Maria Daniela, edited by Douda Correria
11 Dezembro 2020 16h00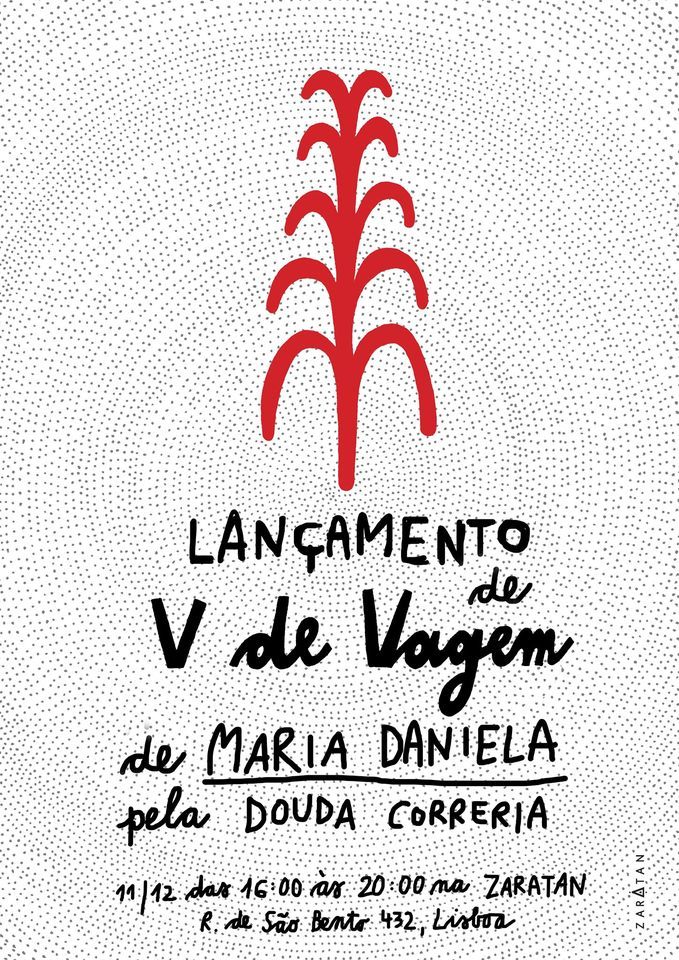 Release of "V de Vagem" by Maria Daniela, edited by Douda Correria
December 11, 2020 | From 16:00 to 20:00 | Free entry [*In the context of the Covid-19 pandemic, the use of a mask is mandatory and the event is subject to a limited capacity, in compliance with DGS rules]
Zaratan is pleased to invite the launch of "V de Vagem", 3rd volume of a triptych of poetry books by Maria Daniela made using cut-up and blackout poetry techniques from the pages of other authors' works. It was preceded by "Cona Cósmica" (2018) and by "SAQUE A DESORDEM OS COMETAS" (2019), both also released by the publisher Douda Correria.
To close this series of works, accompanying the launch of "V de Vagem", the strikethrough pages of the original books will be displayed in the gallery.
The author and the editor will be present to introduce the publication.
16:00 | Opening of the Exhibition
17:30 | Presentation of the book "V de Vagem"
18:30 | Concert: Grupo Excursionista Amigos de Cronos
>>> MARIA DANIELA is an anthropologist and designer. Sometimes she writes poems using cut-up technique or other practices commonly associated with the magic of chaos. Previously to "V de Vagem" [from "The Visible and the Invisible", by Maurice Merleau-Ponty], she edited 2 books by Douda Correria: "Cona Cósmica" (2018) [from De Profundis, Oscar Wilde] and "O Saque, a Desordem, os Cometas" (2019) [from "How to Write a Thesis", Umberto Eco].
>>> DOUDA CORRERIA. Born in 2013, Douda Correria has a very tenuous editorial line, so tenuous that it is almost impossible to see, a line that more than seeing itself can be seen in the titles that it is passionately giving to the printed matters. In its labyrinth of affections are authors of various languages, the most beautiful of which is the ability to invent their own language without belittling that of others. It is possible that none of this makes sense, it is even desirable that none of this makes sense. A hallucinated horse also doesn't make sense, however it rides and continues under the spur. [
https://doudacorreriablog.wordpress.com/
]
>>> GRUPO EXCURSIONISTA AMIGOS DE CRONOS. Filipa Cordeiro was part of the independent label Urubu Tapes and is currently a member of Grupo Excursionista Amigos de Cronos (Travelling Group Friends of Chronos), a troupe whose traces were lost in time, or a first draft for hermetic wave made with voice, recorder and electronics. This time, the group is happy to have fellow wanderer Carlos Godinho (Zarabatana, Banha da Cobra, among others) on percussion.