ISOBEL ATACUS | "Days you were happy to see me"
30 Julho 2020 16h00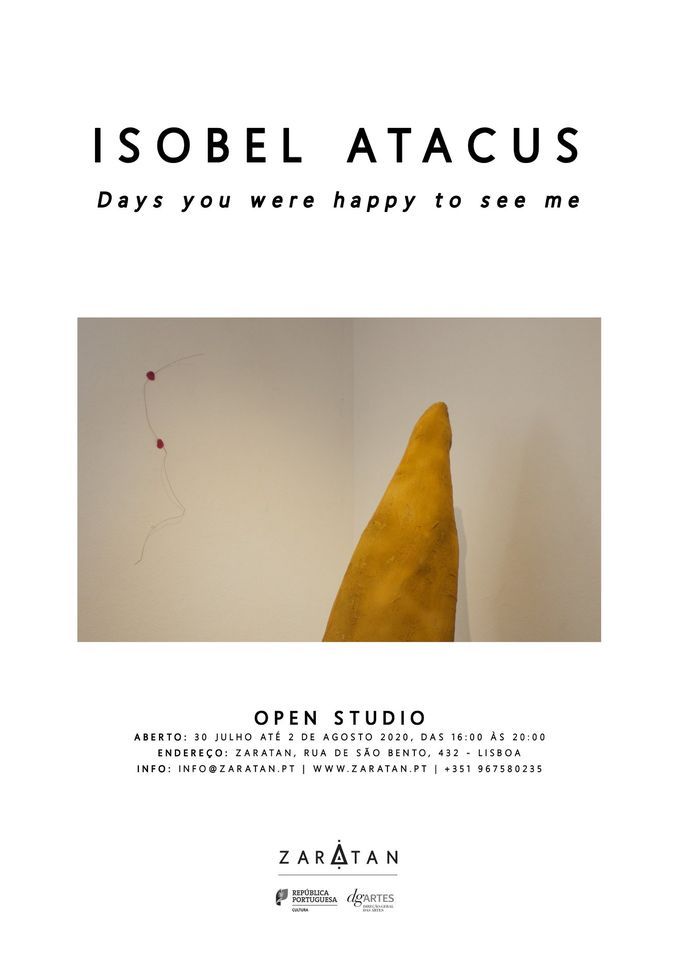 Zaratan | Open Studio ISOBEL ATACUS | "Days you were happy to see me"OPEN | From July 30h to August 2, 2020 (16:00 – 20:00)INFO | www.zaratan.pt | info@zaratan.ptENTRY | Free
We are pleased to invite you to the opening of the studio of Isobel Atacus, an active part of the curatorial collective of Zaratan.
"Days you were happy to see me" began as a landscape, constructed in February, that then made its own quarantine. Isolated, as so many bodies. Through this, somehow, the work took on prophetic air: the materials gained a ritualized element, abandoned, crumbling, to be witnessed only in absentia, as a dream. The paper shriveled, the wine evaporated, the book was left unread…
Now rediscovered, re-opened, recovered: the ritual turns around itself, re-imagined into something new. "Days you were happy to see me" becomes about this moment of return, where all of these desires and apprehensions cross and meet.
BIO: Bringing together fabricated and found objects, often using poetry as an impetus or bridge, my work moves across sculpture, installation and text, to rest in the porous border between something narrative and something more abstract. I am drawn to materials that seem to go against their initial reading, as a way of exploring how language is ascribed to material, and the way flows of material might be mediated, redirected, or altered in some way. The resulting work often comprises small collections or arrangements that can be seen to mimic – or contaminate – a kind of archival process.
There is also an attraction towards glitches, both human and technological, and the ways they interrupt the smooth processes of production to create alternate forms of circulation. In recent work dust and finger marks have come to have a strong material presence, as a means of playing with instances of mistranslation and mistake. This brings up questions of how value is ascribed to these precarious materials, and how materials resist any such construction or constraint. (
www.isobelatacus.com
)
I also direct a curatorial project, the icing room, an artist-run space and press founded in 2016.
[* In the context of the Covid-19 pandemic, the use of a sanitary mask is mandatory to visit the exhibition and entry is subject to maximum capacity, in compliance with hygiene and safety rules.]
Support: República Portuguesa – Cultura / Direção-Geral das Artes