Grace Crabtree | "Double Time" /// inauguração
26 Fevevereiro 2020 19h00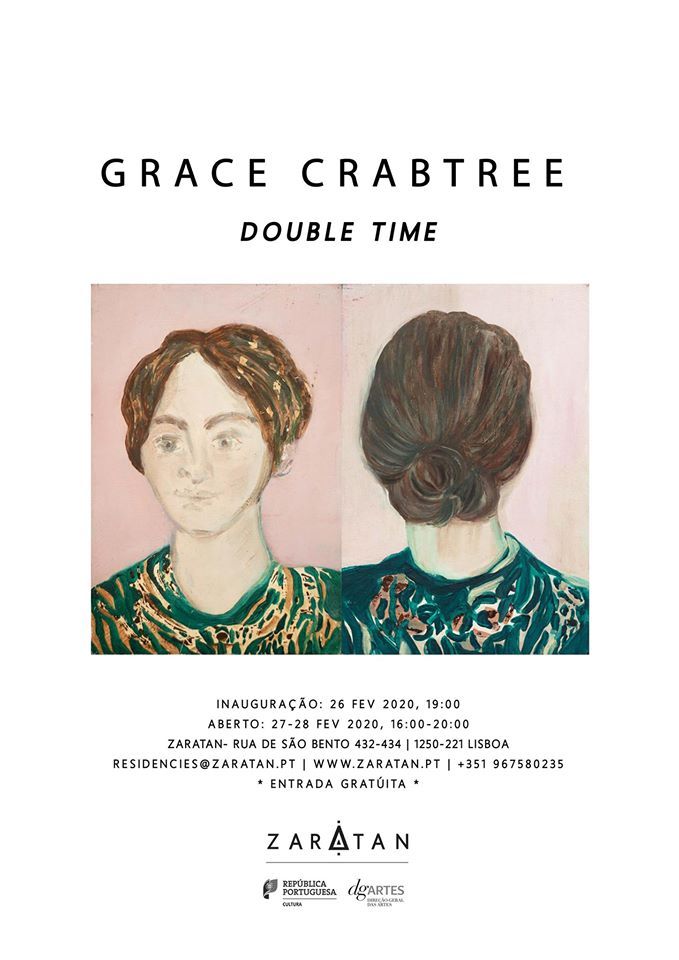 Zaratan AIR | Open Studio
Grace Crabtree
"Double Time"
OPENING | February 26 at 7pm
OPEN | 27-28 February 2020, 6pm to 8pm
INFO |
www.zaratan.pt
| info@zaratan.pt
ENTRANCE | Free
Zaratan is thrilled to present "Double Time", a flash exhibition by Grace Crabtree, who is presenting the artworks developed during one month residency in Lisbon.
Grace Crabtree explores figurative painting that shifts between historical and contemporary reference points, drawing from the traditions of fresco and icon painting, and from contemporary culture. By playing with form and narrative structure in fragmentary or non-chronological ways, her paintings allow for the viewer's sense of time to be disrupted or dissolved.
The work created at Zaratan falls between painting and drawing, investigating a fragmentary approach to narrative time and space, in works that evoke elements of the fresco or the miniature. The faces, patterns, and street corners of "Double Time" explore a state of doubling, which is to be duplicitous, or literally to be twofold. References and allusions lie between the folds, multiplying the possible narrative readings.
Bio: GRACE CRABTREE (Dorset, UK) recently graduted from the Ruskin School of Art, Oxford (2016-19). Grace's artistic practice focuses on traditional painting technics, weavee with contemporary culture, drawing from a continued exploration of contemporary re-engagements with the mural form. This is examined both in terms of its decline in public spaces in recent years, and with it the loss of the collective, public viewership and dialogue; and in terms of the mural's connection to the miniature and the scroll, which has the potential to evoke intimate, sacred spaces of encounter. The paintings' materiality is emphasised through the traditional technique of egg tempera, which involves grinding pigments and layering colour. This slow time of making feeds into the creation of fictional interior spaces of ambiguous time, a muddle of past and present.
More information:
www.gracecrabtree.co.uk
Support: República Portuguesa – Cultura / Direção-Geral das Artes