JOÃO MOURO /// concert
27 Fevevereiro 2020 19h00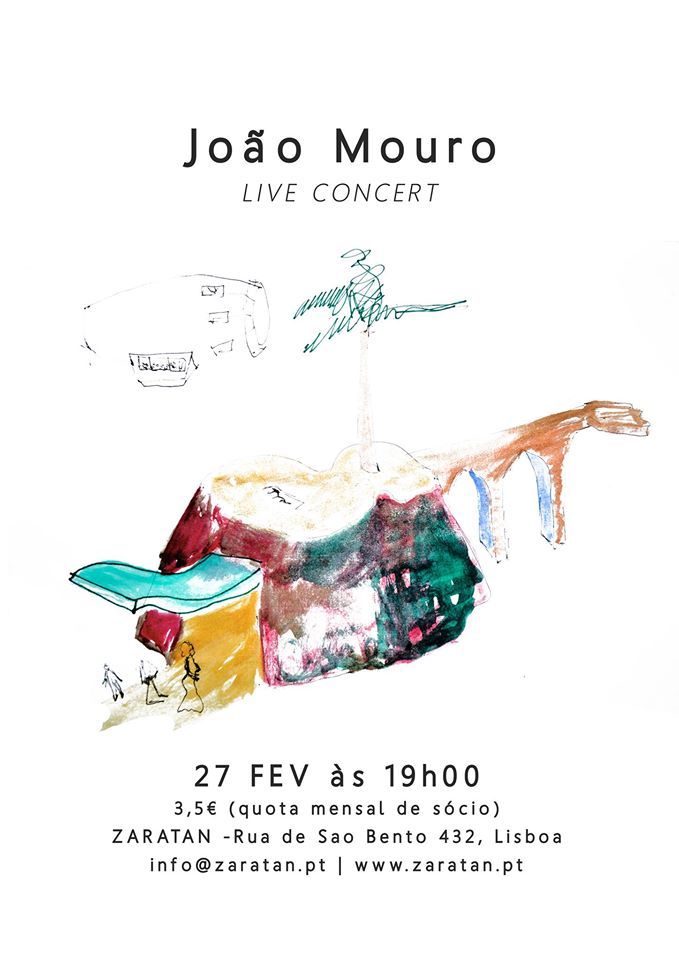 JOÃO MOURO /// concert
27 February at 19:00
Entry 3.5 € (monthly membership fee)
Zaratan is pleased to present a solo concert by João Mouro. His music could follow the eclectic bad influences, full of tensions between binomials, harmonic features, machine-gunned lacy, bucolic virtuosities, impressive expressions of envy and other sound-critical praise for raising the stage.
But in truth João Mouro intends to leave his music in a raw state, as close as possible to the real.
Without ever forgetting fado, and the great Carlos Paredes, João Mouro invites O Semba to Kilapanga, Mazurka and other styles from the PALOPS, but so present in Lisbon, for a debate on traditional music and its borders, proposing a future harmonized union , trying to escape the constant Anglo-Saxon bombardment.
https://www.youtube.com/watch?v=hcQP7vpPLhM
BIO: João Mouro finds his taste for music at family Christmas gatherings in the magical house of Cotães, where his grandfather used to sing at the banjolim, his grandmother sang, and his father or uncle accompanied the local music on the viola. Still in Algarve, the first original project appears, a hip hop band where he played Portuguese guitar, winners of an Antena 3 award (2001). In Lisbon, attending Fine Arts, the guitar stayed behind for some years until he found his passion for Angolan music of the 60s and 70s. In the capital he meets the Angolan musician Chalo Correia, with whom he collaborated for 10 years, having participated in the recording of the 3 albums. He also played with Angolan Waldemar Bastos, from Cape Verdean Danae Estrela, and Mozambican Malenga, During this long journey through the PALOPS, instrumental compositions recorded on various cell phones have been emerging that have been lost years waiting to take shape.