Artists Talk | Grace Crabtree + Heather Lyon
7 Fevevereiro 2020 18h00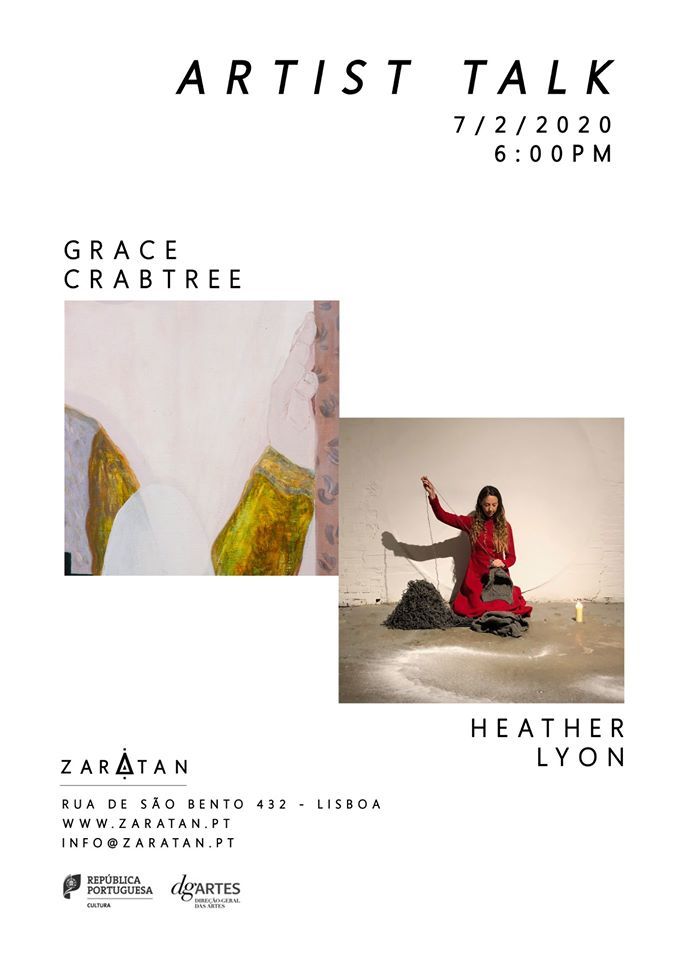 Artists Talk | Grace Crabtree + Heather Lyon
February 7 at 6pm | Free Entry
The Artist Talks offer the community a chance to meet the artists-in-residence at Zaratan and to gain insight into the creative process.
On February 7, at 6PM,Grace Crabtree (UK) and Heather Lyon (US) introduce briefly their artistic practices and research themes.
>>> GRACE CRABTREE (Dorset, UK). Recently graduted from the Ruskin School of Art, Oxford (2016-19), she explores figurative painting that shifts between historical and contemporary reference points, drawing from the traditions of fresco and icon painting, and from contemporary culture. This weaving of poetry, mythology, tabloids and television creates loosely formed and incidental narratives in the work. During the residency at Zaratan, Grace will develop a new series of paintings and drawings that draw upon the environment and history of Lisbon. The texture of Lisbon's streets, from 'azulejos' to graffiti art, will feed into a continued exploration of contemporary re-engagements with the mural form. This is examined both in terms of its decline in public spaces in recent years, and with it the loss of the collective, public viewership and dialogue; and in terms of the mural's connection to the miniature and the scroll, which has the potential to evoke intimate, sacred spaces of encounter. The paintings' materiality is emphasised through the traditional technique of egg tempera, which involves grinding pigments and layering colour. This slow time of making feeds into the creation of fictional interior spaces of ambiguous time, a muddle of past and present. By playing with form and narrative structure in fragmentary or non-chronological ways, the paintings allow for the viewer's sense of time to be disrupted or dissolved. More information:
www.gracecrabtree.co.uk
>>> HEATHER LYON is an installation, video and performance artist based in Maine, USA. Combining her interest in the meanings of materials (ranging from rebar to sequins to milk to ash) and the question of the human body, she investigates relationships and the ways in which we negotiate longing, loss, desire, and vulnerability. She holds a BFA and MFA from the School of the Art Institute of Chicago. Her work has recently been exhibited and performed at the Center for Maine Contemporary Art, Rockland, Maine, TEDx Dirigo, Portland, Maine, The Danforth Gallery, University of Maine Augusta, "The Picnic Pavilion" a parallel project to the 58th Venice Biennale, Venice, Italy, The State Silk Museum, Tbilisi, Georgia and at Artisterium 10, Tbilisi, Georgia, for which she received an Emergency Artist Grant from the Foundation for Contemporary Arts, New York.
Support: República Portuguesa – Cultura / Direção-Geral das Artes