Come-se a pele? / F. dal Pozzo / Stony Sugarskull / Twyn Towers
11 Maio 2019 18h00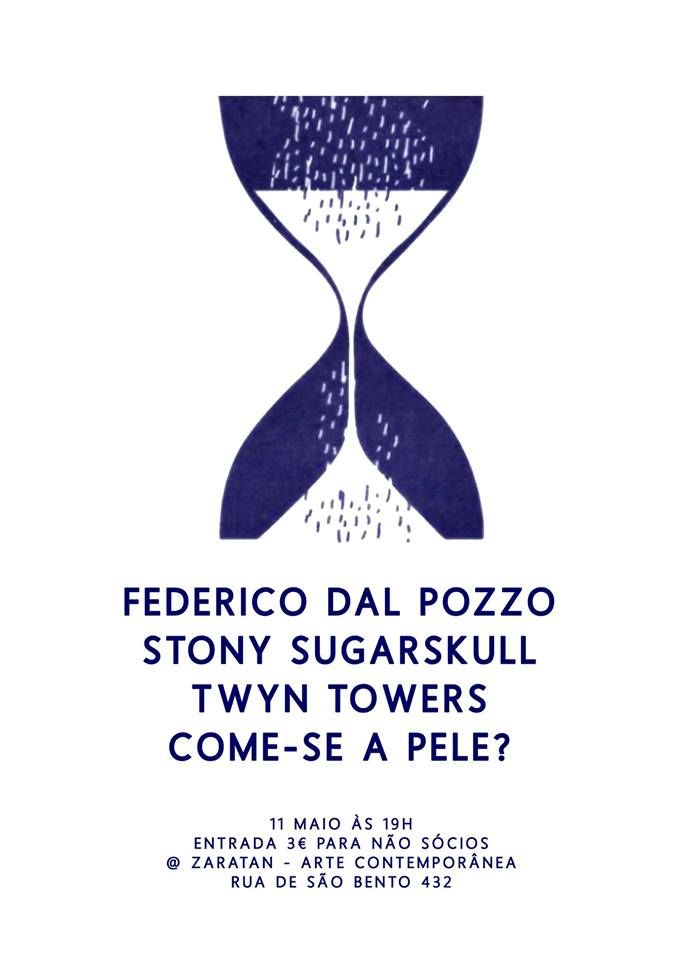 Come-se a pele? / Federico dal Pozzo / Stony Sugarskull / Twyn Towers
May 11 at 6pm | Enty 3€ [monthly member fee]
> COME-SE A PELE?
"Come-se a pele?" are Patrícia Filipe (voice and lyrics) and Filipe Leote (electric bass and vocals). For this occasion they present live their new album, recorded in Zaratan between September and October 2018, which counts with the collaboration of a series of invited musicians. In particular: Mário Resende (violin and balloons), Pedro Rocha (percussion and voice), Bernardo Ná (electric organ) and Bruno Gonçalves (electric guitar), who will also be participating in this concert.
https://come-seapele.bandcamp.com/
https://www.facebook.com/comeseapele/
>>> STONY SUGARSKULL
After having finished her PhD on the biophilic healing functions of music in African-American literature in London/New Orleans/Berlin, Dr Monika Demmler started her musical project, Stony Sugarskull in 2015 where she has channeled her academic music-philosophical inquiry into her creative works of songs, lyrics, and sounds. Dr Monika Demmler has produced three releases so far: Trust (EP), Gaia (EP), and Butterflies (Single), available on all major online platforms. "Trust" Upon her return to Berlin in October 2018, she joined forces with drummer Maurizio Vitale (who played with members of The Swans, Anna von Hausswolff, Lolita Terrorist Sounds) to work on her next album, The Power of Chaos; a mix of psychedelic, punk rock, krautrock styles, mirroring the socio-political background/moods of the 21st century, along with the inbuilt music healing frequencies of guitar and drum sounds derived from her philosophical studies.
https://www.youtube.com/watch?v=eWKa28F7sO0
https://www.soundcloud.com/stonysugarskull
https://www.stonysugarskull.bandcamp.com
https://www­.­st­onysugarskull.com
>>>FEDERICO DAL POZZO
The composer and electroacoustic artist Federico Dal Pozzo will present in Zaratan, his latest project: "Untitled_'aYN" , a study on void and sound. Fourteen glasses, water with gas and ice cubes: the bet is as daring as attractive. A fascinating experience of concrete music that plays with the transfiguration and perception of sound in these elements and experiences with its auditory expansion in space.. A sonic rebel. Dal Pozzo will disrupt your perception of sound and space. Come and feel it!
https://vimeo.com/316547648
https://soundcloud.com/federicodalpozzo
>>>TWIN TOWERS
Twyn Towers is a band consisting of Lebanese musicians Charif Megarbane (Cosmic Analog Ensemble, Heroes & Villains, Trans-Mara Express) on guitar, keyboard and Anthony Abi Nader on drums and percussion. Formed in early 2017, Twyn Towers' live performances often consist of afro-beat and groovy oriental improvisations built around samples made on the spot. Each Twyn Towers concert is unique in the sense that nothing is prepared or rehearsed beforehand: performances revolve around the spontaneous musical dialogue of Megarbane on melodies and Abi Nader on rhythms, with occasional guests joining in on additional instruments. After completing a short tour in France and Lebanon in the summer of 2017, Twyn Towers is set to record its first album on the Hisstology label later this year.
https://hisstology.bandcamp.com/album/peril-imminent
https://www.facebook.com/anthonyabndr/videos/10213170921883863/
https://www.youtube.com/watch?v=CB3Yz0Y6Q4E