Ecos #2 | Com Sam Perry e Nuno Direitinho
21 Fevevereiro 2019 19h00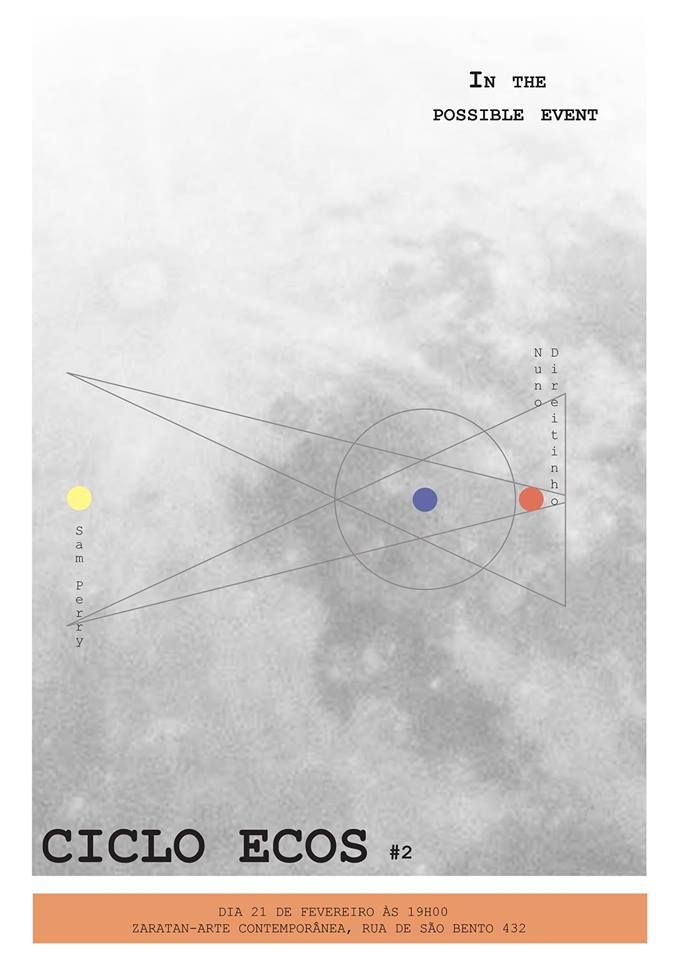 Ecos #2 | In the possible event
With Sam Perry and Nuno Direitinho
Multimedia installation
February 21 at 7pm
3€ (monthly member fee)
Curated by Lise Bardou, ECOS is a cycle of multimedia installation including moving image, sound and performance. Each time two artists are invited to relate their work among themselves and within the space of Zaratan, playing with the different levels, connecting with the elements (earth, stones, and dust) and the materiality that it offers. The physical space becomes a possibility in which to generate a 3-dimensional effect with the moving images installed and projected.
ECOS invite an artist writer to put his/her words in the space and a video artist or performer to create a dialogue between writings, images, space and bodies, exploring this two different artistic practices through a new staging, shifting from one form of language to another.
A third artist is invited to reflect, with sound, on the dialogue between the two invited artists and to built his/her own audio creation, allowing visuals to become sound. The output, beside being published online and in a physical edition, will be presented at Zaratan afterwards in the form of a sound installation.
For the second edition of the ciclo, Ecos invite Sam Perry and Nuno Direitinho to create «In the possible event», a time-based installation responding to Zaratan's performance space, inviting an audience to attempt to grasp an echo that binds our memorial past, present and future, consequently rendering them interchangeable.
Ecos #2 will reoccur beyond the parameters of the cycle's one-night-only format through an everlasting agreement between audience members, Zaratan and the artists.
The second edition of Ecos include the release of the first cassete of the cycle. On this occasion will be presented the audio creation of Bruno Humberto «A new way of seeing» in response to the installation of the first edition «12 days in october».
BIOS:
SAM PERRY is an independent curator and writer based in Lisbon. In recent years he has been developing multidisciplinary projects, working with a wide community of emerging artists and collectives. His recent curatorial activity has incorporated experimental writing, talk-based events and public interventions. Sam is currently collocating ekphrastic texts with weird imagery within unconventional settings.
https://themiddledistancerunnerdot.wordpress.com/
NUNO DIREITINHO was born in 1981 lives and works in Lisbon. Nuno's work embraces notions of place and placing. Driven by the creation of a hyper aware interpretation of his position he question boundaries in exhibiting spaces and objects's reference points in memory. Phenomenological explorations of space, provide a platform between perception and recognition. Nuno's current work takes form in installations, sculpture, photography and video.
http://www.nunodireitinho.com