Ecos #1 | With Loukia Batsi and Isobel Atacus
1 Novembro 2018 19h00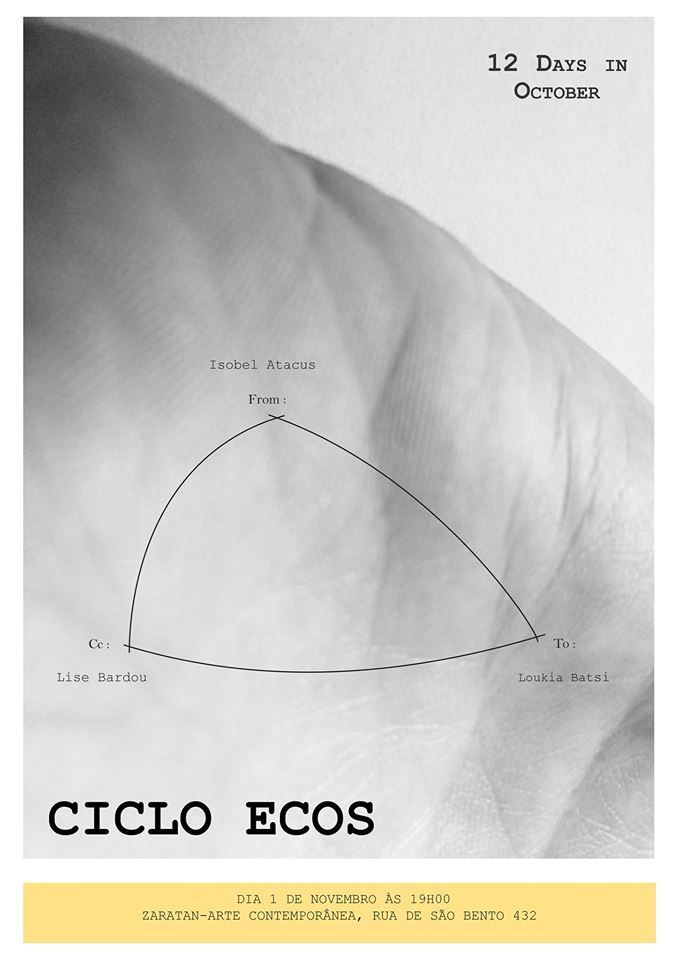 Ecos #1 | 12 Days in October
with Loukia Batsi and Isobel Atacus
Multimedia installation
November 1 at 7 pm
Entry 3 euros
Curated by Lise Bardou, ECOS is a cycle of installation multimedia including images in movement, sound and performance. Two artists each time are invited to relate their work among themselves and with the space of Zaratan, playing with the different levels, connecting with the elements (hearth, stones, and dust) and the materiality that it offers.
The phisical space become a possibility to generate a 3 dimensions effect with the moving images installed and projected.
ECOS invite an artist writer to put his/her words in the space and a video artist or performer to create a dialogue between writings, images, space and bodies, exploring this two different artistic practices through a new staging, shifting from one form of language to another.
From the first day of installation to the day of the event, a third artist is invited to reflect with sound this dialogue between the two artists invited and to built his/her own audio creation, making visuals becoming sound. The output, beside being published on line and in a phisical edition, will be presented in Zaratan afterwards in the form of a sound installation.
For the first Edition of the cycle, Ecos invite Loukia Batsi and Isobel Atacus to meet 12 days in october. The invited sound artist is Bruno Humberto.
BIOS:
Loukia Batsi (b. 1991, Athens) forms her personal expression through processes of writing, photo-shooting and acting. The selected text come from a chapter of her unpublished poetry work "12 ΗΜΕΡΕΣ" aka "12 DAYS", which was completed in January 2017.
Isobel Atacus Questioning the relation between language and material, Isobel Atacus works across media, although the starting point is often text. Ways in which flows of material are presented, and how these flows might be interrupted – or redirected – is a preoccupation in a lot of the work. Often this takes the form of archival practice, mediating objects to explore ways they might be read. The resulting compositions move across sculpture, installation, poetry and film. Atacus founded the icing room artist run space in 2015.