Do Liminar #13 – Ciclo de performance na Zaratan
10 Junho 2018 16h00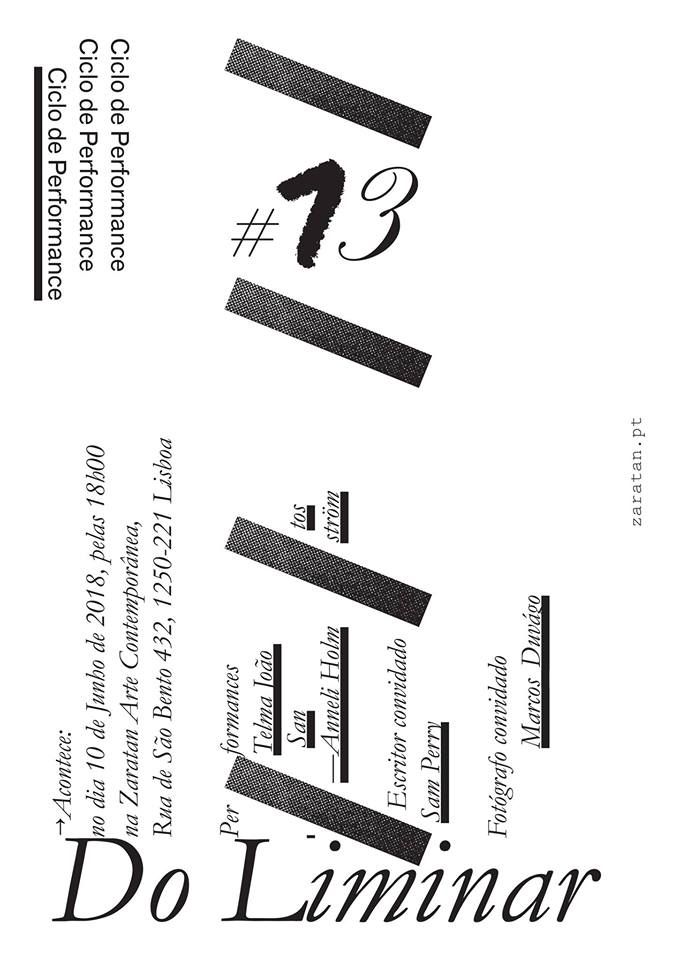 On the 10th of June continues the Cycle Of the Liminal, a platform for experimental objects in the performance field, seen as a broad language and practice. It happens, once a month, at Zaratan – Arte Contemporânea, in Lisbon, curatad by the gallery itself and Bruno Humberto.
The non-happening, the mistake that creates possibility and the positive confrontation of never stable ideas will find their materialisation in transdisciplinary work, through presentation formats that rarely are assimilated in the models and programming logics of the spectacle.
In each edition, as part and parallel to the cycle's performance program, we invite also a writer and a photographer, to create independent ballast, translation, free critique, that finds its shape in a publication.
In this thirteen edition, there will be performances by Telma João Santos e de Anneli Holmström (with Mariana Ferreira and André Tasso), which will be interpreted afterwards by Sam Perry (text) and Marcos Duvágo (photography).
The update graphic design of the publication is conceived by Marco Balestero & Isabel Lucerna.
___________________________
PERFORMANCES:
>>> Anneli Holmstrom (with Mariana Ferreira and André Tasso)
????? ??
????? ?? is a cross-disciplinary performative dialogue showcasing, new works by Mariana Ferreira (script writer) André Tasso (sound artist) and Anneli Holmstrom (performer/visual artist.) The work takes as its starting point the metaphor of blood as a metaphor for time, transformation, borders and the evolution of the human being. The work is produced in three acts, blue, red, and purple, with each artist contributing via there own mediums and references to forge a collaborative dialogue reflecting upon the transformative journey of the human being as an individual and collective species.
>>> Telma João Santos
Building Strength
A body. What a body? Container, retainer, disclaimer. The imagery that distracts us, confirms us, dictates the force of presence. The presence as absence. A journey through various presences, built between small moments of exception that disappear quickly, between emptiness and fragility.
The annoyance, the body-image destroyed in solitude, the music always unstable, undesirable, incapable. The inability of self-affirmation, in an overlapping of possibilities of their existences. Make problematic, question this body. A body.
note: We are receiving still proposals for the upcoming editions. Send to the mail address booking@zaratan.pt