Valentina Vuksic / Hadokowa / Gamo
25 Outubro 2018 19h00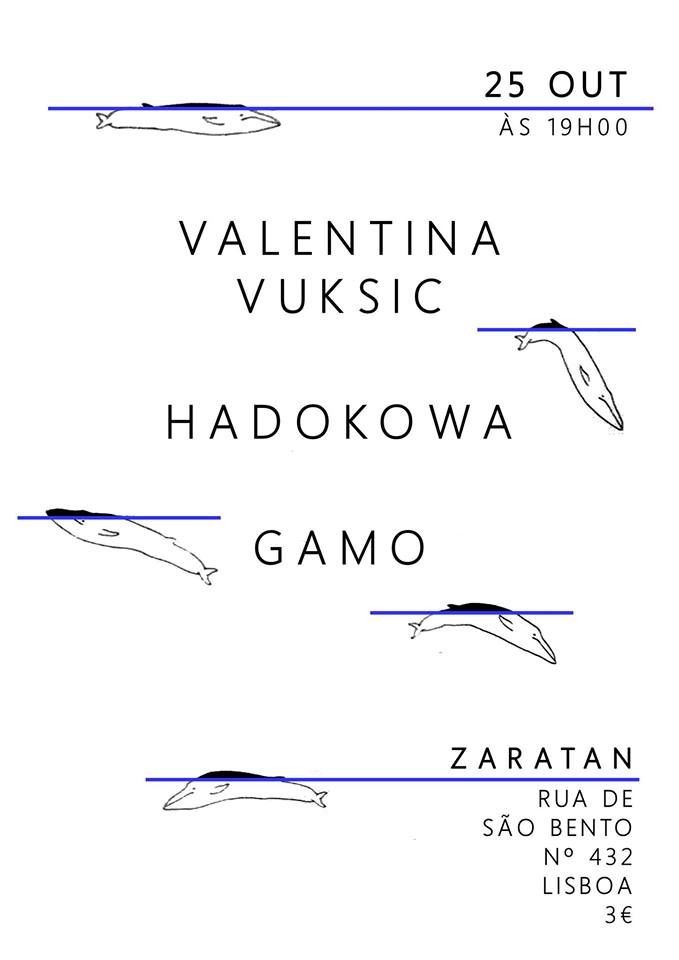 VALENTINA VUKSIC
http://trippingthroughruntime.net
http://artkillart.org/aka-05-harddisko/
Valentina Vuksic is a Swiss artist engaged with the entanglements between the (local) cyberspace(s) and its physical environment(s). At Zaratan she is presenting "Tripping Through Runtime", an electromagnetic improvisation with running code: the 'runtime' of system commands that stress memory and processor, is staged to provide an acoustic experience of logic encountering the physical world. The electromagnetic emissions of a computer are picked up as sound with transducing induction coils.
HADOKOWA
https://hadokowa.bandcamp.com/releases
https://www.youtube.com/watch?v=d440g50mkus&feature=youtu.be
Hadokowa is a robot made in Taiwan that is programmed to mix punk rock with old school video game sounds.
GAMO
https://soundcloud.com/user-426173929
https://fgamot.bandcamp.com/album/gamo-3
Descending from a direct line of young teenage/adult childish artists from Lisbon, appears Miguel Pinto, better known for managing a youtube channel titled "#embanhomaria", he is responsible for breaking down Portuguese musicians through an audiovisual manipulation that directly collides with the aesthetics of respective artist. Taking advantage of not only these subterranean local influences and mixing them with other disparate ones - from the hypnotic eclecticism of The Prodigy to the mad acidity of Moby - Gamo regenerates from its worldly influences to create energetic and sometimes lunatic music, finally, reflecting the new urgent and hasty secular generation.