Masahiko Ueji + João Apolinário + Kátia Sá
29 Julho 2017 19h00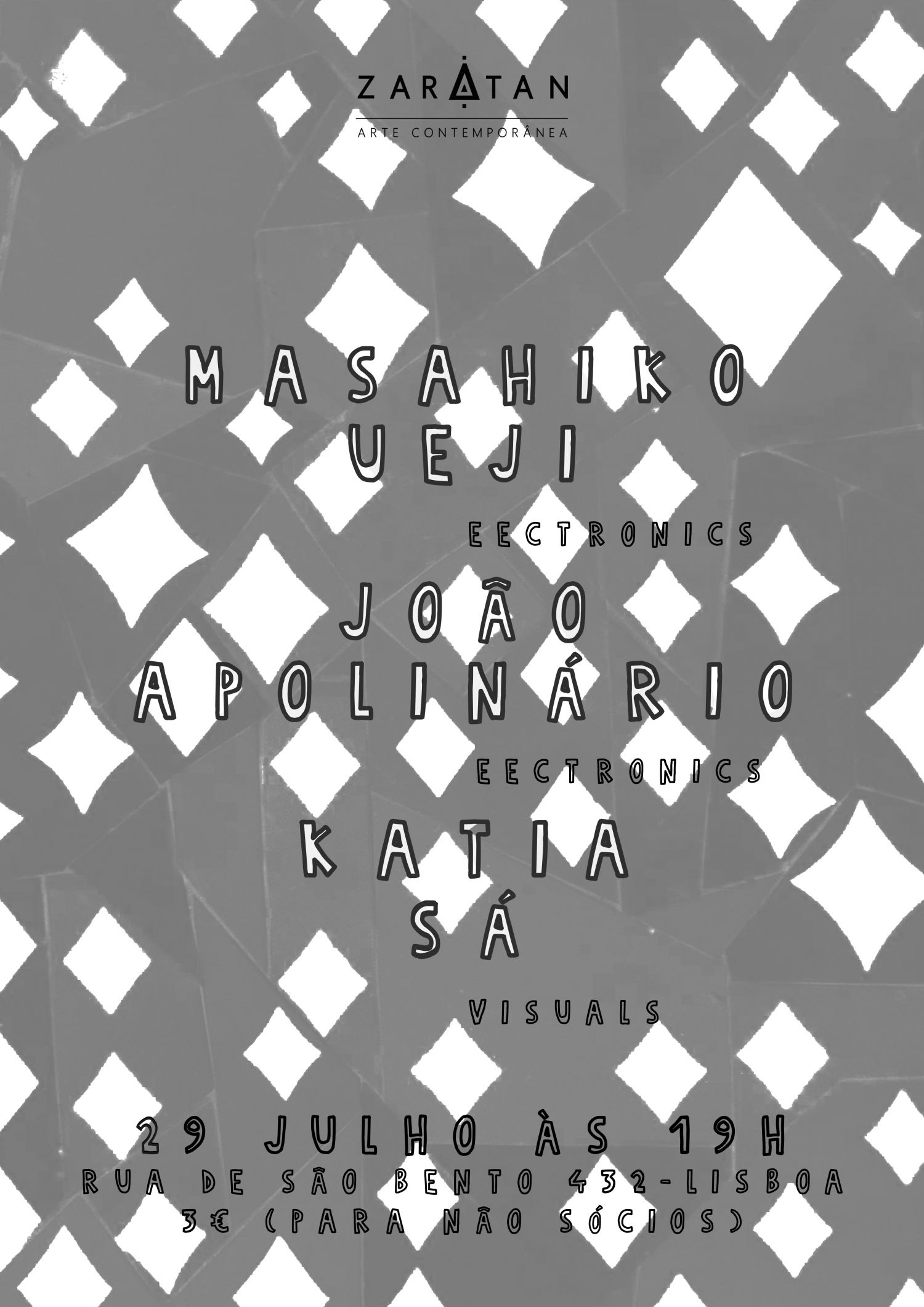 On July 29, Zaratan is pleased to present the debut of the ensemble Masahiko Ueji (electronic) João Apolinário (electronic) and Kátia Sá (live visual).
The duo João Apolinário and Masahiko Ueji began their activity in Berlin in the year of 2011. Since then, they played in several places in Portugal asTrem Azul Jazz Store, Fábrica Braço de Prata and Mercado Negro, exploring sonorities that run through the From Free Jazz to Psychedelic Rock.
Recently, Kátia Sá and Masahiko Ueji collaborated in a short artistic residency at the artists studio RoundaboutLX, where they presented a performance around the exploration of sounds, objects and transformation.
João Apolinário and Kátia Sá have done several works together in areas such as Photography, Theater, Multimedia Installations and Music, having participated in AJM Collective - João Apolinário ( drums) and Kátia Sá ( improvisation of responsive image).

BIOS:

Masahiko Ueji
Pianist, keyboardist, bass clarinetist and composer, lives in Marseille, France. He was born in 1981 in Mie, Japan, moving to Berlin in 2011. In his early years he was a classical pianist, later he was influenced by free jazz and free improvisation. He played with distinct groups, especially rock avant-garde, jazz and experimental music in Tokyo. He also collaborated with contemporary dance and Butoh theater. He composed for several short films, advertising, theater and dance. His projects include "DAREDA", "Wyoming", "After strings" and "Fat cat and drunk mouse".

João Apolinário
João Apolinário Crisóstomo (1978) is a musician and biologist. He began his musical training at Hot Club Portugal, and later participated in workshops led by William Parker and Peter Brötzmann. Recently he has been exploring the percussion in different musical contexts, since the most acoustic to the purely electronic ones, deepening his interest in the interaction between sound and image as complementary meanings. He has collaborated with musicians such as Cyril Bondi, Clayton Thommas and João Camões and participated in theater projects as composer and sound artist.
Kátia Sá
Kátia Sá (1977) is a visual artist and teacher.
With a background in Sculpture and Multimedia Art, the artistic identity of her work assumes an exploratory, transdisciplinary character that articulates the territories of photography, video, installation and/or performance. The systematic use of the multimedia devices - analog and digital - results in the construction of projects base on the hybridization of languages. She collaborates with artists from various areas - theater, music and visual arts - seeking synergies for the constitution of an individualized poetics. In addition, she is committed to projects that foster processes of artistic creation in different community contexts.