MAZE | Performative concert
28 Julho 2016 20h00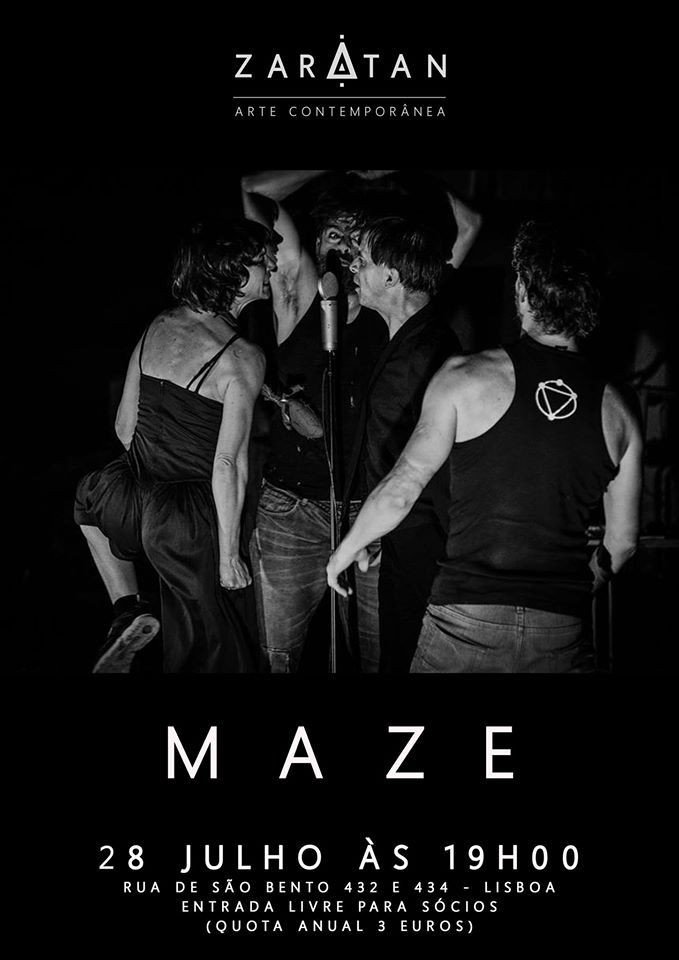 On the 28th of July, Zaratan - Arte Contemporânea is pleased to present the results of the micro-residency by MAZE at Zaratan, in the form of a performative concert.
After a first collaboration in Viseu during Jardins Efemeros, the Lucifer's Ensemble and Minotaura return to work together under the name of MAZE, a multi-sensory experience blowing mythology, ritual and transcendence with interactive technology, experimental music and performance. The intention is to create scenes for a contemporary opera in progress.
BIOS:

Maze
MAZE is a new collaboration between Lucifer's Ensamble and Minotaura.
LUCIFER'S ENSEMBLE is a music performance project crossing physical theatre, interactive technologies and sound art. It was born out of the theatre performance PRESENÇA (DEMO 2014).An inverted triangle comprising two performers (from collective DEMO) and a music composer (from Digitopia -Casa da Música). In their music performances they sometimes showcase guest musicians to close the circle of their conceptual pieces dedicated to themes of the occult. Such themes evolve mostly around notions such as those of Ritual, Trance and Transcendence, The Night and the Angel of Light; The Fool's Journey, among others.
MINOTAURA, aka Violeta Lisboa, is a multidimensional post-google artist. She grasps feelings and ideas and projects them out far, hugging whatever mediums and materials suit the season best. She studied mime, the tarot, machines and dreams, lives in Goa and Lisboa, shapes symbols, embodies dimensions, fakes contradictions, gives in to tension, weaves frequencies with colours and beings with themselves, stays true to the commitment of exploring herself.