André Tasso, Mark Van Hoen, Jasmin Blasco, Totally Together
28 Junho 2018 19h00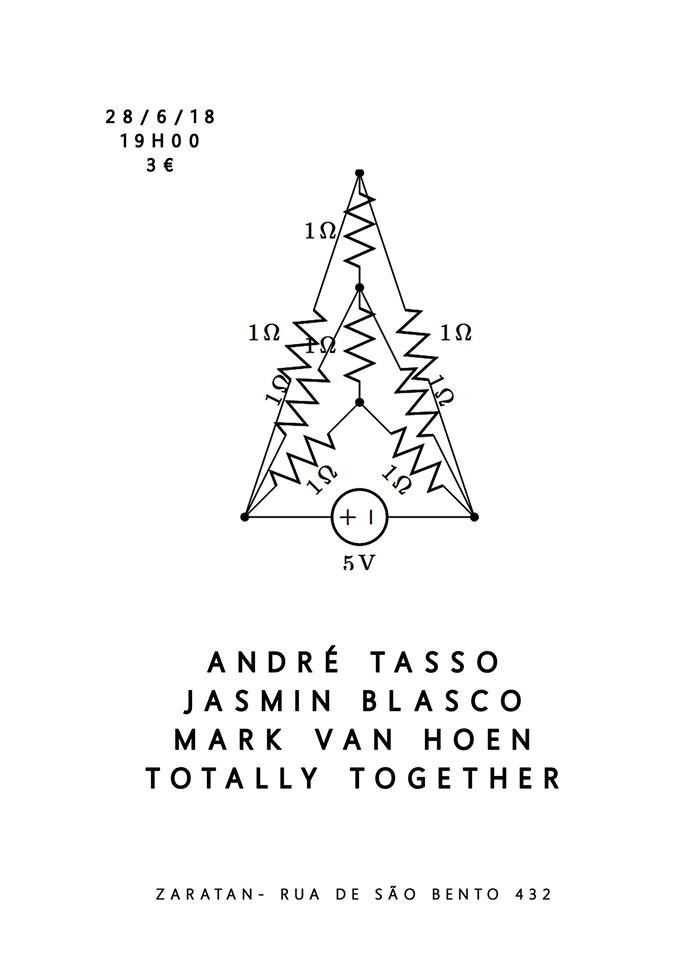 ANDRÈ TASSO >
https://soundcloud.com/andretasso
Autodidata que através da guitarra eléctrica, explora sons de diferentes materiais. Madeira, metais, panos, pincéis, interessa-lhe as particularidades sonoras de cada material. O que surge dessa exploração é mais ou menos imprevisível. É como se tivesse uma paleta de sons na memória, que vai usando à medida que os sons vão saindo. Á vezes parece uma narrativa, outras vezes é só som.
Self-taught, he has explored with the electric guita sounds of different materials. Wood, metals, cloths, brushes, he is interested in the sound peculiarities of each material. What emerges from this exploration is more or less unpredictable. It's as if you have a palette of sounds in your memory, which you use as the sounds come out. Sometimes it sounds like a narrative, sometimes it's just sound.
JASMIN BLASCO >
http://www.jasminblasco.com/
Jasmin Blasco
(n.1981) é um artista multidisciplinar que aborda os médias em movimento, como o ponto onde o som, a imagem e a linguagem conspiram para gerar ficções. Através de um processo de pesquisa e abstração, a sua prática encena o indivíduo em narrativas problemáticas. Vive e trabalha em Los Angeles.
Jasmin Blasco (b.1981) is a multi-disciplinary artist who approaches time-based media as the site where sound, image, and language conspire to generate fictions. Through a process of research and abstraction, his practice stages the individual in problematic narratives. He lives and works in Los Angeles.
MARK VAN HOEN >
http://www.markvanhoen.com/
Mark Van Hoen / Locust
has been producing electronic music since 1981, with releases on labels such as R&S/Apollo, Touch & Editions Mego. Mark Van Hoen was born in the UK and currently lives in Los Angeles USA
Mark Van Hoen produz música eletrônica desde 1981, com lançamentos em selos como R & S / Apollo, Touch & Editions MegoMark Van Hoen nasceu no Reino Unido e atualmente vive em Los Angeles, EUA.
TOTALLY TOGETHER >
https://soundcloud.com/totally-together
Totally Together é um projeto a solo do pianista polaco,
Roman Wróblewski
. Ruma a tornar-se indiferente a qualquer inspiração e explora a produção de um amplo campo da música eletrónica. Os principais elementos de suas composições são samples, sons acústicos, sintetizadores, batidas eletrónicas e canto, juntamente com projecção ao vivo.
Totally Together is a solo project of a polish pianist, Roman Wróblewski. Totality involves becoming indifferent to any inspiration and looking for fulfillment in a wide field of electronics. The main elements of his compositions are sampling, acoustic sounds, synthesizers, electronic beat and singing, together with live visualization.