Radical Arcadia: Cross-Art Forms Exhibition
3 Outubro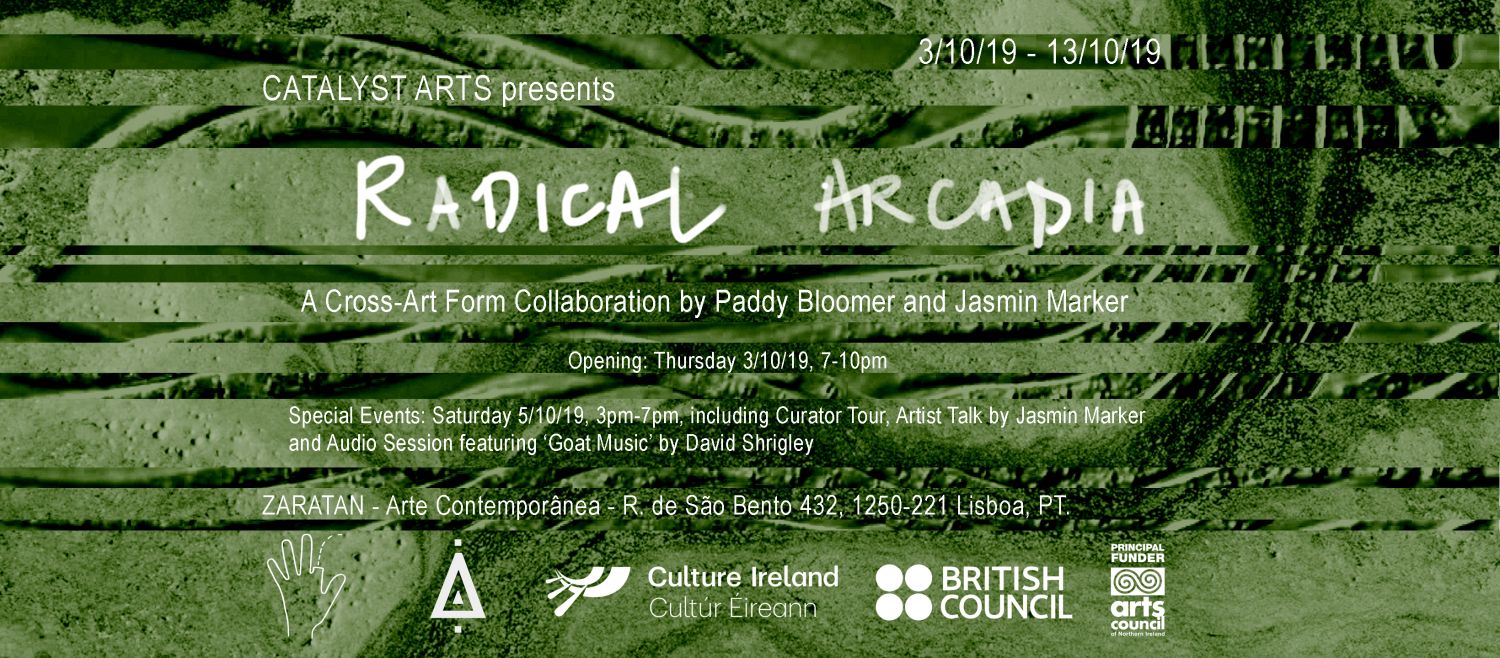 Radical Arcadia

Exhibition and Special Events
3 October - 13 October 2019

Radical Arcadia is an interdisciplinary and off-site project of Catalyst Arts, that investigates and questions the idea of Arcadia as the poetic shaped space of harmonious living between human and nature. It aims to spark dialogue that falls into topics in art, science, anthropology and architecture, rethinking about our ecological relationships with our spatial environment. The project consists of a new cross-art form commission by artists Paddy Bloomer and Jasmin Marker, a participatory exhibition through an open call and audio session featuring David Shrigley's Goat Music.


Cross-Art Forms Exhibition
Paddy Bloomer & Jasmin Marker
Launch: Thursday 3 October 2019, 7-10pm
Artist Talk by Jasmin Marker: Saturday 5 October 2019, TBC

'Architecture occurs at the meeting of interior and exterior forces of use and space,' as Robert Venturi wrote. This cross-art forms exhibition explores the material and structural awareness of the tension between the need for human habitation against catastrophic natural forces, and the protection of nature's ecological mechanism. Radical Arcadia reflects on the contradiction between our pastoral visions and morals, and the rationality in actualising these ideals.
Special: Works on Paper
Isabel English, Michael Hanna & Hayley Gault
Launch: Thursday 3 October 2019, 7-10pm


This special exhibition contemplates what Arcadia means today, as opposed to 100 years ago in Ireland; and what types of space hold this imagery. As a point of reference, artists draw on ideas that respond, reflect, or contrast to the artist Paul Henry who painted the pastoral values of rural Ireland. Visitors are encouraged to make use of ideas from these works to approach a holistic interpretation of other exhibits in the gallery space.
Associated Events:


>Curator Tour by Edy Fung & Leah Corbett
Saturday 5 October 2019, 16h
Catalyst Arts Co-Directors Edy and Leah guide you through the exhibitions, providing first-hand information and interesting insights into the process of developing and interpreting the underlying themes with artists, and how research thinking has formed curatorial concepts behind the exhibition.
>Audio Session - David Shrigley: Goat Music
Saturday 5 October 2019, 18h
Catalyst Arts is proud to present Goat Music from David Shrigley's studio as an associated programme of Radical Arcadia. Goat Music includes recordings of the goats in the film as well as the soundtrack Shrigley composed to accompany the opening performance in Hydra. Shrigley's project for DESTE's renovated former slaughterhouse was a funny film shown in a historically unfunny place. Shrigley noted that although he also filmed goats in Malta, the goats in Scotland seem to be much happier and thus funnier because they are not used for meat production.