LAYERS - Printed Matter
10 Agosto a 8 Outubro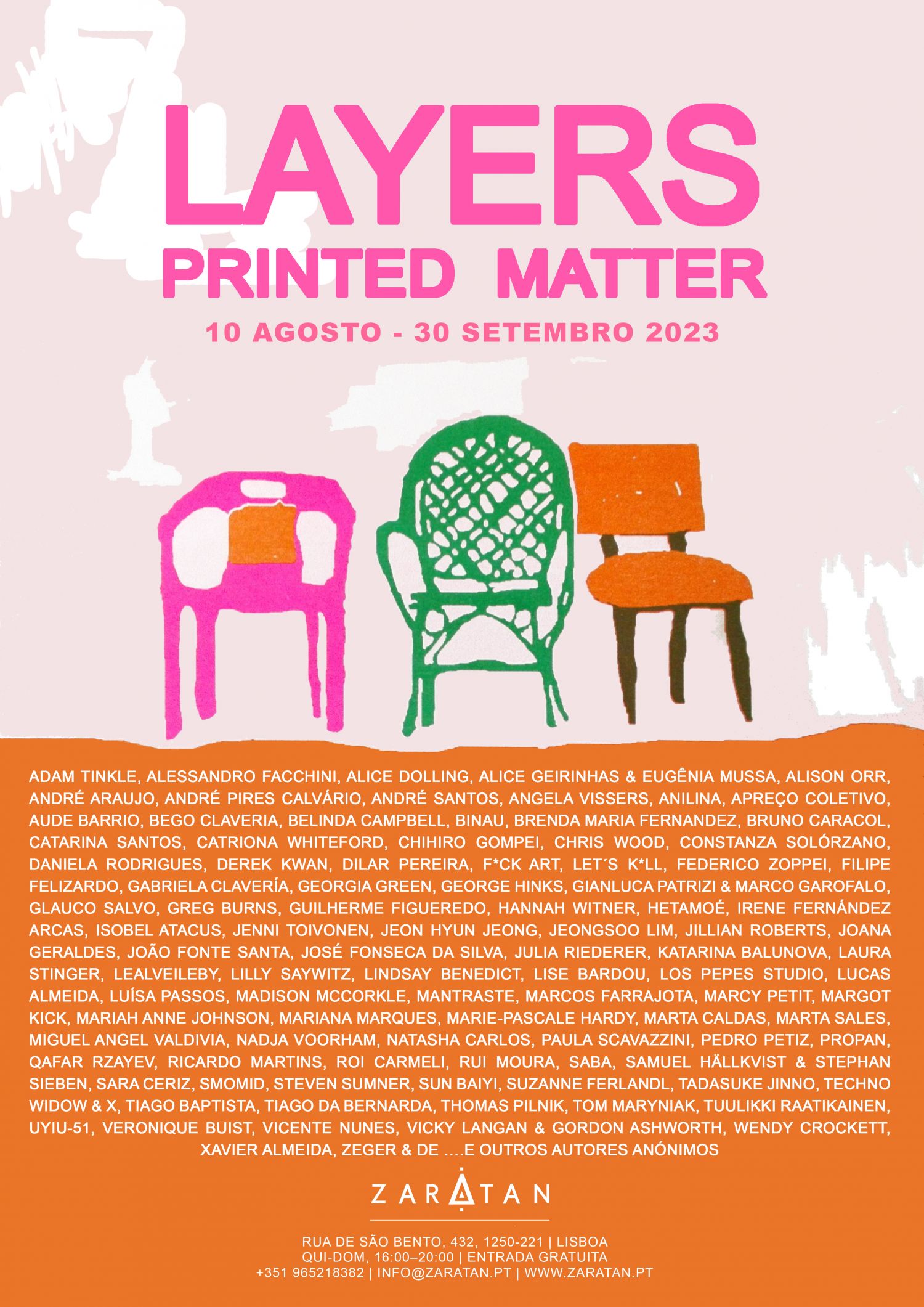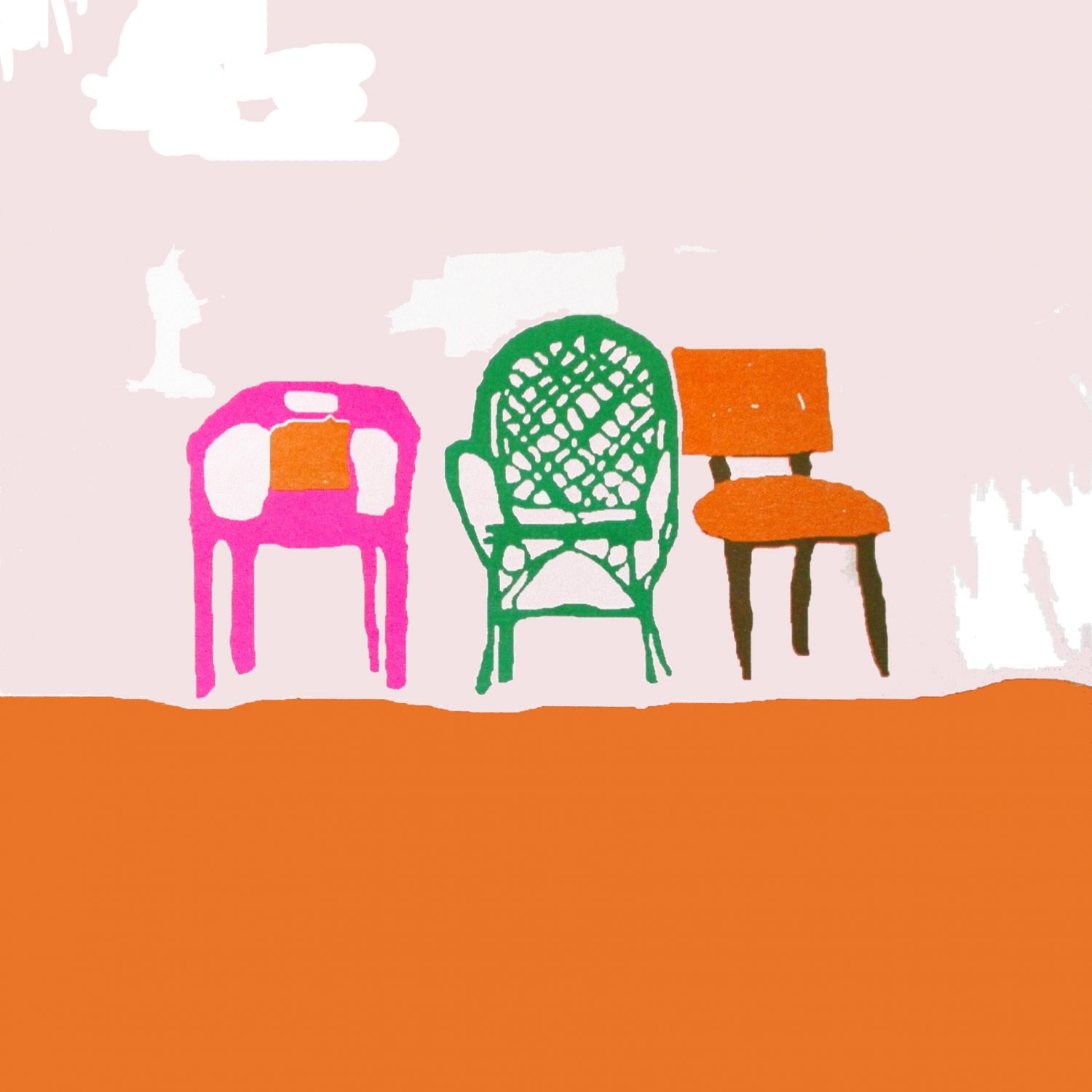 LAYERS – Printed Matter
10 August – 30 September 2023
ADAM TINKLE, ALESSANDRO FACCHINI, ALICE DOLLING, ALICE GEIRINHAS & EUGÊNIA MUSSA, ALISON ORR, ANDRÉ ARAUJO, ANDRÉ PIRES CALVÁRIO, ANDRÉ SANTOS, ANGELA VISSERS, ANILINA, APREÇO COLETIVO, AUDE BARRIO, BEGO CLAVERIA, BELINDA CAMPBELL, BINAU, BRENDA MARIA FERNANDEZ, BRUNO CARACOL, CATARINA SANTOS, CATRIONA WHITEFORD, CHIHIRO GOMPEI, CHRIS WOOD, CONSTANZA SOLÓRZANO, DANIELA RODRIGUES, DEREK KWAN, DILAR PEREIRA, F*CK ART, LET´S K*LL, FEDERICO ZOPPEI, FILIPE FELIZARDO, GABRIELA CLAVERÍA, GEORGIA GREEN, GEORGE HINKS, GIANLUCA PATRIZI & MARCO GAROFALO, GLAUCO SALVO, GREG BURNS, GUILHERME FIGUEREDO, HANNAH WITNER, HETAMOÉ, IRENE FERNÁNDEZ ARCAS, ISOBEL ATACUS, JENNI TOIVONEN, JEON HYUN JEONG, JEONGSOO LIM, JILLIAN ROBERTS, JOANA GERALDES, JOÃO FONTE SANTA, JOSÉ FONSECA DA SILVA, JULIA RIEDERER, KATARINA BALUNOVA, LAURA STINGER, LEALVEILEBY, LILLY SAYWITZ, LINDSAY BENEDICT, LISE BARDOU, LOS PEPES STUDIO, LUCAS ALMEIDA, LUÍSA PASSOS, MADISON MCCORKLE, MANTRASTE, MARCOS FARRAJOTA, MARCY PETIT, MARGOT KICK, MARIAH ANNE JOHNSON, MARIANA MARQUES, MARIE-PASCALE HARDY, MARTA CALDAS, MARTA SALES, MIGUEL ANGEL VALDIVIA, NADJA VOORHAM, NATASHA CARLOS, PAULA SCAVAZZINI, PEDRO PETIZ, PROPAN, QAFAR RZAYEV, RICARDO MARTINS, ROI CARMELI, RUI MOURA, SABA, SAMUEL HÄLLKVIST & STEPHAN SIEBEN, SARA CERIZ, SMOMID, STEVEN SUMNER, SUN BAIYI, SUZANNE FERLANDL, TADASUKE JINNO, TECHNO WIDOW & X, TIAGO BAPTISTA, TIAGO DA BERNARDA, THOMAS PILNIK, TOM MARYNIAK, TUULIKKI RAATIKAINEN, UYIU-51, VERONIQUE BUIST, VICENTE NUNES, VICKY LANGAN & GORDON ASHWORTH, WENDY CROCKETT, XAVIER ALMEIDA, ZEGER & DE ….AND OTHER ANONYMOUS AUTHORS
We are pleased to showcasing part of Zaratan's extensive archive of artist posters.
The exhibition brings together more than 150 works produced between 2014 and 2023 by a hundred national and international artists, from the most varied artistic areas (photography, painting, illustration, music, among others).
These printed materials appear as extensions of the collaborations, residencies, performances or concerts of the authors involved and intend to solidify the ephemeral creative processes.
In addition to showing a large number of visual artists, the archive provides a glimpse of Zaratan's research in the area of independent music: many of the works on display were created on the occasion of concerts and were inspired by the sound of musicians, bands and experimental projects.
Guided by cross-references between audio and image materials, the resulting exhibition is configured as a succession of memories, themes, relationships, which bring together present, past and future existence.