OPEN CALL | Em Obras - Experimental Laboratory
29 Setembro 2023 00h00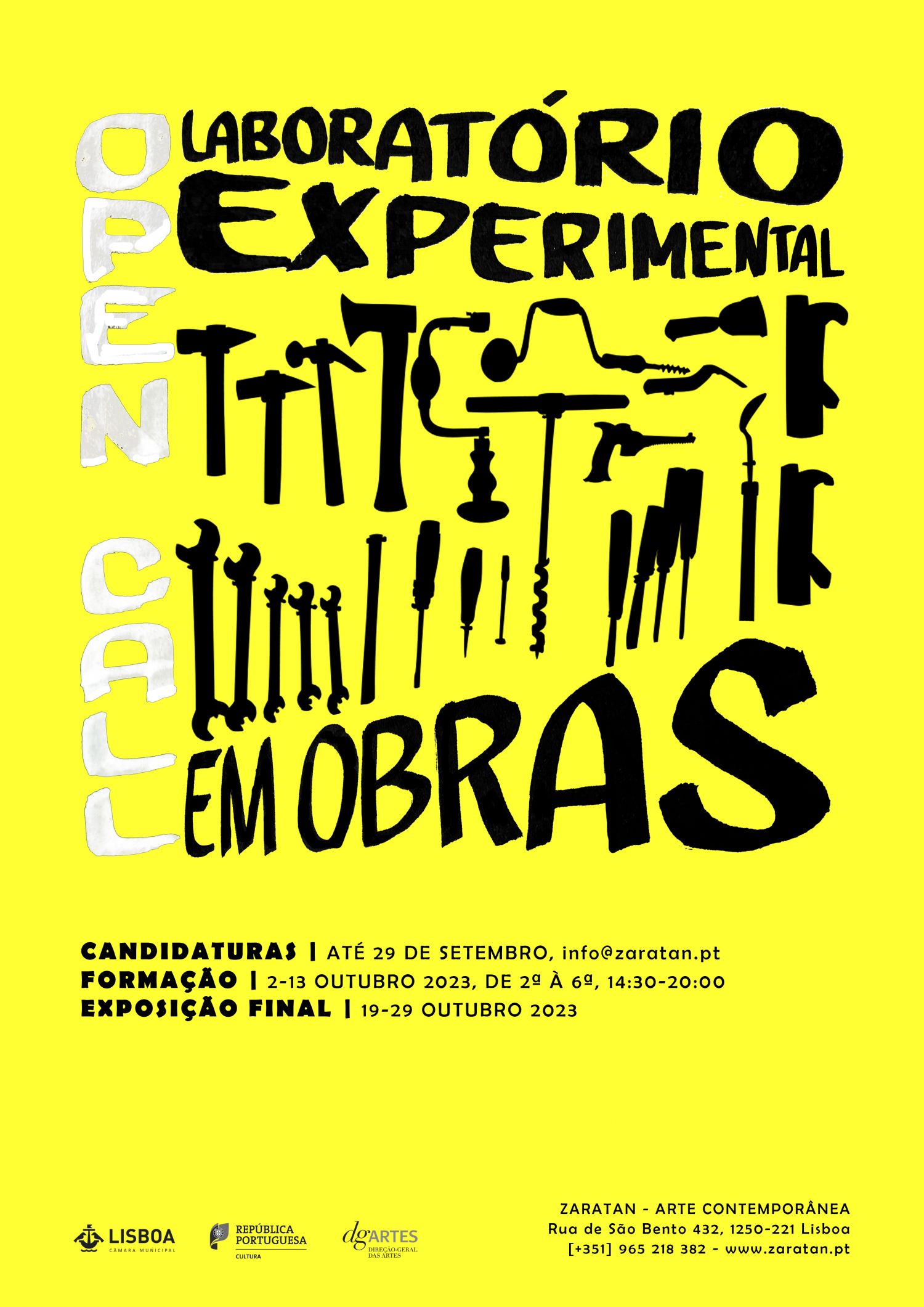 The experimental laboratory EM OBRAS ("WORK IN PROGRESS") is an educational program in visual arts aimed at students, artists and other cultural agents at the beginning of their career, taking place at Zaratan for 15 days in October 2023.
It is intended to encourage the activity of emerging, equipping them with means of work for production in the areas of visual arts and new media, and generate an opportunity for participants to test their research and artistic practices in a community environment.
Zaratan is part of the tradition of spaces directed by artists. Historically, artists have specialized in identifying cultural needs and making them available through the creation of independent structures. Detached from traditional teaching methods, the laboratory offers an alternative experience that emphasizes practice, improvisation, debate and growth.
The course is structured in 15 days of collective work with a group of 10 participants and 7 trainers: João Fonte Santa, José Chaves, Sara Mealha. Gemma Noris, Nuno Direitinho, Susana Borges and Daniel Antunes Pinheiro.
The first 10 days of the laboratory offer moments of reflection, sharing and debate, with the active participation of other participants invited by Zaratan. Together with the trainers, the participants develop practical activities with the aim of deepening their knowledge in the field of visual arts and facilitating dialogue between those involved and the environment.
During the last week of the workshop, the gallery space of Zaratan - Arte Contemporânea will be open to the public and will become the stage for the participants, who will be able to fill the physical space with thought and transversal productions: individual and collective, material and ephemeral .
The 2023 lab will be the third edition of the Experimental Laboratory, following the sessions carried out in 2021 and 2022 with the support of Câmara Municipal de Lisboa.

SCHEDULE:
2–6 Oct (14:30-20:00) Training
9 – 13 Oct (14:30-20:00) Training
16 – 18 Oct (14:30-20:00) Installing and curating the final exhibition
19 – 29 Oct (16h-20) Exhibition of the work developed


ELIGIBILITY:
Students (from higher education), artists and other emerging cultural agents, national and international.
Participation does not require any specific equipment or technical knowledge.


APPLICATIONS:
Applications should be sent to the email info@zaratan.pt until September 29, 2023 (00:00h)
We ask:
- Motivation letter (/maximum 500 words);;
- Portfolio/Website or any other document/media that exemplifies the candidate's practice (maximum 24 mb - PDF file).


PARTICIPANTS:
Maximum 10


COSTS:
80€ (30€ / annual membership fee of Zaratan + 70€ / tuition fee)
Participation is free for 2 unemployed people.
Costs refer to the effective participation of candidates. No fee is charged for submitting the application.

BIOGRAPHIES OF THE TRAINERS:


NUNO DIREITINHO (1981, Lisbon) lives and works in Lisbon. Master's Degree in Fine Art Media at Slade School of Art, UCL London (2014) and Degree in Fine Art Photography at Glasgow School of Art, Glasgow (2011) Recent exhibitions include: 'Future Nothing' - Zaratan Arte Contemporânea (2020, Lisbon) ; 'I'm in the bath where are you?' - The Icing Room (2019, London); 'All Things Considered' - Shed (2018, Frauenfeld); 'We are All Lichens Now' - Zaratan Contemporary Art (2016, Lisbon); 'Cornerstone' - APT Gallery (2015, London); 'Get in Lane' - Catalyst Arts (2015, Belfast) and 'Open Cube' - White Cube (2013, London).


JOÃO FONTE SANTA studied Painting at the Faculty of Fine Arts of the Classic University of Lisbon. He started by dedicating himself to underground comic book production in the context of the emergence of fanzines. Slowly, however, his work would assert itself in the field of painting. Drawing from an extensive background of pop culture images and references, he would build a work that is both visually appealing and pertinent in the way it presents a particularly critical view of the world. He has been exhibiting regularly since the mid-1990s.


SARA MEALHA was born in Lisbon in 1995. In 2017, she completed a painting course at the Faculty of Fine Arts in Lisbon. Since 2017 she regularly exhibits in group and individual exhibitions. Of note are "A Dispensa" (Pavilhão 31, 2017), "Cola-Cuspo" (Espaço AZ, 2018), "Cabra Cega" (Galeria Balcony, 2019), "A Longa Sombra" (Maus Hábitos, 2020). He held his first individual exhibition, "Primeiro Socorro", at Travessa da Ermida in 2018. Also noteworthy are the exhibitions "Às Nove a Caminho" (Balcony Gallery, 2019), "Ou Não, Sim" (Casa da Cerca, 2021 ) and "Ne Pas Plier" (Zaratan, 2023).


DANIEL ANTUNES PINHEIRO (Mozambique, 1980) divides his activity between Visual Arts, Photography, Sound and university teaching. He has a degree in Fine Arts – Painting and a Masters in Multimedia Art – Photography from FBAUL, where he is currently attending the PhD (Photography). He has a Postgraduate Degree in Musical Arts – Studies in Music and Technology from FCSH. Since 2012 he has been a Guest Assistant at the Multimedia Art department at FBAUL, teaching Photography and Sound Art. Since 2018 he has co-organized the exhibition program of the Ascensor space based at Associação Goela. He has participated in several individual and collective exhibitions since 2005. He lives and works between Lisbon and Montemor-o-Novo.


SUSANA LOPES BORGES Born in Caldas da Rainha, lives and works in Lisbon. Graduated in Sculpture at ESADCaldas da Rainha 2008, Master in Philosophy specialization in Aesthetics at the Faculty of Social and Human Sciences in Lisbon (2011). At the moment her PhD in Installation at the Faculty of Fine Arts In Lisbon is on hold. She has been exhibiting regularly since 2008. Her practice uses different media (photography, video, sculpture, ready made, engines, among others) in the construction of installation works, often thought of in a site-specific perspective.


GEMMA NORIS (1986, Brescia) is the founder and artistic director of Zaratan. She graduated in Painting at the Faculty of Fine Arts of Brera, Milan (2010) and obtained a Masters in Multimedia Art at FBAUL (2014). Her work opposes the connection between art and permanence, and moves towards collaborative intervention practices. She is interested in self-managed practices of artistic creation and production. Since 2012, she collaborates with several independent and artist-managed projects in Europe.


JOSÉ CHAVES (1982, Lisbon) lives and works in Lisbon. He has a degree in Advertising and Marketing at the Lisbon Social Communication School and a Master's degree in Multimedia Art at FBAUL. In 2014 he founded Zaratan with a collective of artists, and since then he has coordinated the association's activities. His work incorporates several artistic languages, such as music compositions, cinema, documentary and video art. This intersection allows you to create your own body of works, which explores audiovisual images and their post-multi-effects. He has participated in festivals, residencies and exhibitions around the world.