MIRIAM PANIERI | "[MOMENTO]"
28 Abril 2023 16h00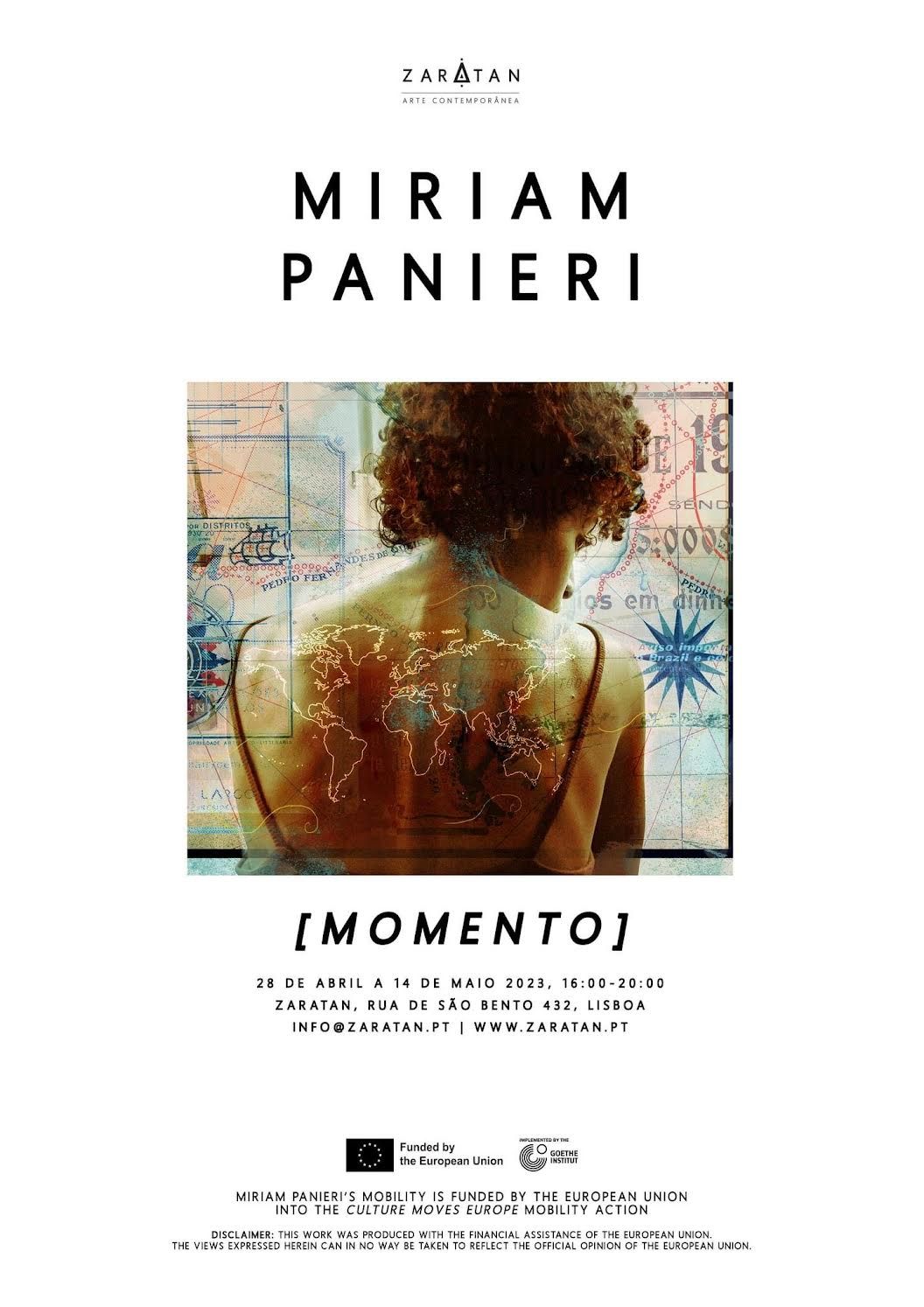 Zaratan AIR | Open Studio
MIRIAM PANIERI | "[MOMENTO]"


EXHIBITION | April 28 to May 14 2023, 16:00 – 20:00
ENTRY | Free
INFO | residencies@zaratan.pt


We are glad to invite you to "[MOMENTO]", an exhibition by Miriam Panieri who is presenting stories and actions carried out in Lisbon in 2020-2021 and later in 2023, during her residency at Zaratan.
Through a multimedia attitude, the project collects a series of texts and photographs in an interactive exhibition set.
The themes explored through these interventions are: belonging, roots, origins, displacement, culture, and migration. The works intend to trigger a questioning process in the viewers, by inviting them to engage with the physical exhibition through paper, pens and calls to action.


Miriam Panieri's mobility is funded by the European Union into the Culture Moves Europe mobility action.


[Disclaimer: This work was produced with the financial assistance of the European Union. The views expressed herein can in no way be taken to reflect the official opinion of the European Union.]


BIO: MIRIAM PANIERI is an illustrator and multidisciplinary visual artist from Bologna. After graduating in "Editorial illustration" In Academy of Fine Arts she chose Lisbon as the destination to start her artistic career. There, she published her first picture book: "Il costruttore di cornici - O construtor de molduras" (text by Enrico Previato, published by Calboni Edições, 2021). She's lived in Ukraine, Portugal, Spain and Italy and traveling has been her main inspiration to challenge her permeability, her own identity and sense of belonging. During her stay in Portugal she experimented these themes with new mediums: creative writing, artistic photography and collage, resulting in several ongoing projects and two exhibitions. Her series "Reutilize Este Corpo", focused on the troubled relationships with our bodies, was exhibited at "Curious Monkey" gallery in a collective exhibition. The same series has been exhibited in a solo exhibition at "Plantasia LX" Art gallery in Lisbon (2021). She actively collaborated with other Lisbon's artists and collectives such as Mais Uno + 1, EMUA Museum, Curious Monkey cultural association. At TODOS Festival 2022, she hosted the drawing workshop: "Draw your Lisbon, between faces and borders" with Amadea Kovic (artist and PhD researcher) in Santa Clara.