Artist Talk | ADAM TINKLE & ANGELA VISSERS
30 Março 2022 15h00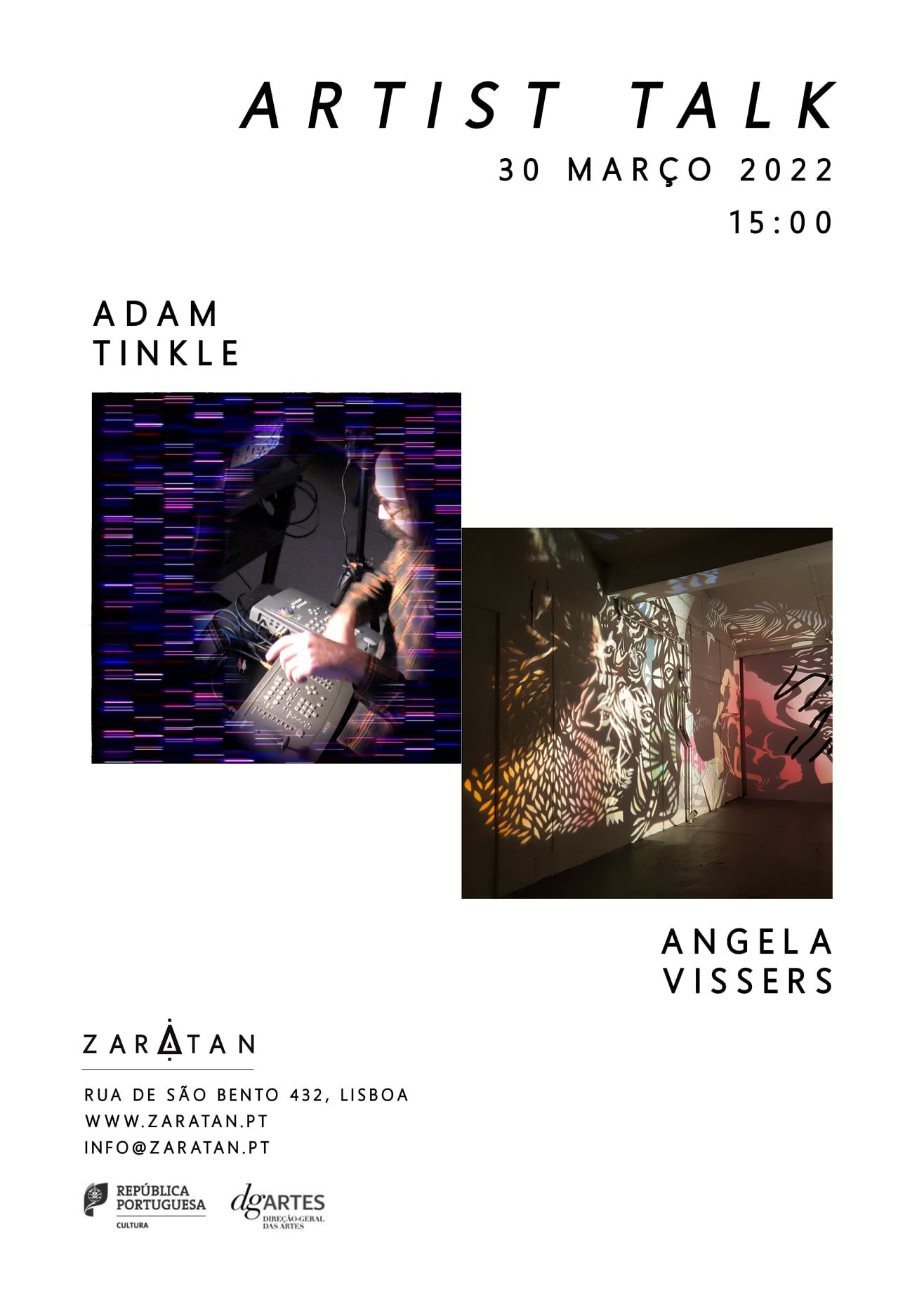 Zaratan AIR

Artist Talk | ADAM TINKLE & ANGELA VISSERS


SCHEDULE | March 30, 15:00
FREE ENTRY *
INFO | residencies@zaratan.pt
SUPPORT | República Portuguesa – Cultura / Direção-Geral das Artes


The Artist Talks offer the community a chance to meet the artists-in-residence at Zaratan and to gain insight into the creative process.
During this encounter Adam Tinkle and Angela Vissers will introduce briefly their artistic practices and will give us an insight into the works developed during their time in Lisbon.
The conversation will be held in English; participants are invited to participate and question.
BIOS:
>>> ADAM TINKLE is an artist, educator and writer based in Saratoga (New Yourk) and working in sound, music, installation, video, performance, and collaboration. After studies in experimental music with legendary figures of the avant-garde like Anthony Braxton, Alvin Lucier, Anthony Davis and Pauline Oliveros, his soundworld has expanded to fold in the vernacular and the narrative alongside the experimental, including song forms, beats, radiophonic voices, documentary field recordings, and participatory structures. Proficient on woodwinds, strings, voice, synthesizers, and other electronic musical systems, he also salvages and reorients old A/V equipment towards a visual music of light and color – as in his recent solo exhibition "Screenbathing", at the Art Center of the Capital Region (NY, USA), which perforated and immersed human forms with video to examine contemporary screenlight embodiment and (un)wellness. A seasoned interdisciplinary collaborator, he sculpted the headreactive ambisonic sound design for "How to Tell a True Immigrant Story" (an award-winning 360 VR documentary which premiered in Locarno) and produced the radio play "The Hard Problem" with Marina Abramovi and Kim Stanley Robinson. He has taught at Skidmore ? College since 2014, where he has guided the development of its Documentary Studies Collaborative (MDOCS) and summer Storytellers' Institute from their inception, and developed the Co-Creation Initiative, a four-year project funded by the Andrew W. Mellon Foundation, which links Skidmore to non-academic partners in its region through collective artistic response to key sociopolitical challenges. [
http://www.adamtinkle.com
]
>>>ANGELA VISSERS lives and work in the Netherlands. Her artistic practice is based on the creation of environmental installations made of shadows, that transport onlookers to the threshold of twilight zones where charming scenes are transformed into a darker reality. In these worlds, anthropomorphic animals are the main protagonists, highlighting how animals are inherently connected with nature and instinctively respond to environmental's signals, while humankind is undiscerning. Angela Vissers' work exposes a society at the point of no return, where human nature disrupts the natural order. She is interested in the impact of human activity in power structures within the financial sector and multinationals companies. Inevitably, these man-made systems impact their surrounding ecosystems. Environmental degradation is irrefutable; the fatal attraction to capitalism set in stone. In The Netherlands Angela Vissers (1980, Nijmegen) is also the organizer from the international drawing festival The Big Draw that takes place in 6 cities, offering an educational program, drawing workshops, exhibitions, lectures, performances are examples of a full drawing program that is taking place on street and in cultural institutions. [
http://www.kunstelaar.nl/
]