SUPER-DIVAS #3 | Burgueses Famintos
26 Março 2022 17h00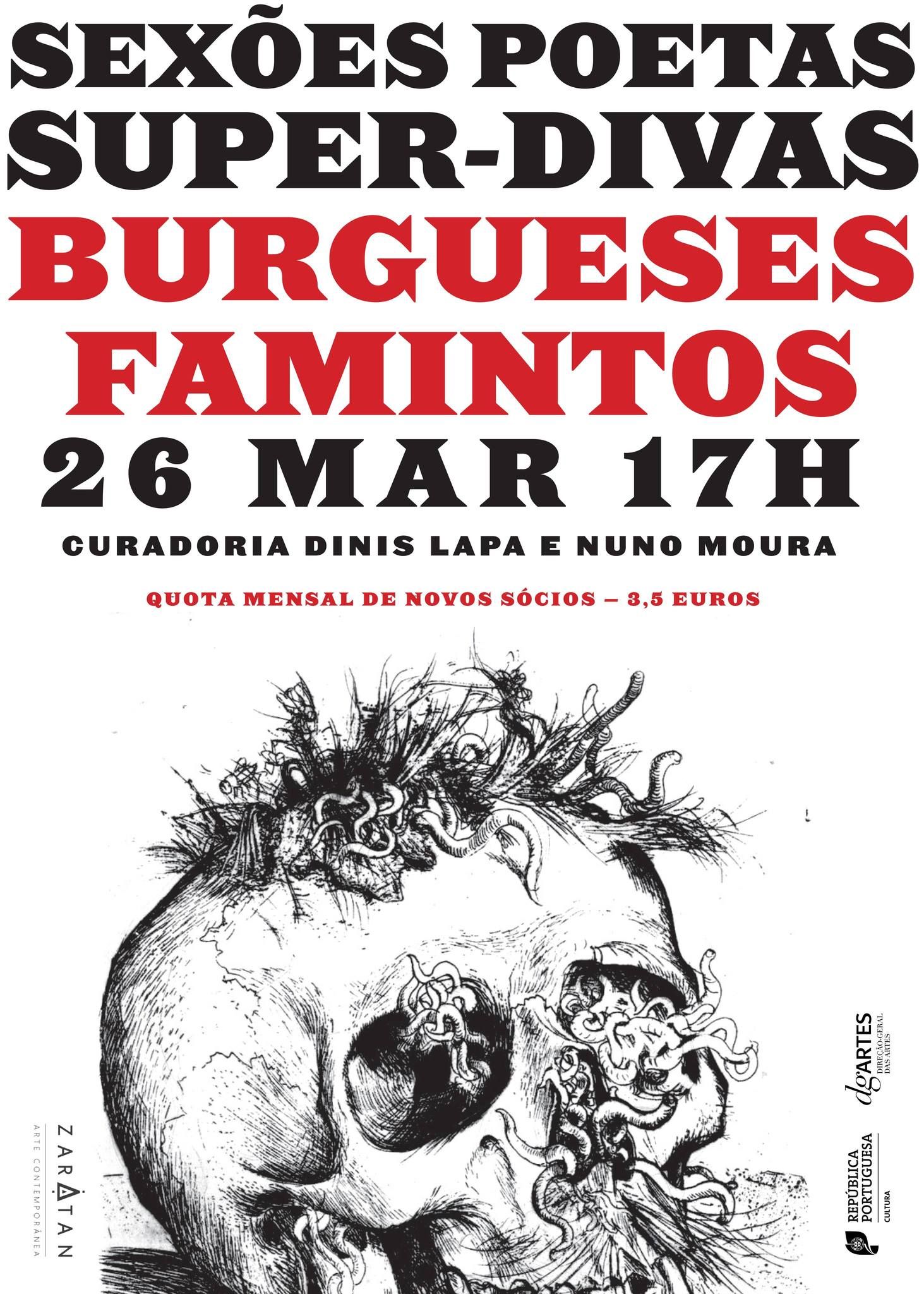 SUPER-DIVAS #3 | Burgueses Famintos


WHEN | 26 Março, 17:00
ENTRY | 3,5€ (monthly member fee) *[In the context of the Covid-19 pandemic, to visit the space the use of a sanitary mask is mandatory and the entrance is subject to maximum capacity, in compliance with the DGS measures. To book your place: booking@zaratan.pt]
INFO | info@zaratan.pt


What drives poets? Sung sex, of course. But, being poets, it's ultrasex. That is why this cycle dedicated to super hot super divas is urgently needed. Dinis Lapa and Nuno Moura send jests into the air and then a divine ray pierces them with the names of the mega sexiest poets in Portugal. All of them are somehow connected to music. Super-diva prima-donnas is what they are. «Sexões» are, therefore, sex sessions with the sexiest poetry super-divas. The feast is served.
In this third session of the Super-Divas cycle, there will be a live performance by Burgueses Famintos (Manuel Molarinho and João Silveira).
On this occasion, there will also be the release of a publication that has been created as an extension of the previous session of the cycle, which counted with the participation of METAMORPHOSIS (Carla Badillo and Nuno Afonso).


BIO:
BURGUESES FAMINTOS | Born between Porto and Lisbon, the project Burgueses Famintos move through hybrid territories of text, sound and image. Based on the error and chaos of improvisation, the course of the project gives primacy to the construction of an unrepeatable and, therefore, rare moment, in which the poem, repeated, reformulated or modulated live, is allied to music and sounds. , created in real time. In a time obsessed with the finished product, the bourgeois are Manuel Molarinho (O Manipulador, Baleia Baleia Baleia) and João Silveira (Moloch, Dead Club), hungry and given over to a textual and sonic delirium captured on the first take.

CURATORSHIP AND ORGANIZATION | Nuno Moura & Dinis Lapa
PRODUCTION | Zaratan
POSTER DESIGN | Flora Serpa
GRAPHIC DESIGN | Pedro Serpa
SUPPORT | República Portuguesa – Cultura / Direção-Geral das Artes