LIGA #1 | Alice Geirinhas + Eugénia Mussa
21 Maio 2021 16h00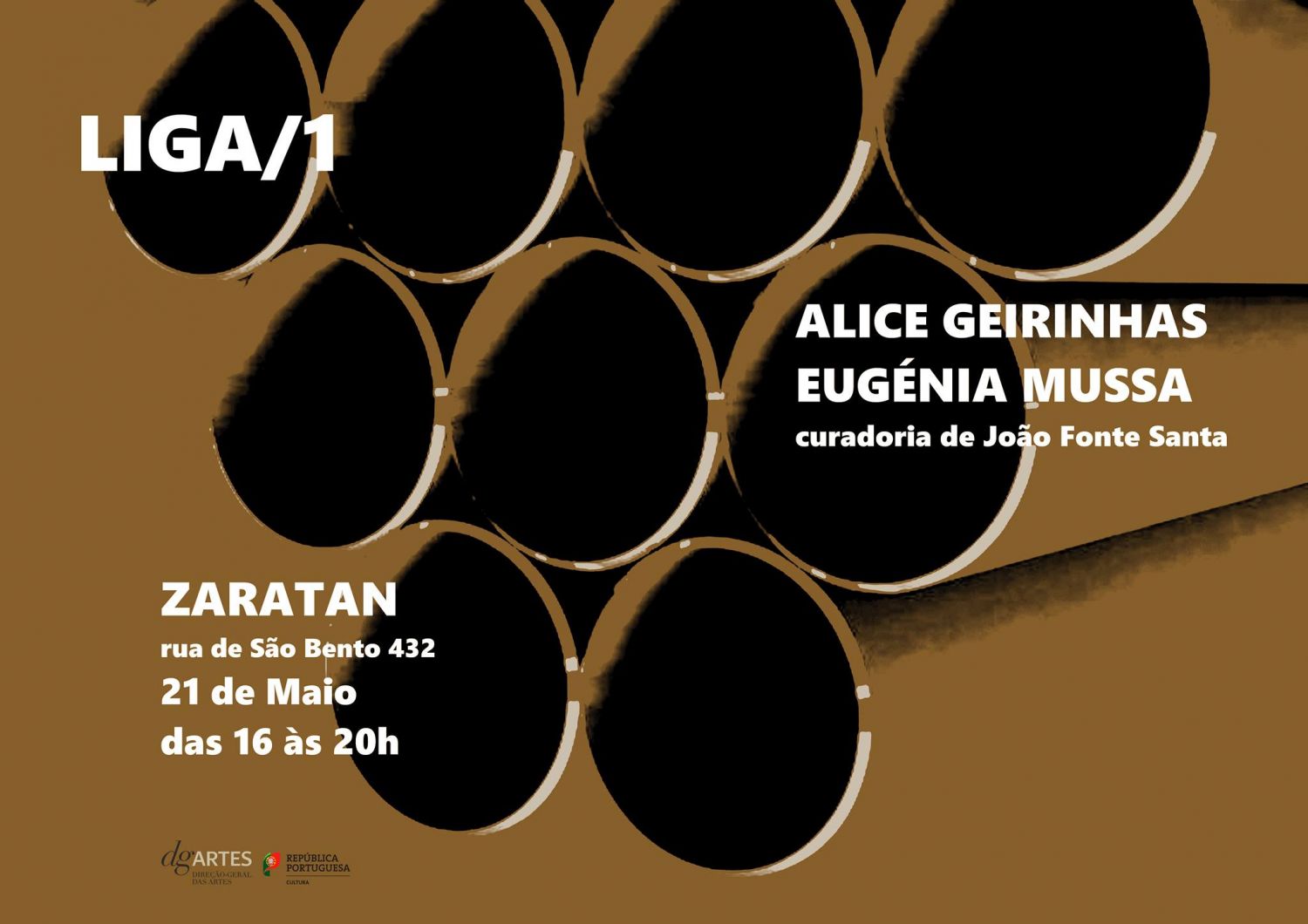 LIGA # 1 Alice Geirinhas + Eugénia Mussa
SCHEDULE | May 21st, from 4 pm to 8 pm
FREE ENTRY*
INFO | info@zaratan.pt | +352 967580235 |
www.zaratan.pt
SUPPORT | República Portuguesa – Cultura / Direção-Geral das Artes
It is common in the production of metals to use alloys ("lig"), that is, combining metals with other elements (usually non-metals) and the result of the mixture gives rise to materials that generally differ from the base metals, providing them with new qualities, namely increasing the its mechanical strength, hardness or resistance to corrosion.
Curated by João Fonte Santa, LIGA is an ephemeral one-day event, which proposes the collaboration of two artists at each session. In this first edition, taking place on May 21, the invited artists are Alice Geirinhas and Eugénia Mussa.


ALICE GEIRINHAS | She graduated in Sculpture from FBAUL, obtaines a master's degree in Contemporary Artistic Practices at FBAUP, and holds a PhD in Contemporary Art from the College of Arts, University of Coimbra. She was an illustration teacher at the Calouste Gulbenkian Foundation and at the Ar.Co art school. She was a programmer and coordinator of the training area at Bedeteca de Lisboa (2001-2005). She is currently a professor of Design in the Design and Multimedia course at the Faculty of Science and Technology of the University of Coimbra and the Colégio da Artes. Her first solo exhibition, "A Nossa Necessidade de Consolo É Impossível de Satisfazer", Zé dos Bois (ZDB) was followed (among others), "Alice", Bedeteca de Lisboa; "Ce sex qu'est pas un", Museum of Neo-realism, Vila Franca de Xira, "Chora", Gaivotas 6, Lisbon. Among the group exhibitions that she integrated, the following stand out: "2012-2020 obras da Coleção António Cachola", MACE, Elvas, "Ponto de Fuga/Vanishing Point", Cordoaria Nacional, Lisbon, "A Guerra como Modo de Ver", MACE, Elvas, "Género na Arte: corpo, sexualidade, identidade e resistência", MNAC, Lisbon, "Re-produtores de Sentido", SESC Rio, Rio de Janeiro, "Portugal: 30 Artists Under 40", The Stenersen Museum, Oslo. From the artistic collective Sparring Partners (Alice Geirinhas, João Fonte Santa and Pedro Amaral), highlights the exhibitions: Tudo o que é sólido dissolve-se no ar", Berardo Museum, "A Filosofia do Dinheiro", Museum of the City, Lisbon, 2010 and "Low", ZDB, 1995.


EUGÉNIA MUSSA | Born in Maputo, 1978. She began her studies in visual art at City & Islington College, London, before training as a painter at Ar.Co in 2009. That same year she was one of the finalists for the Anteciparte Prize. In 2010, she received an honourable mention in the exhibition held to commemorate the 25th anniversary of the Banco de Moçambique. In 2013, she held a solo exhibition at the Espaço Arte Tranquilidade and showed her work at the Calouste Gulbenkian Foundation and the Galeria João Esteves Oliveira, where she still exhibits regularly to this day. Her artistic practice evinces an abiding concern with rethinking the history of artistic movements in painting. She currently lives in Lisbon and her works can be found in private and institutional collections and you can currently see her work at the Modern Collection of the Calouste Gulbenkian Foundation.
*In the context of the covid-19 pandemic, the use of a sanitary mask is mandatory to attend public events and places are limited.