LIGA # 2 | Isabel Carvalho + Diogo Bolota
18 Setembro 2021 16h00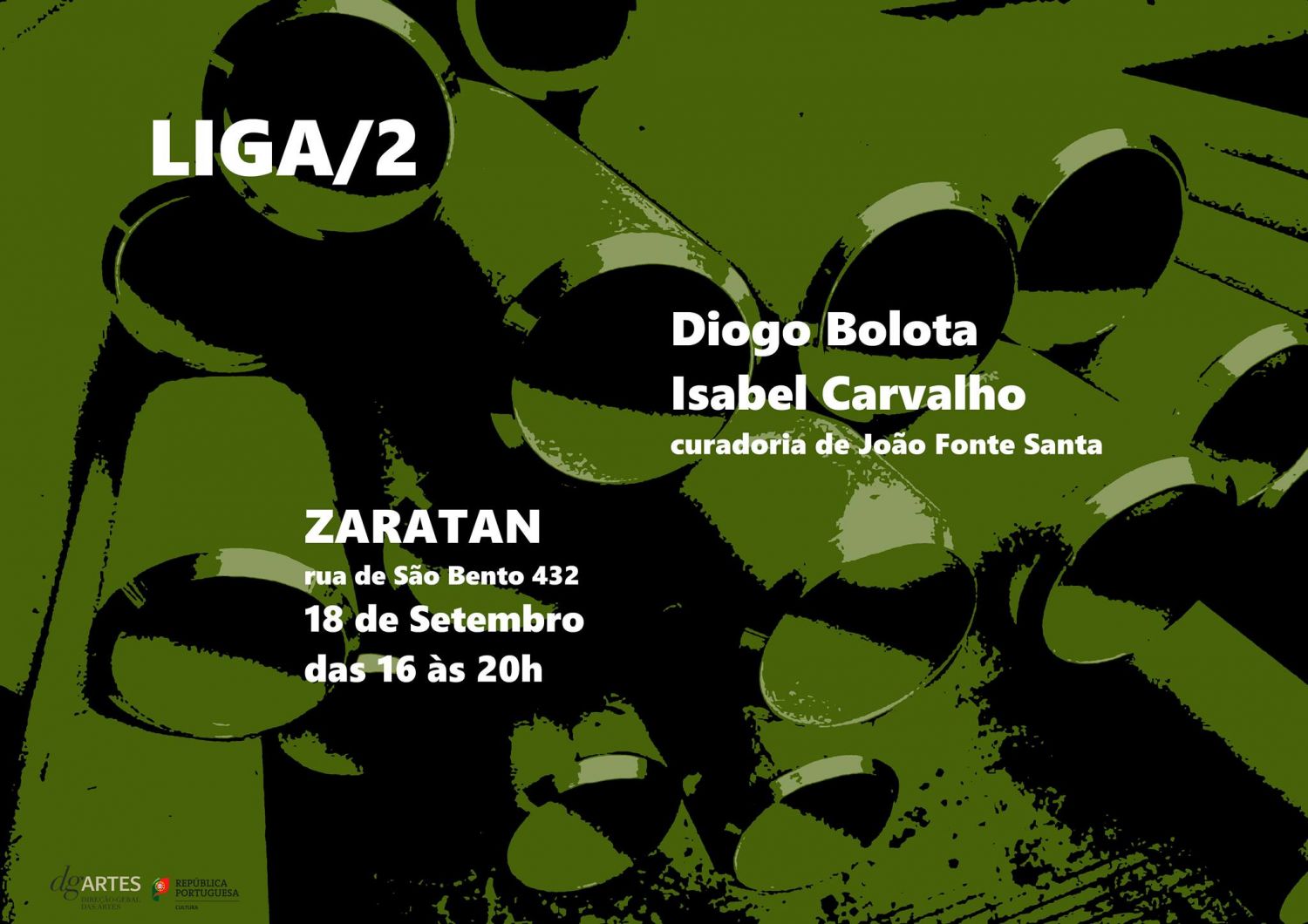 LI
GA # 2 |
Isabel Carvalho + Diogo Bolota
SCHEDULE | September 18, 16:00 – 20:00
FREE ENTRY* In the context of the covid-19 pandemic, the use of a sanitary mask is mandatory to attend public events and the entrance is limited]
INFO | info@zaratan.pt | +352 967580235 |
www.zaratan.pt
SUPPORT | República Portuguesa – Cultura / Direção-Geral das Artes
It is common in the production of metals to use alloys ("liga"), that is, combining metals with other elements (usually non-metals) and the result of the mixture gives rise to materials that generally differ from the base metals, providing them with new qualities, namely increasing the its mechanical strength, hardness or resistance to corrosion.
Curated by João Fonte Santa, LIGA is an ephemeral one-day event, which proposes the collaboration of two artists at each session. In this second edition, taking place on September 18th , the invited artists are Isabel Carvalho and Diogo Bolota.
Biographies:
ISABEL CARVALHO | Lives between Porto and Berlin. Over the past few years her artistic work has brought together visual arts and writing. There is a strong research component in Isabel's practice – crossing scientific and speculative approaches as a methodology. Her main interest is to establish meaningful relationships between contemporary art practice, economy, politics and sexuality.
She studied Fine Arts at the University of Porto and at the Camberwell College of Arts in London. She has been exhibiting regularly since the early 2000s, presenting different projects and artist editions. In 2015, Isabel Carvalho was artist-in-residence at the Künstlerhaus Bethanien in Berlin.
DIOGO BOLOTA | Born in Lisbon, where he works. He graduated from the Faculty of Architecture in 2012 and completed the MA Drawing at the University of Arts of London in 2013. He has been exhibiting his work since 2014. Among the group exhibitions, we can highlight:"Escuta à procura de som" (2019 ) at the Consulate General of Portugal in São Paulo, "Nome do meio" (2018) at Housing, "Cidade Jardim"(2017) at Galeria Diferença, "Babel" (2015) at Miguel Justino Contemporary Art and "Canto Chanfrado" (2014) at Espaço Avenida 211. Among the solo shows it stands out: "Defeito Desfeito" (2020) at the Quartel da Arte Contemporânea in Abrantes, "Sinalefa" (2016) at Mu.sa in Sintra, "Esgaravatar" (2016) at Casa-Museu Medeiros e Almeida, "Objectar" (2016) at the Geological Museum. He has participated in several residencies and has his work published in Caixa Negra (Saco Azul) and by Editora da Fundação de Serralves. In 2017 he was among the selected artist for the prize Novo Banco Revelação, Fundação de Serralves in Porto. His work is represented by Uma Lulik__.