PERFUSSOM (29) Patrícia Filipe + Filipe Felizardo
2 Outubro 2021 19h00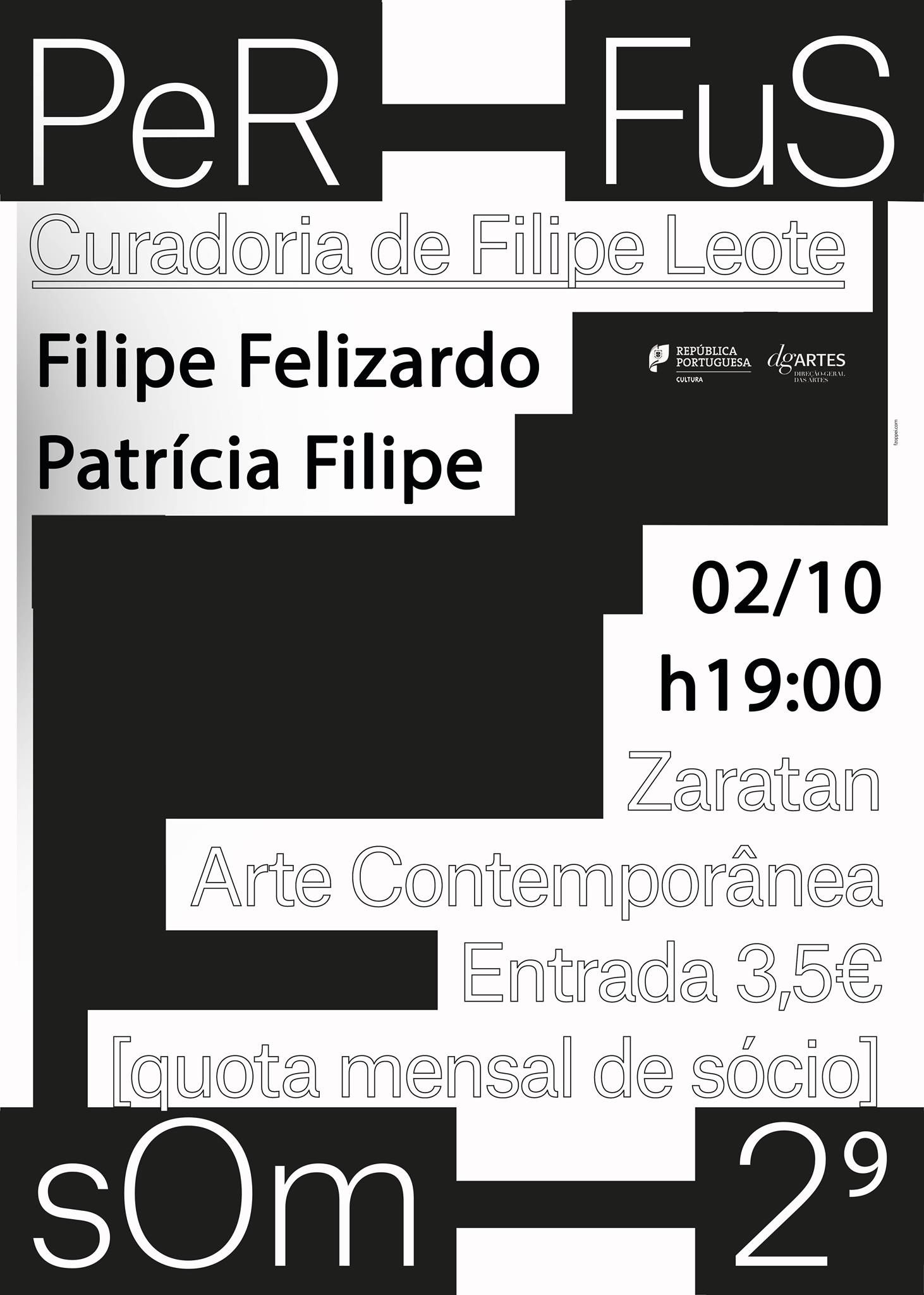 PERFUSSOM (29)Patrícia Filipe + Filipe Felizardo
October 2, 19:00
Free entry form members [monthly fee 3,5€ ]*
Support: República Portuguesa – Cultura / Direção-Geral das Artes
PERFUSSOM is a cycle of live events between performance, music and poetry. PERFUSSOM follows a nomadic and undisciplined path, proposing the mixing of several expressive languages. With curatorship of Filipe Leote, it happens once a month at Zaratan since 2017.
For this occasion we present a live performance by Patrícia Filipe and a concert by Filipe Felizardo.
BIOS:
>>> PATRÍCIA FILIPE was born in Setúbal in 1978, works and lives in Lisbon. She studied Painting at Ar.Co and graduated in Fine Arts at ESAD Caldas da Rainha, with a final project in Drawing with Sérgio Taborda. She has been developping her artistic path in Drawing, Installation, Performing Arts and in Music with the project "Come-se a pele?". She has participated in several exhibitions (individual and collective) and live performances, namely: in the Open Space of Galeria Santiago, Palmela; at the Kabuki Gallery, Lisbon; at Round the Corner Lisbon Gallery; at the Galeria da Boavista, Lisbon; in Berlin's cultural arts week with the exhibition "Touching Pieces" at the Altes Finanzamt in Berlin (2013) and at Casa da Cultura de Setúbal (2014). Recently she presented the project Portátil at Galeria a Montanha (2020).
>>> FILIPE FELIZARDO (Lisbon, 1985) practices music, visual arts, and recently devoted himself to the study of philosophy at the New Center for Research & Practice. His musical work focuses primarily on solo guitar, with interests in minimalist aesthetics informed by a passion for stoner rock and loner folk. He is currently dedicated to exploring his approach to the amplified 12-string guitar. His album 'RED CROSS' was recently launched through the label Holuzam, with the collaboration of Filipa Cordeiro.
+ INFO:
>PATRÍCIA FILIPE
On this occasion she presents PERFORMANCE RESTIAS, a live performance that takes place around the absence, the memory, the objectual remains, almost an elegy for the dead. "Restias" means what is left of something, and a beam of light that passes through a narrow opening. Personal objects, music, gestures and actions are related around the visibility of physical death and its relationship processes with the imposed distance, with the loss of memory and the creation of moments of connection and transformation into memories of experiences.
> FILIPE FELIZARDO
> bandcam:
https://filipefelizardo.bandcamp.com/
> "Atypical Traditions" Concert by Carlos Casas and Filipe Felizardo:
https://www.youtube.com/watch?v=nFvuOmoVuOQ
> "RED CROSS" (ed. Holuzam)
https://holuzam.bandcamp.com/album/red-cross
> Mush Rooms (BUREAU, Walter el Nagar, and Filipe Felizardo):
https://www.e-flux.com/architecture/critical-cooking-show/358111/mush-rooms/
> Comehoming at War, Us Newts:
https://www.youtube.com/watch?v=M50716vbfMQ&list=PLy2y7t3rUYsOlbrdZA-Hgi1ua7admZPL2
> ONDNESS Is a State of Traseiras:
https://youtu.be/pzNXKjRifTo?list=PLy2y7t3rUYsOlbrdZA-Hgi1ua7admZPL2