Golden Diskó Ship | TAKE ME TO THE AIRPORT, YOU FUTURISTIC CREATURES
28 Novembro 2021 18h00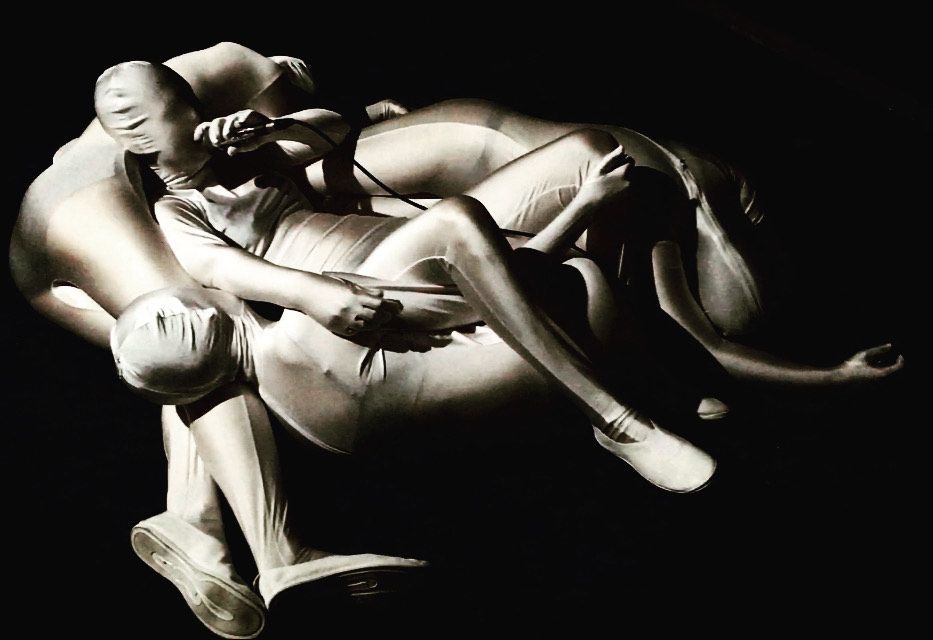 Zaratan AIR | Open Studio
Golden Diskó Ship
TAKE ME TO THE AIRPORT, YOU FUTURISTIC CREATURES
LIVE PERFORMANCE | 28 Novembro 2021
SCHEDULE | 18:00 [1st session] – 19:00 [2nd session]
RESERVAS | booking@zaratan.pt
ENTRADA | Free
TAKE ME TO THE AIRPORT, YOU FUTURISTIC CREATURES is an interdisciplinary performance involving music, video projection and dance. During her residency at Zaratan in the month of November, Golden Diskó Ship created a new 13minute long track alsongside with a video to turn the rooms of the artspace into a live sound and light bath filled with 4 mysterious performers with one destination: Get off Planet Earth before it is too late.
The dancers act as flexible elements and hybrids between human beings and living projection screens. They mingle with the audience, encouraging them to move around the space freely during the performance. The music is a mix of electronics and live instruments and vocals, a journey into the borderlands between experimental pop hymns, solemn soundscapes and heavy drum machine breakdowns.
Golden Diskó Ship is the long term solo project of Theresa Stroetges, a multi-instrumentalist, composer and sound artist based in Berlin. It combines songs with sound collages, electronics, acoustic instruments and video projections. Golden Diskó Ship has followed an interest in breaking up the conventional setting for music performance for a long time. Her goal is to create an immersive experience for an audience that is not on the other side of the stage but part of the same space as the artist(s), like fish in an aquarium.
Theresa's musical adventures also comprise audiovisual electronic improvisation (Epiphany NOW) and psychedelic kraut noise (Soft Grid, Painting). She is especially interested in breaking up conventional performance practices and borders of genres. Besides working on her own musical projects and sound installations she likes collaborating with artists from all kinds of perspectives and has enjoyed developing sounds for video, film, dance, poetry, performance and visual art in the last years. She is always excited to do new things and loves to collaborate.
Admission is free but places are limited. It is possible to book by email: booking@zaratan.pt
The project of Theresa Stroetges is funded by Musicboard Berlin GmbH.
Zaratan is supported by República Portuguesa – Cultura / Direção-Geral das Artes.
DANCERS / PERFORMERS:
WIEBKE FRERICHS | (*1984 in Oldenburg, Germany) graduated in cultural studies in 2010. She was part of the curators collective a7.ausstellungen, where she focused on art mediation from an artistic point of view. She worked as a graphic designer, a gallery manager, a craftswoman for different fine artists and eventually became a woodworker, in order to obtain a new technical language to create spaces and objects.
RAFAELA JACINTO | Actress, performer and poet, was born in 1994 in Caldas da Rainha, Portugal. She graduated in Theatre at the ESTC (Lisbon) in 2016 and specialized in History and Culture of Religions at the FLUL (Lisbon). She has collaborated with national and international theatre companies, as well as filmmakers.
SARA ZITA CORREIA | Born in 1990, is a dancer, performer, sometimes music and sometimes stylist. She graduated from high school dance and later from forum dance. She has been divided between shared creations and works as a performer, with and/or for creators of dance and performance, as well as music and the visual arts.