From a Ruin to A Cultural Center
7 Maio 2021 15h24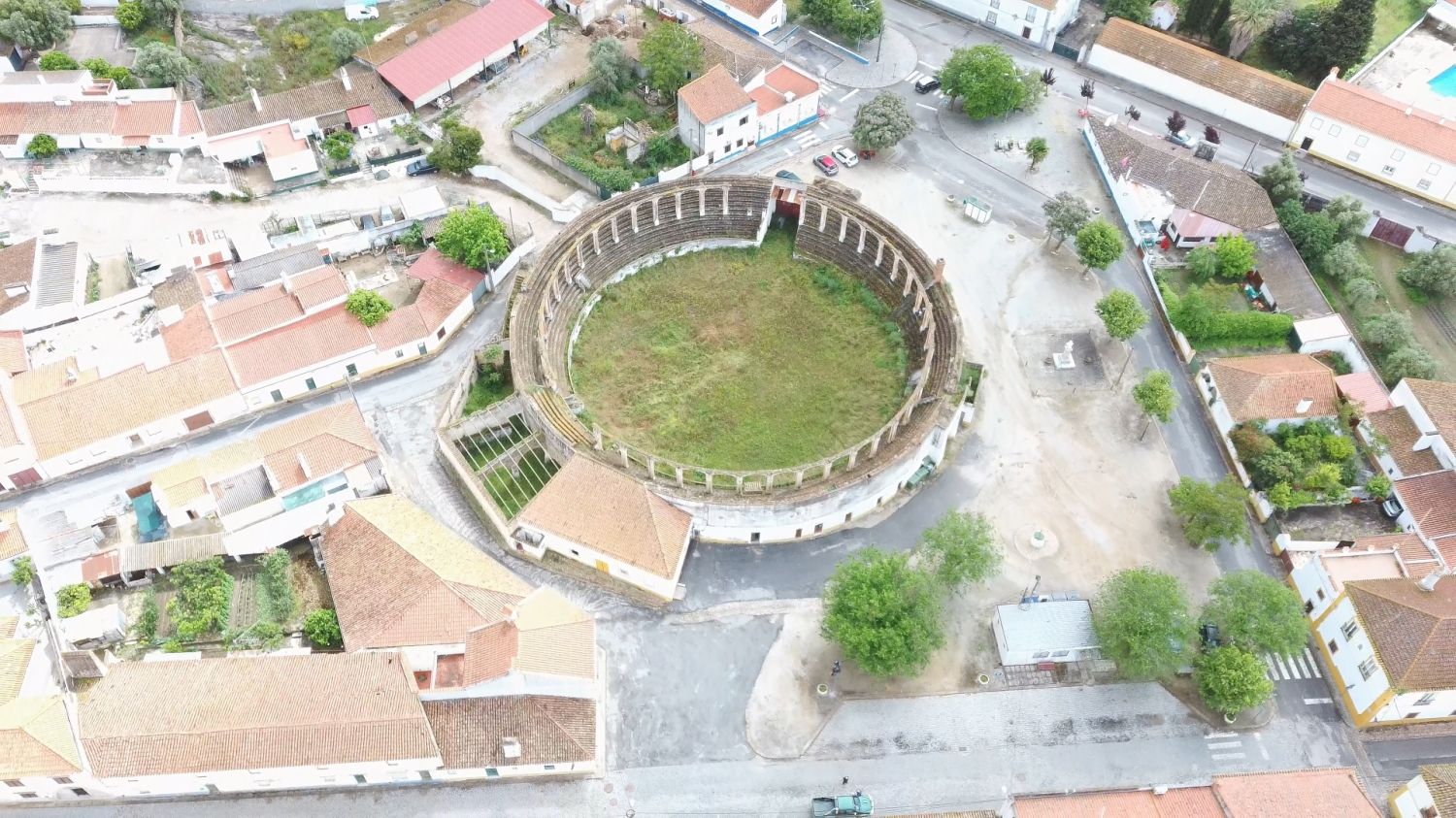 Zaratan: from Lisbon to Azaruja
Zaratan is an artist-run-space and a non-profit cultural association that was born almost 7 years ago. We are launching this campaign to set up our most ambitious project: the rebuilding of the oldest bullring arena in Portugal, settled in a small village called Azaruja, in the Alentejo region, to become an Artistic and Cultural Center.
In September 2014, we found an old charcoal factory in a very poor state of conservation in the city center and transformed it into a unique example within the self-managed art spaces in Lisbon, with a position clearly complementary to the commercial galleries, as an independent association and a space for experimentation.
After more than 200 exhibitions, about 70 art residencies, 5 multidisciplinary festival editions, and thousands of concerts, performances, workshops and multimedia events, we have seen Lisbon changing drastically. When we funded Zaratan the International Monetary Fund had just placed harsh economic measures in Portugal, people were losing their houses, jobs, stability and culture was the last thing on everyone's mind. Gentrification and real estate investments transformed it into a super-expensive city, pushing artists towards the suburbs, outside the skyline of the city center. We saw the emergence and disappearance of many independent art spaces that succumbed to this economy and the gourmetization of Lisbon: speculation, economic inflation and an increasing lack of cultural identity. In the thickening siege of this scenario and with the need to grow (more space, more conditions, more creative freedom, new challenges) Zaratan has decided to change. Now that the project's viability is guaranteed and with proven evidence of its presence and creation in the artistic environment of Lisbon, we are now in a position to plant a seed of a new project, with the same independent spirit and mentality.
We are now aiming for the stars: in this case the rebuild of the bullfight arena of Azaruja and give it a new life as an artistic and cultural platform. Festivals, performances, multimedia events: imagine all the activities we were able to do within 200 square meters multiply for a 2200 square meters space!
Azaruja is 140 km away from Lisbon and 20 km away from Évora, therefore it's located between two important cultural poles in Portugal. We hope to bridge the artistic and cultural scene of these two cities, while also strengthening current and making new connections with the international panorama in a safe and open environment. The new space will function as a dynamic structure for the production of works and multidisciplinary events in the areas of Visual Arts, Performance, Music, New Media. We will welcome creators at various stages in their careers, from emerging artists to more established ones, enhancing the qualification of the youngest.
We are calling for your help to transform the core of this space: from a place for agonistic and combat, to a place for caring and sharing cultural values.
From a Ruin to A Cultural Center
The arena has been vacant and in ruins for more than a decade. With records from the 17th century, the actual building dates from 1860, with a capacity for about 1,500 spectators; some scholars refer to this arena as the first fixed Portuguese Bullring. After many years of glory, its last use was as a cork processing factory, which would affect its structure, initiating a painful process of degradation to which it has been exposed in the last 15 years.
The building has 30 rooms and occupies an area of 2200 square meters. The challenge is ambitious and we don't have enough funds to do it ourselves, even with a D.I.Y. attitude, the magnitude of this work is too big for us alone.
Considering the age of the building, modern brick and concrete is not a possibility here. This is a real rebuilt project of an ancient structure, classified as a cultural and architectural heritage. Beside involving permits (which have already been secured), suppliers, and subcontractors, we need to brush up ancient techniques and materials, in a strict collaboration with local restorers and artisans. A lot of hand work is required.
The idea of implementing this project started in May 2019 and since then we are cultivating relationships with the local community: from the authorities to the neighbours, and of course cultural agents and entities that surround us in Azaruja. We have an amazing architect that is backing us and we already have a project approved, designed in close collaboration with the municipality and local entities.
Currently we are preparing our application for national and European funds. Beside seven years of experience in cultural production, from Lisbon we bring with us an amazing team of collaborators, associates and friends. Producers, designers, programmers, artisans, curators, artists: all willing to help us throughout this adventure.
Our goal is to keep both spaces active and flourishing through an healthy exchange of human and material resources between the headquarters in Lisbon and Azaruja. We believe us, artists and audiences can all benefit from this flux of energies flowing between these two places. Since 2020 we can count on a Portuguese governmental funding from DGArtes to keep the association operational and active. It is the perfect momentum to take a risk.
São Bento do Mato, also called Azaruja, is a Portuguese parish in the municipality of Évora, in the Alentejo region. It has an area of 66.55 km² and 1,151 inhabitants, with around 60% of people over 65 years. In the village there are various cork processing factories, while the surrounding area is mainly intended for agricultural production and animal breeding. Beside its efforts, Azaruja is losing population every year, and it is losing the battle with time.
We are sure that with the bullring rebuilded and the influx of younger, motivated and artistic people, the village will be reborn, along with us: economically, socially and mainly motivationally.
By creating conditions for carrying out activities of research, dissemination, and production in the area of arts and culture and in the defense of the heritage, we hope to contribute so that the culture is defined as one of the main axes of development of the villa.
We are looking forward to gathering international and national artists with the local community of artists and spectators.
The new cultural center will have a convivial space and we guarantee public access to the gallery, to a library for contemporary art and culture, accessible to everyone. All the live events will have free access for the inhabitants of the villa.
Zaratan believes art can be an underground tool for social development. Azaruja is on the horizon to change the rule of the Art World.
Join us!
We have set a big number 250 000 euros, but with every small support we will get there.
We are "all in" with this project, we bet all of our energies, and no matter how, we will make it happen. We already can count on a generous donation from associates and patrons which rounds 100.000 euros as a starting point. The difference is a time issue: we can take over 10 years to make it ourselves, or we can be fully active in two years with more support.
All the money raised will go to the rebuild, where the project is design in 3 phases:
Phase 1: (July 2021 - March 2022) Restore the external walls, roofs, structural security of the bullring and placement of sewers, water, electricity.
Phase 2:(April 2022 - August 2022) Setting up the Art Gallery space and 10 Artist Studios, a Library, a communal kitchen and toilets.
Phase 3: (August 2022 - October 2022) Installing solar panels, air conditioners and start programming!
We hope to count on your support to implement the project better and faster. With your help Azaruja will thrive!
Our perks:
We have several perks, from 20 euros to 2000 and if you are a social responsible company you can contact us to establish a partnership. Patrons of 20€ or 2000€ are all welcome and we expect to count on your visit in the new space!
Posters (5000 items) - 20€ | All the posters are limited edition of 25 copies printed in Risography, all signed and numbered. They were produced in collaboration with artists that features our program of activities throughout the 7 years of activity of Zaratan. You can find all of them in Zaratan Posters.
Zaratan Yearly Membership (300 items) - 200€ | We promote a very quick agenda of concerts, performance and multimedia events - in the spirit of an experimental artist-run space. This membership allows you to join all the events for free, both in Lisbon and in Azaruja during 365 days, also you will have access to the livestreams and audio visual recordings of all the events.
Artistic Residencies (60 items) - 2000€ | We will have 5 spaces in the bullring arena with private accommodation and studio. Through these perks you are booking a one-month stay at the brand new cultural center. In a conservative perspective, we assume it can be scheduled anytime from the beginning of 2023.
...There's more to support than money. You can also help us by sharing it, or to cheer us up with a message!
For more information please contact us!
You can support us by donating on our webpage:
https://zaratan.pt/en/about/5


By helping us in our crowdfunding page:
https://chuffed.org/project/zaratan-arena