PERFUSSOM (27) | Fernando Ramalho, Sad Puto
18 Dezembro 2020 16h00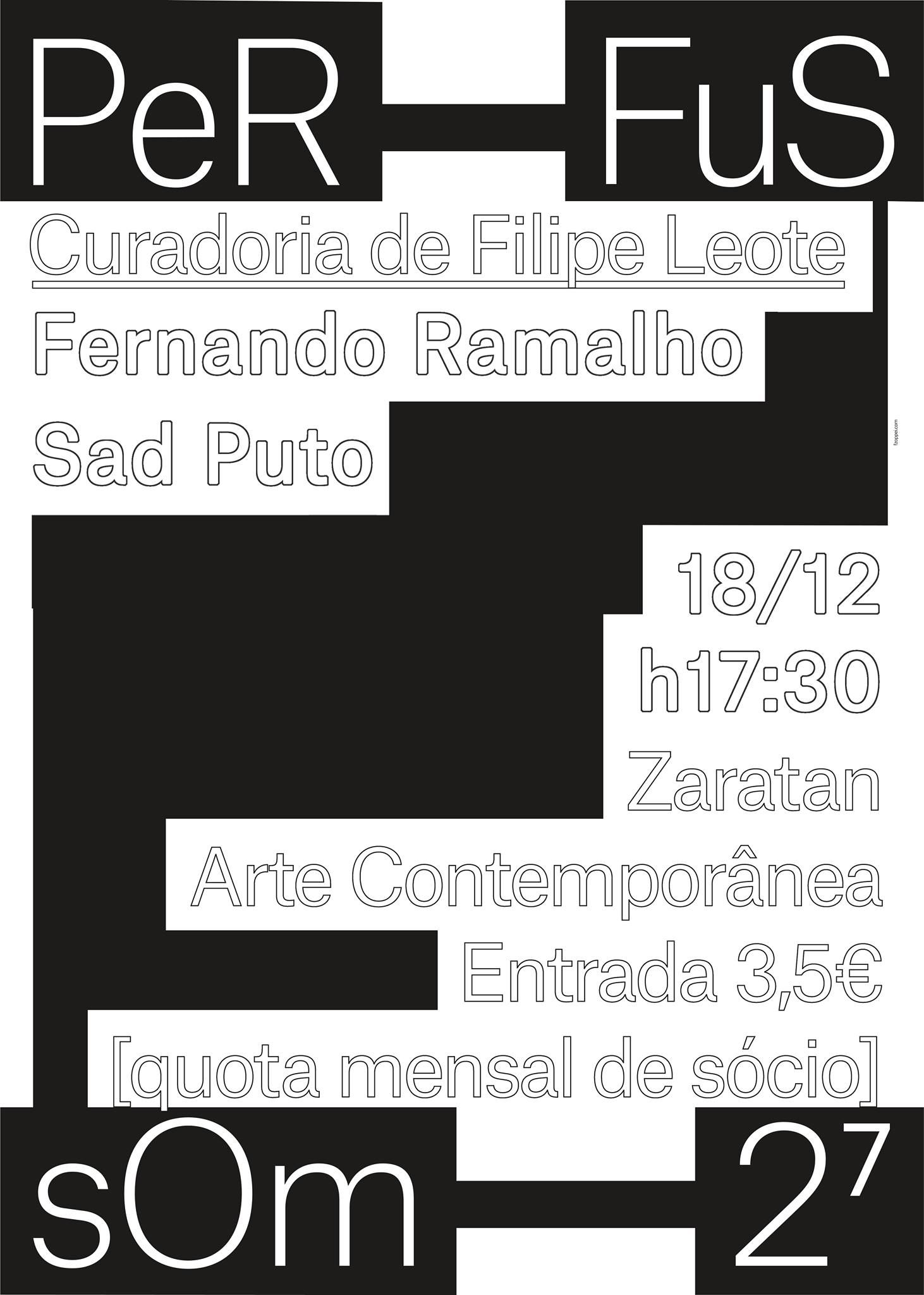 PERFUSSOM (27) | Fernando Ramalho, Sad Puto


December 18 at 17:30
Free entry*


PERFUSSOM is a cycle of live events between performance, music and poetry. PERFUSSOM follows a nomadic and undisciplined path, proposing the mixing of several expressive languages. With curatorship of Filipe Leote, it happens once a month at Zaratan since September 2017.
For this occasion we present live performances by Fernando Ramalho and Sad Puto.


> FERNANDO RAMALHO | Among the musical works of Fernando Ramalho stands out Berlau, a project that, since 2014, has been moving through various musical and experimental sound fields, from exploring the drone to working with field recordings or free improvisation. The works "Meta-Sonorização: em Diálogo com Ana Hatherly" (2017) and "Oito Madrigais e uma Natureza Morta" dialogue with the poetry of Ana Hatherly and Inês Lourenço. The most recent work is "Abro-vos a Casa numa interrogação" (2020), based on texts by Maria Gabriela Llansol. He has been working on the performance "Tocata Contrassexual", based on the writings of Paul B. Preciado. In October 2020, he published, in collaboration with illustrator Júlia Barata, "A Palha dos Dias", a work of unison with the writing of Maria Velho da Costa that includes a set of texts, published in a book, and sound records.
http://berlau.bandcamp.com


> SAD PUTO | Sad Puto is the musical garb of João Maio Pinto, who despite being best known for all the design and illustration work he has done worldwide, with special emphasis in the music field, from time to time he also picks up the guitar to play original themes. After the concerts at Baixa Isso Olha Os Vizinhos Fest in Barreiro at the end of 2019, and doing the first part of the BRRexit Party Fiesta Tour at Sabotage in February this year, Sad Puto returns in solo format, putting it on a forced pause the almost-big-band format, which was starting to become common in pre-pandemic times. Anticipating his first album which will come out in the first quarter of 2021, and already preparing his successor, this will be an opportunity to hear themes with and without a voice from this body of work.


*[IN THE CONTEXT OF THE COVID-19 PANDEMIC, THE USE OF A SANITARY MASK IS MANDATORY TO ATTEND PUBLIC EVENTS AND PLACES ARE LIMITED. WE RECOMMEND YOU TO BOOK YOUR SPOT THROUGH THE EMAIL: BOOKING@ZARATAN.PT]