PERFUSSOM (25 e 26) | Mário Resende, Lalia, WHALTHISNEY, Era uma vez um tímpano
17 Outubro 2020 16h30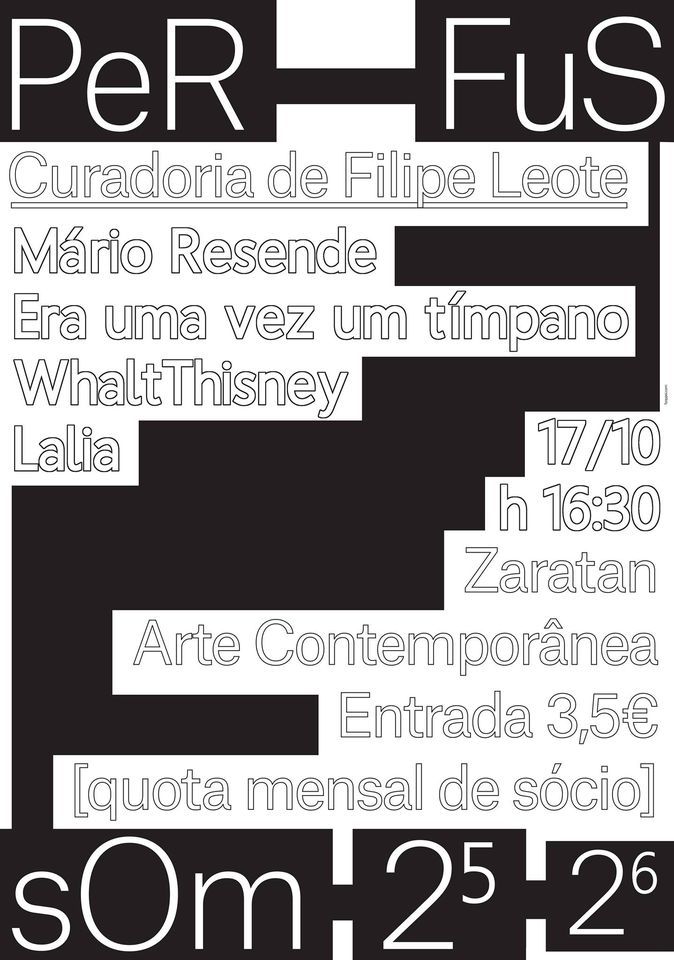 PERFUSSOM (25 e 26) | Mário Resende, Lalia, WHΛLTHIS?EY, Era uma vez um tímpanoOctober 17 at 16:30Entry 3,5€ [monthly member fee]*
PERFUSSOM is a cycle of live events between performance, music and poetry. PERFUSSOM follows a nomadic and undisciplined path, proposing the mixing of several expressive languages. With curatorship of Filipe Leote, it happens once a month at Zaratan since September 2017.
For this occasion we condensed two sessions, number 25 and 26, on the same day, with live performances by Mário Resende, Lalia, WhλlThisney and Era uma vez um tímpano.
> MÁRIO RESENDE | All of his musical works dedicated to the Portuguese people and the world are to be found in the Museum's musical collection, Nacional da Música, for public consultation - Metropolitano Alto dos Moinhos Station - Rua João de Freitas Branco, 1500 Lisbon, Portugal. In this concert he presents his 10 small sonatas for violin dedicated to "Zaratan Gallery". He played in several orchestras, quartets and musical groups such as "Seres", "Duplex Longa" and participated in several projects, including music for theater and cinema. More recently, he started to explore a more experimental mode, collaborating with projects such as: "Come-se a Pele?", "Presidente Drógado" and "Mind Reset".
> LALIA | Lalia project was born out of the need to create a more intimate, fluid language within the vocal soundscapes, in the sensations and stimuli in its emotional sensitive states of hearing colors attributed to sounds, allowing it to create spaces for improvisation and explore the music, especially in voice and electronics.
Helga Rodrigues – Voice / electronic
João Maia – Video
lalia-music.bandcamp.com
https://laliaproject.bandcamp.com/?fbclid=IwAR060s0Anj-cRyayPggex87iT7mk7ey-HVhkTSFNkKoi6XUuuR_fGOQQ5kM
> WHΛLTHISNEY | Walt Thisney is not interested in the original creation but in the recreation / recombination, the multi-subcultural recycling. Walt Thisney self calls himself Playgiarist, a curator instead of a creator, a breeder instead of a producer. Walt Thisney does not need to go through what he can get around. He does not innovate, he imitates. Walt Thisney selects and mixes music for the mind and body in equal quantities that emerge from encounters between the past and the present, extracting beauty from the commonplace, cleaning it, polishing it, giving it life again, in a way producing the same original effect of freshness and spontaneity, a mirror that absorbs and transforms what it reflects.
Walt Thisney is a strategy to evade the banality of society.
https://walthisney.bandcamp.com/
https://www.facebook.com/WaltThisney
> ERA UMA VEZ UM TÍMPANO | One-man band (Danix). Guitar loops, tribal drum machine, cavernous voice, black environment, sarcastic lyrics and total commitment to the Do It Yourself philosophy.
https://eraumavezumtimpano.bandcamp.com/
*[IN THE CONTEXT OF THE COVID-19 PANDEMIC, THE USE OF A SANITARY MASK IS MANDATORY TO ATTEND PUBLIC EVENTS AND PLACES ARE LIMITED. WE RECOMMEND YOU TO BOOK YOUR SPOT THROUGH THE EMAIL: BOOKING@ZARATAN.PT]

Live Stream1


Live Stream2