STEVEN SUMNER | "Remote Control"
27 Agosto 2020 16h00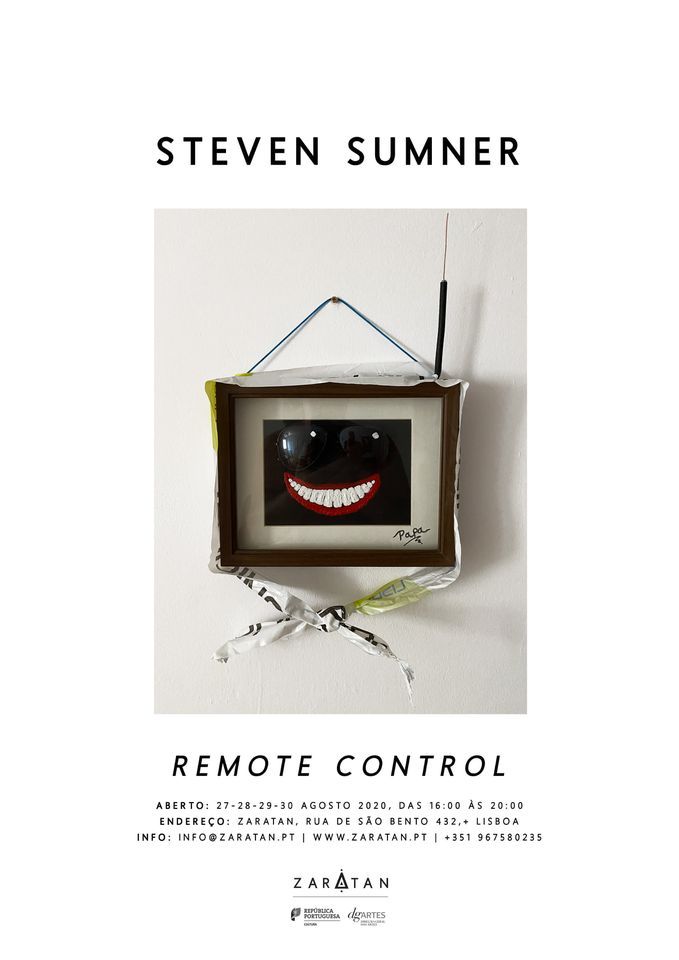 Zaratan AIR | Open Studio STEVEN SUMNER | "Remote Control"OPEN | 27-28-29-30 August, 2020, 4pm to 8pmINFO | www.zaratan.pt | info@zaratan.ptENTRANCE | Free*
Zaratan is pleased to present "Remote Control", a flash exhibition by Steven Sumner, which presents the work developed during a month of residency in Lisbon.
Composed of a series of sculptures and two-dimensional mixed-media works, "Remote Control" investigates the perceptual systems, processes, narrative structures and aesthetic strategies that focus on the issue of social surveillance. The artist, artwork and spectator are caught in a complex ambit of fantasy and control, inviting us to re-examine the place of art in a technological world, and our place in relation to it.
To get to the heart of Steven Sumner's creative process, we can quote a highly repeated phrase these days: "One man's trash truly is another man's treasure". Prioritizing reuse and recycling on the basis of his practice, the impact that the consumer society has on the environment is highlighted.
The body of works on display combines found objects and household waste with acrylic paint and textual notes. This process of assembling and layering results in a quite hard and decadent imagery, softened with playful and colourful items.
In a massive recycling of stories, images, techniques and materials, "Remote Control" results in an ironic criticism of technological society and consumerism ,questioning the possibility of resisting a controlling culture that readily incorporates opposition and difference.
BIO: STEVEN SUMNER is a british artist, living and working in the South of France. He obtained a Honours Degree in Contemporary Art at the Huddersfield University (UK) in 2014. Previous to assume himself as an art creator, he has been working during 37 years in the development of automation systems for industry. This extend experience in engeneering influences his artistic practice in a very unpredictable way. He approches the artistic media freely but wth pragmatism, starting from whatever material he feels necessary to engage with to represent his investigations: from lasers and computer systems to oil on canvas and clay sculptural works. His artwork reflects on existence and how, from energy and molecular fundamentals (particle physics), life and consciousness affords artistic and scientific enquiry. [
https://www.instagram.com/artizimozo/?igshid=jachbc7yjxxo
]
Support: República Portuguesa – Cultura / Direção-Geral das Artes
[*In the context of the Covid-19 pandemic, the conversation takes place outdoors in the Zaratan courtyard, with mandatory use of a mask and limited seating, in compliance with hygiene and safety standards.]