GHENT + TORBA
7 Fevevereiro 2020 19h00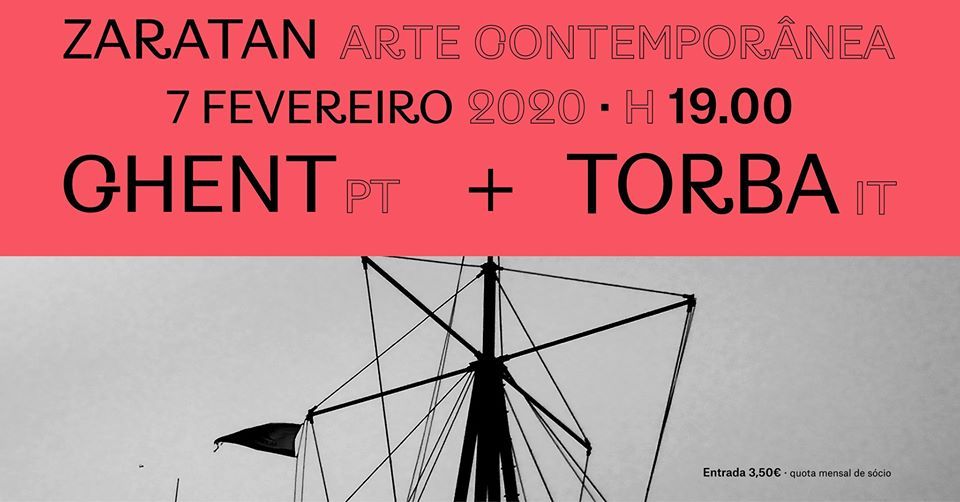 GHENT (pt) + TORBA (it)
February 7 at 7:00PM
Entri 3,50€ [monthly member fee]
GHENT |
https://vimeo.com/showcase/6683208
In their new album FUMO (smoke), Ghent , Fernando Fadigas and Nuno Moita, invited Sandra Zuzarte to embark in the creation of an audio-visual work. Diving in their sound she created the visual ambient that named the album, her slow moving images emerge from the universe of original sounds revivaling in post-industrial and dub techno.
In FUMO, Sandra summons ghosts of the past revealed in layers of archive images, conducting us from the streets of cities in Ruhr the biggest industrial region in Europe, trough factories, eclipses and the conjuring of tempests. Ghent seduces by the poetry of this audio-visual work, evoking spectres that fade in to smoke.
TORBA |
https://t-o-r-b-a.tumblr.com
|
https://soundcloud.com/torba
Torba is a solo project by Mauro Diciocia, a crude sonic collage that combines sounds and techniques hijacked from the musique concrète/tape music tradition with a modern and acousmatic approach to noise music and post-industrial soundscapes. Active since 2009, torba is an object in perpetual motion where the only constant element is represented by the organic use of field recordings/found footage and their manipulation through magnetic tapes and digital processors.
He released material on labels such as Angoisse, Total Black, a dear girl called Wendy, Mazurka Editions, Fragment Factory, Monorail Trespassing, Cønjuntø Vacíø among others.
He shared the stage with Sewer Election, Damien Dubrovnik, Puce Mary, Croatian Amor, Ketev, Dave Phillips, Gordon Ashworth, Pedestrian Deposit, Neutral, Arv & Miljo, Tommi Keränen, Fejhed, Umpio, Rashad Becker, Händer Som Vårdar, MAAAA, Broken Lights, Daniel Löwenbrück, Marcellvs L and more.
https://t-o-r-b-a.tumblr.com
|
https://soundcloud.com/torba