Towards a Gutter Mysticism: Inner Alchemy & the Sub-Real
25 Janeiro 2020 19h00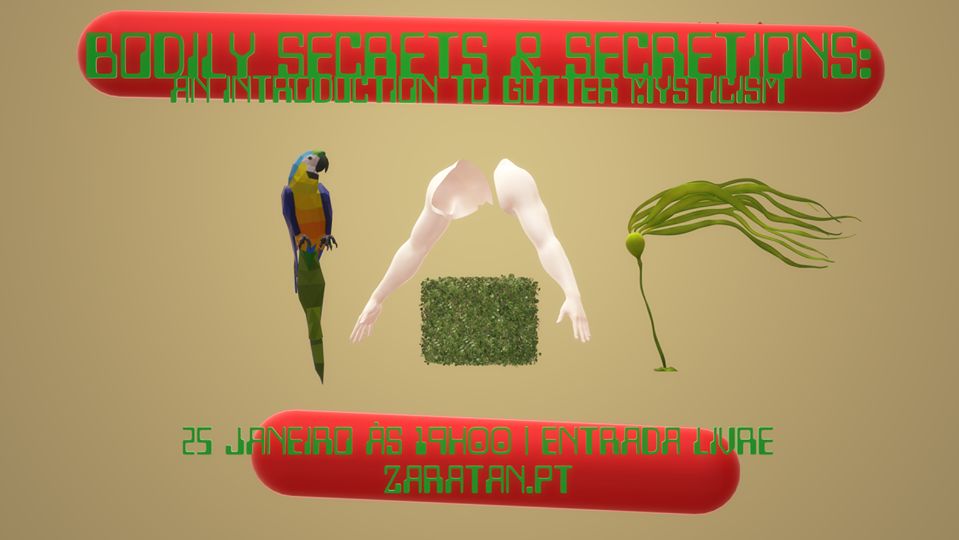 TOWARDS A GUTTER MYSTICISM: PASCAL ANSELL EXPLORES INNER ALCHEMY AND THE SUB-REAL
1# | Bodily Secrets & Secretions: An Introduction to Gutter Mysticism
25 Janeiro às 19h00 | Entrada livre
Zaratan is thrilled to invite for the first lecture from the cycle "Towards a Gutter Mysticism: Inner Alchemy and the Sub-real" presented by Pascal Ansell. Embracing an experimental approach to the act of sharing knowledge, this series encounters the experiences of ritualistic preparation, playfully with different media, languages, and contexts.
Pascal writes: "In an apathetic era saturated with electronic media, commitment is a key part of our ancestral life that has been left behind. Distraction reigns over the things that have always taught us so much, all by themselves: our bodies. By blowing the dust from this forgotten form of transcendence, such commitment can be regenerated by traveling down into our darkest selves. The bodily secretions of laughter, crying, urination and defecation give the themes to the four lectures. A theory of the sub-real is a commitment to a new reading of surrealism, with guidance from French writer Georges Bataille as well as contemporary comic book and noise artists."
Short Bio: Pascal Ansell is a writer and musician based in Lisbon. Previous lectures have explored Portuguese football, 'Cooking with Salazar', boxing and the mastery of Joe Meek.
https://soundcloud.com/pascalanselltragichord
https://urubutapes.bandcamp.com/track/sunsplat