SU GÜZEY & EVRIM AKYAY | "Small Talk"
21 Dezembro 2019 19h00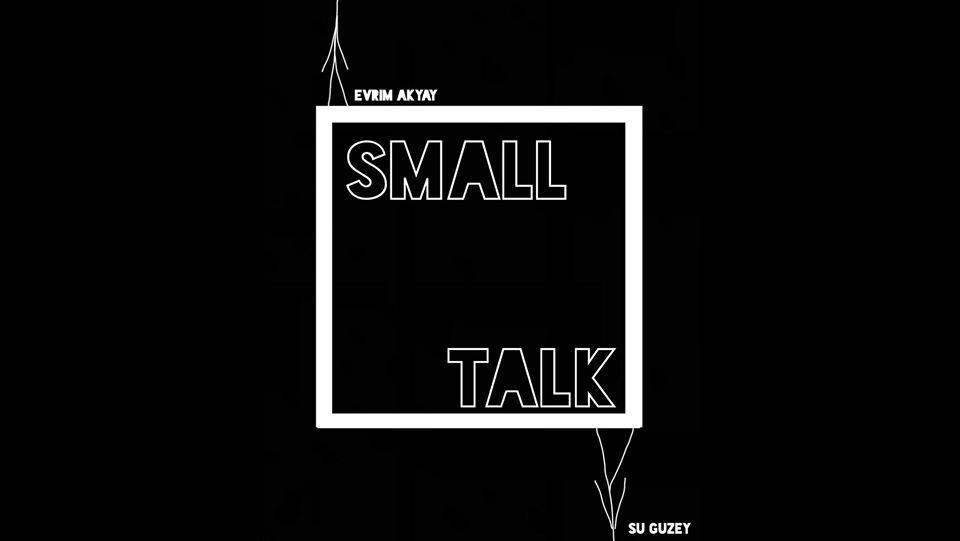 Zaratan AIR | Open Studio
SU GÜZEY & EVRIM AKYAY | "Small Talk"
December 21 and 30, at 7:00 PM | Free entry
SMALL TALK is a movement performance created by Evrim Akyay and Su Güzey during their residency at Zaratan and co-residency support by Largo Residências, Lisbon.
Evrim Akyay and Su Güzey first got together as freelance dancers for Aakash Odedra Company (UK)'s piece ''#Je Suis'' in 2016, which won the International Amnesty Award of Freedom of Expression on 2017, and its been touring since.
Working as individual choreographers, we started researching, experiencing, relationing together and created their first piece ''KITTY KITTY'. By the sponsorship and support of Akbank Sanat, the work in progress got a chance to meet with the audience in April 2019. With this inclined progress, it got accepted to premier in IKSV 23rd Istanbul Theatre Festival. Their second piece RATTLING premiered in A Corner in the World Festival in Salt Beyo?lu. SMALL TALK will be the third creation of the artists duo.
As an emerging company, which started creating duet performances since the beginning, the mutual approach to creation and performance is founded on the notion of sincerity, craving out for intimacy and sincerity of art and performers, to be able to see and show transparency, in almost non-biased bodies.
In their works, everything starts from number two: two people, two spaces, two minimum units for the development of a story. From this peer dynamics derives a constant and instantaneous change, simple and open to constant changes and different interpretations, trying to open every possibility and coincidence for the audience to connect.
SMALL TALK is a mechanical physical construction. The algorithms are specific, it is an order rather than chaos, with a smooth, circular, idle narration. Without any suggestion of a dramaturgical context, the system the performers present on stage gives two sincere, sensitive and closed bodie a geometric and mathematical initiation.
The physical aspects of movement, just like existence itself, the dichotomous variations creating an incident are like stories; subjects and relations, causes and effects, why's and because's are taken smoothly in a three dimensional physical algorithm.
>>> BIOGRAPHIES:
SU GÜZEY (1991, Istanbul) is a dancer, performer and coreographer. She keeps on creating in versatile disciplines; light design and installations, object design and music composition. She cherishes to simply create a cinematographic language, a world on stage, where everything can look in harmony and in chaos, only in balance Born in 1991, Su started studying in Management of Performing Arts - Department Performing Arts branch in Bilgi University in 2009. In 2011, she entered MSGSÜ State Conservatory Contemporary Dance Department, from which she graduated in 2015. She started teaching dance in 2015, and is still a certified teacher working both with kindergarten and elementary children. She also teaches basic/intermediate/advance contemporary dance technique to adults and professional dancers. She performed in pieces of many choreographers such as Jerome Bel, Helder Seabra, La Fura Dels Baus, among others. In 2014 she presented her choreography "Store My DNA, So They Can Regenerate My Soul" in ?KSV 19th ?stanbul Theatre Festival. She is founder, curator, organizer, and coordinator of "Visibility in Arts Festival/ Sanatta Görünürlük Festivali" with Metehan Kayan and in collaboration with Mimar Sinan Fine Arts University; the festival started in ?stanbul and now is happening in ?zmir in collaboration with budalasultan collective. Su is working with Aakash Odedra since 2015 in research projects, and they have recently completed touring with the piece '#Je Suis' (2018).
EVRIM AKYAY | Evrim Akyay (1980, Istanbul) started dancing in the High School years with traditional dance. In 2001 he started performing with "Sultans of the Dance" and in 2002 with "Hurrem Sultan Dance Project" which were both traditional dance based big productions. Started his training in the Yildiz Technical University modern dance department in 2003 and the following year started performing with the CRR Dance Theater, directed by Geyvan McMillen. In 2008 he was awarded the JFK Performing Arts Exchange scholarship and visited NY and Washington DC. Between 2006 - 2012 he worked as a dancer with Zeynep Tanbay Dance Project. He became the assistant choreographer for "Araz" created in 2010 with the company. In 2013 he performed with the Jerusalem Dance Theater for two seasons. His collaboration "Heva" with Korhan Basaran was one of the finalists of the Copenhagen Choreography Competition in 2014. He performed at BAM, NYC with "Unsettled" in 2014; a collaboration of American, Armenian and Turkish artists as a part of the DanceMotion USA program. His choreographies so far include; Don (2009), Routine (2010), Cage'd (collaboration with Korhan Basaran, 2015) , Simple Present (2016), One by One (2017), TAK (for Visegrad Cultural Festival, 2017), Sal? (2018) and Hadi (2019) for Istanbul State Contemporary Dance Company 'MDTistanbul'. He is still working with Aakash Odedra Company as a freelance dancer in the piece '#Je Suis'. Currently he is living in Istanbul, Turkey.
LARGO RESIDÊNCIAS | Largo Residências' mission is to contribute to local development, through the implementation of cultural activities and social businesses, drivers of artistic creation and dynamization and community involvement and integration, in a logic of continuity and growth that simultaneously guarantee the sustainability of the project itself.