Perfussom (21) | Opus Pistorum + João Pedroso
21 Setembro 2019 19h00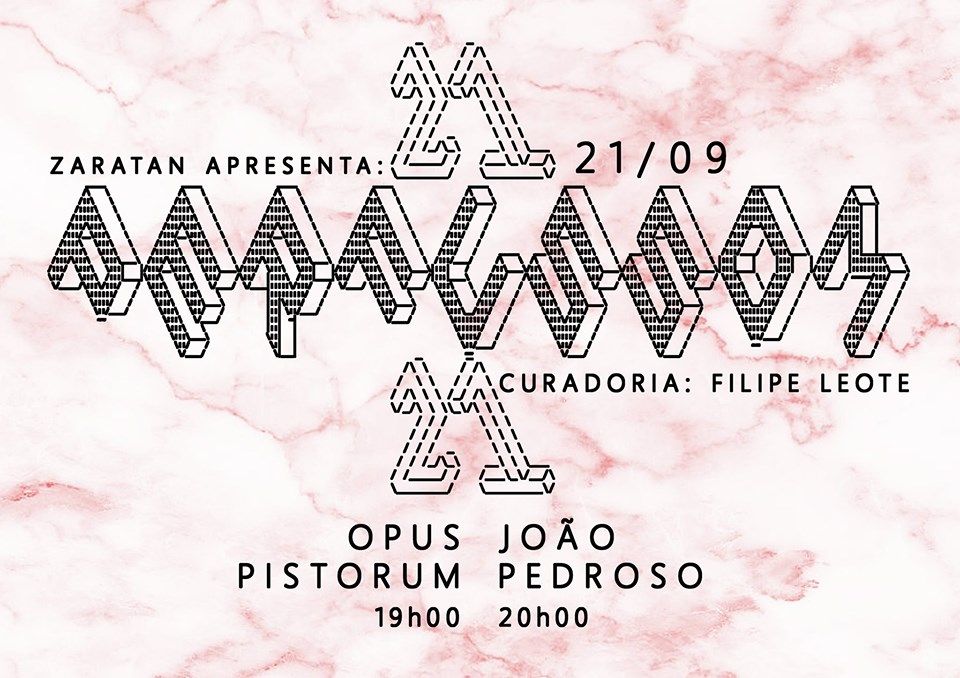 PERFUSSOM (21)
Opus Pistorum + João Pedroso
September 21st at 7PM
Entry 3€ [monthly member fee]
PERFUSSOM is a cycle of live events between performance, music and poetry. PERFUSSOM follows a nomadic and undisciplined path, proposing the mixing of several expressive languages. With curatorship of Filipe Leote, it happens once a month at Zaratan. In this 21st session there will be performances by Opus Pistorum and João Pedroso
>>> OPUS PISTORUM | 19h00
Coming from the depths of a narco-erotic dream to precipitate in the stage of Kali-Yuga, Opus Pistorum is a Nymph from Alto do Seixalinho, with sun in Cancer and a series of bad political references that translate into a dramatic mixture.
Rave-punk spreading bad moods, ethnic dub that is hardly either, rotten LSD oozing from once-beautiful bodies. Welcome to the stairwell where postal codes are tattooed and auditory vasectomies are done.
OPUS PISTORUM // SURRAS- YOU ARE NOW ENTERING FREE ALTO SEIXO
https://linhaamarela.bandcamp.com/album/you-are-now-entering-free-alto-seixo
>>> JOÃO PEDROSO | 20h00
João Pedroso by now would perhaps have been better known for being the voice and guitar of teenage punk-rockers Cat Bombs, of the Fuzilados exilados in London and Víuva, a popular music power trio from Barreiro. In this first solo breakthrough, it brings us love songs, derision and cursing about various things that cannot be contained.
JOÃO PEDROSO- A VIDA PRIVADA DOS HOMENS SEM MANEIRAS
https://linhaamarela.bandcamp.com/album/jo-o-pedroso-a-vida-privada-dos-homens-sem-maneiras