Artists Talks | Catriona Whiteford, Wendy Crockett, Maz McCorkle
25 Julho 2019 17h00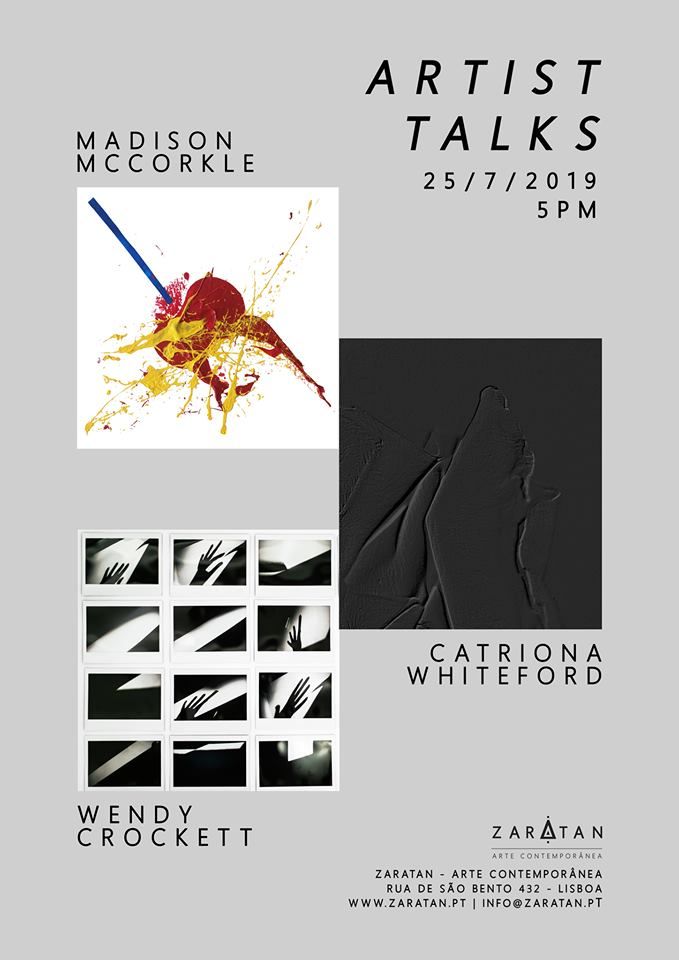 Artists Talks | Catriona Whiteford, Wendy Crockett, Madison McCorkle
July 25 at 5pm | Free Entry
The Artist Talks offer the community a chance to meet the artists-in-residence at Zaratan and to gain insight into the creative process.
On July 25, at 5 pm, Catriona Whiteford (UK), Wendy Crockett (US) and Madison McCorkle (US) briefly introduce their artistic practices and research themes.
This meeting serves as an introduction to the presentation of the final projects developed during the residency that will take place from 7PM on the same day, when we open the flash exhibitions "Combing a rhythm" by Catriona Whiteford and "Under Construction"by Wendy Crockett. Moreover we present a short preview of Madison McCorkle's work in progress for her upcoming show.
>>> CATRIONA WHITEFORD (b.1985) lives and works in London and received her B.A. Honours Fine Art and Masters of Fine Art from Duncan of Jordanstone College of Art and Design, Scotland. She works across disciplines in sculpture, photography and text, each formed from an ongoing examination of memory, sleep, insomnia and counter-consciousness. By creating structures reminiscent of active conflicts through notions of comfort and discomfort, her work suggests moments of vacancy; relief, absence, presence and the contortion of objects from their original intentions. Catriona has been a co-director and committee member of various artist collectives curating and project managing exhibitions, workshops and artist commissions. She currently works at Tate Modern & Tate Britain.
www.catrionawhiteford.com
>>> WENDY CROCKETT was born and raised in the San Francisco Bay Area. She holds a BA in Fine Arts from the University of California Santa Cruz and her MFA in Photography from San Jose State University. Her work has been exhibited in Iceland, Russia and in the United States. When she is not traveling, she teaches photography in Silicon Valley.
http://www.wendycrockett.com/
>>> MADISON MCCORKLE is a visual artist mainly working with illustration, installation, and sculpture. She grew up in rural Texas an after graduating from The University of Texas she moved to Lisbon, Portugal. Her work has been displayed in Finland, Mexico, Portugal, and the USA.