Marie-Pascale Hardy | "of voiceful yet inarticulate rapture"
27 Junho 2019 19h00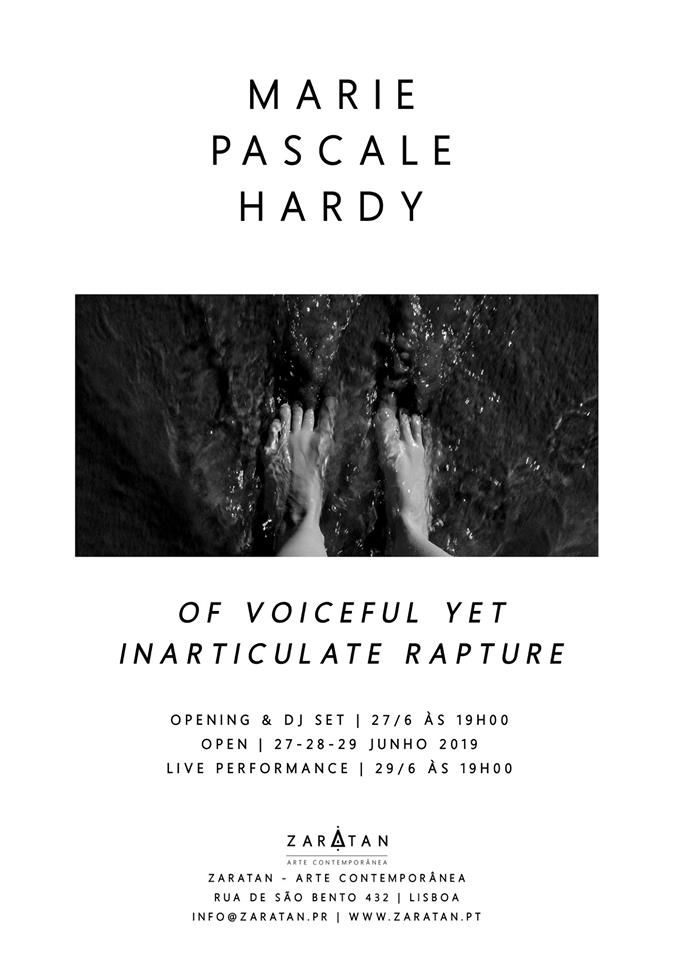 Zaratan AIR | Open Studio
MARIE-PASCALE HARDY
"of voiceful yet inarticulate rapture"
OPENING & DJ SET | 27 Junho às 19h00
OPEN | 27-28-29 Junho 2019
LIVE PERFORMANCE | 29 Junho às 19h00
We are pleased to presents "of voiceful yet inarticulate rapture", the latest project from Marie-Pascale Hardy, artist-in-residency at Zaratan AIR
The core of her open studio at Zaratan is her new performance titled "of voiceful yet inarticulate rapture", a piece that stages an intimate poetic space that serves as a field for aural experimentation. To complement the performance, that will occur on June 29th at 7:00pm, the open studio features an audio piece and a vocal performance behind closed doors, as well as etchings and poems that were created during the residency.
Drawing from the glossolalic productions of religious cults, mediumistic séance and early 20th century vanguards, the piece explores the alchemy of a voice stripped of significative pretension, that, in turn, projects a sound both before and beyond language.
The performance also integrates an assemblage of sacred and profane texts, as well as fragments of poems by the artist. The delivery of the script alternates between the read, as agent of potentiality, credibility and oracularity, and the declaimed, as a display of a rehearsed, fictional iteration of Truth - warped clin d'oeil at Duras' notion of "le lu et le joué".
The piece was conceived by monitoring and intuitively weaving a thread of synchronicities and visions that occurred throughout the residency. In this singular scene Hardy incarnates simultaneously - yet never quite - the high priestess, the mermaid, the saint, the hysteric, the bard, and the fool.
BIO:
MARIE-PASCALE HARDY is an artist whose practice extends across poetry, performance, vocal and visual art. Born 1985 in Quebec, Canada. Studied fine arts and design at Université Laval. Lived in London for nearly a decade where she turned to music and writing. Now based in Berlin. Her words have appeared in Poetry London, SAND, FU Review, stadtsprachen, The Delinquent. She is the vocalist and lyricist of the experimental duo Paco Sala. More info:
mphardy.com