Elite Gymnastic, Bbb Hairdryer, Alagôa, Marie-Pascale Hardy
29 Junho 2019 19h00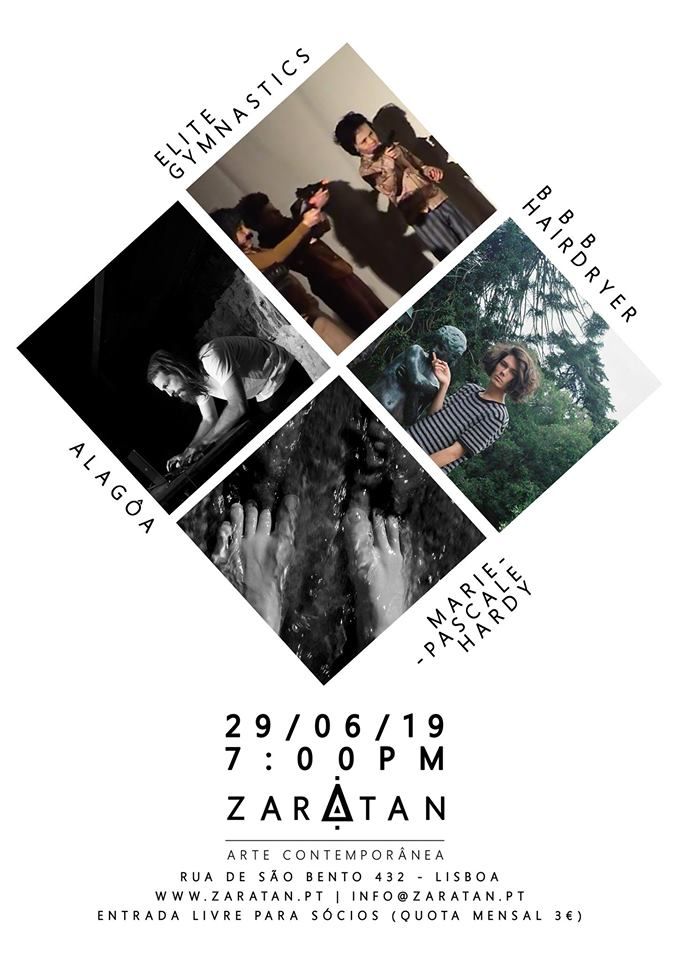 ELITE GYMNASTIC + BBB HAIRDRYER + ALAGÔA + MARIE-PASCALE HARDY
June 29 at 7:00pm
Free entry for members (monthly fee 3€)
>>> ELITE GYMNASTICS
Bare minimal post punk and vocal snarls from Esa Klemola, Hansi Hautamäki and Pascal Ansell. For fans of Whitehouse, Wire, and The Wedding Present.
https://www.youtube.com/watch?v=uovMpapeCJQ
>>> BBB HAIRDRYER
bbb hairdryer present himself in an experimental laboratory of noise, proposing to explore the sound and physical space through guitar, voice, mobile phones, lighters, portable speakers, and the body. He sits of the line that separates the so-called concrete music and performance as an artistic object. The indie essence is all there par excellence, rocking between punk features - short lyrics, chord shortages - and the sensitivity of those who have matured listening to Beck or Bjork.
https://bbbhairdryer.bandcamp.com/
https://www.facebook.com/bbbhairdryer/
>>> ALAGÔA
"Pianos, organs, wind, and silences"
http://alexandrealagoa.com/
>>> MARIE-PASCALE HARDY
As part of her residency project at Zaratan AIR, Marie-Pascale presents a new live performance titled 'of voiceful yet inarticulate rapture'
mphardy.com
* This event is a co-production between
Zaratan - Arte Contemporânea
, the music producer
Au Largo
, the
Pós-Graduação Arte Sonora FBAUL
, and the independent label Angurosakuson (
https://angurosakuson.bandcamp.com/
).