PERFUSSOM (19) Lalia + Until The Horizon Gone
15 Junho 2019 19h00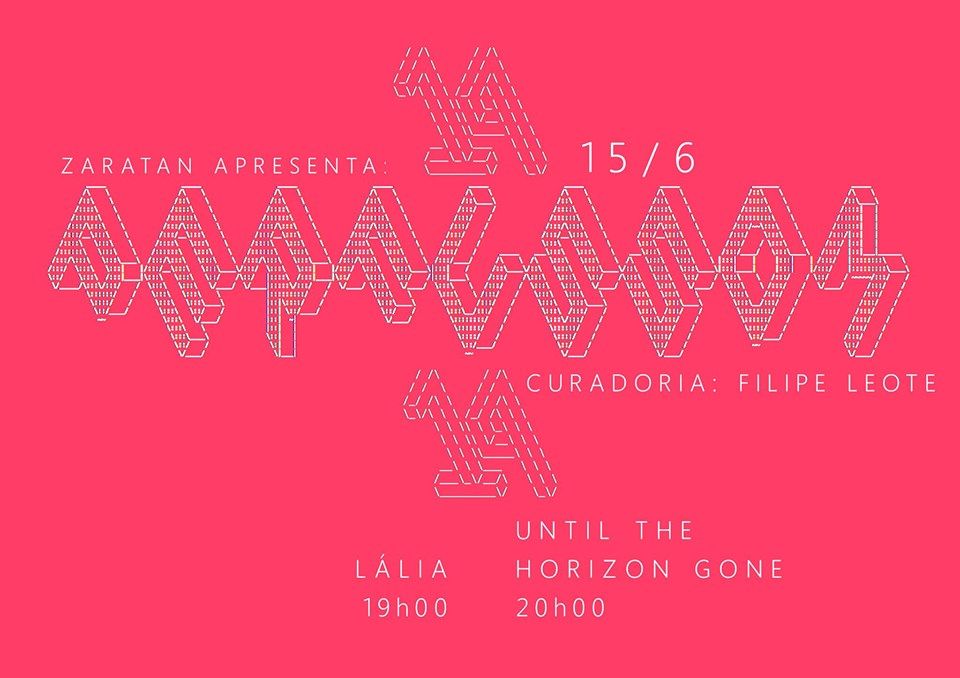 PERFUSSOM (19)
Lalia + Until The Horizon Gone
June 15 at 7pm
Entry 3€ [monthly member fee]
PERFUSSOM is a cycle of live events between performance, music and poetry. PERFUSSOM follows a nomadic and undisciplined path, proposing the mixing of several expressive languages. With curatorship of Filipe Leote, it happens once a month at Zaratan. In this fourteenth session there will be performances by Lalia and Until The Horizon Gone
>>> LÁLIA | 19h00
Lalia project was born out of the need to create a more intimate, fluid language within the vocal soundscapes, in the sensations and stimuli in its emotional sensitive states of hearing colors attributed to sounds, allowing it to create spaces for improvisation and explore the music, especially in voice and electronics.
Helga Rodrigues – Voice / electronic
Paulo uliarud uliarud Pereira – Video
LALIA-MUSIC.BANDCAMP.COM
https://www.facebook.com/Lalia.project/
>>> UNTIL THE HORIZON GONE| 19h00
Performance / concert with sound landscapes (post-rock, shoegaze, industrial and dark-ambient) Tragic / romantic autobiographical poetry in exploratory landscapes / sound environments. We smiled into the abyss and the abyss smiled back.
https://www.youtube.com/watch?v=Ck15M8emyz4&list=PLtSUI7cS1o46g9YH3jmqsWM-wk82RWVyB&index=3&fbclid=IwAR3ndSJuV6UOX2QSdFcM7sUPuJUNmLaxpEdBYUryqV2ezw_7K3_aZhEUYTI
https://www.facebook.com/untilthehorizongone/