Eventos paralelos | #LUTO
2 Maio 2019 19h00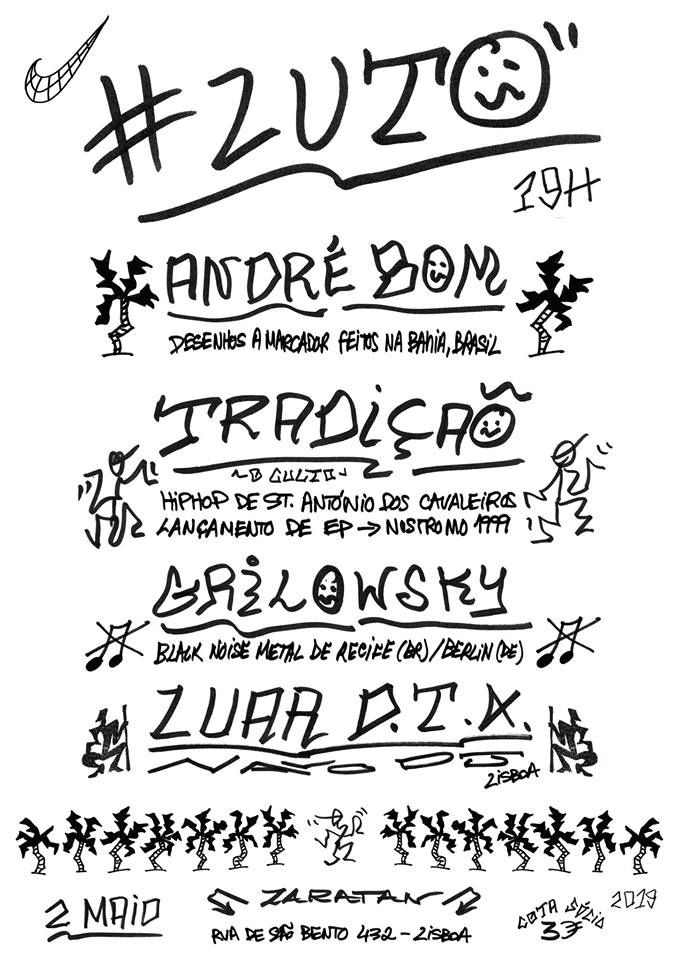 #LUTO
/// Eventos paralelos
2 de Maio às 19h00 | Entrada 3€ [quota mensal de sócio]
Por ocasião da
Inauguração da exposição #LUTO de André Trindade
, a Zaratan e o "André Bom" apresentam três concertos de: Tradição, Grilowsky e Luar D.T.X
Grilowsky - multiartist who works in sound art, performative music, urban intervention, installation, cinema, experimental video and blastic arts.
He was part of the collectives Telephone Colorido and Molusco Lama.
He has recorded over 30 records with the projects Gnomos da Metrópole, Conceição Tchubas, Nuclear Extreme, Geladeira Metal, Drone Monster, Jazzy Grind, Organização do Reino das Trevas and Monstro Amor, as well as solo records and virtual singles.
Brutal experiments with noises extracted from amplified guitar and blasphemous guttural voice.
Totally disordered, chaotic, metaphysic and wonderful improvisation.
Alarming dissonances, urgent movements!
Screams of horror and happiness!
- - - - - - - - - - - - - - - -
TRADIÇÃO is a reclusive entity not to be seen at daylight, it is your own voice echoing in a cave.
TRADIÇÃO is not an abstract concept, but a tumor carved in stone.
TRADIÇÃO is your worst flashback, the repetition of the repetition of the repetition of an absence.
TRADIÇÃO is the beginning and the end of an early morning cartoon.
NOSTROMO 1999 presents its debut tape EP: short and to the point hip-hop spitting disgust and scorn at the dankest back alley of your brain, a liturgy of occult & psychedelic wisdom for those who dare to listen.
- - - - - - - - - - - - - - - -
Luar DTX is a latex web that has articulated musical practices related to cassette culture in Glasglow, over the past 4 years. Today he can be frequently found in Lisbon venues selecting tracks that are danceable, but never too serious.