Perfussom #17 | Mónica Castelo + Lousy Stereo
20 Abril 2019 19h00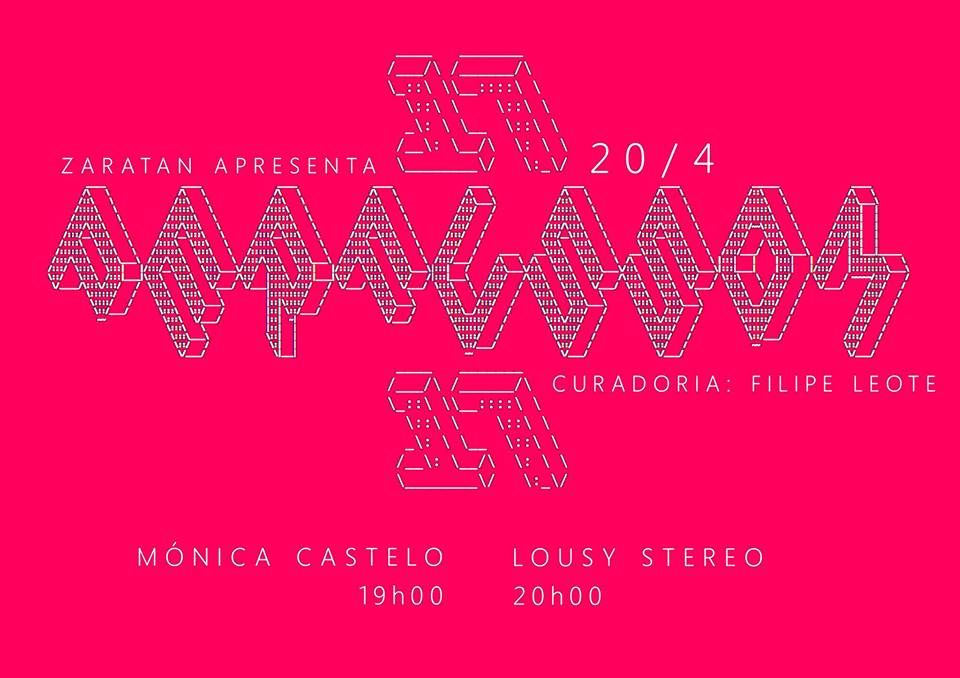 PERFUSSOM (17)
Mónica Castelo + Lousy Stereo
April 20 at 7pm
Entry 3€ [monthly member fee]
PERFUSSOM is a cycle of live events between performance, music and poetry. PERFUSSOM follows a nomadic and undisciplined path, proposing the mixing of several expressive languages. With curatorship of Filipe Leote, it happens once a month at Zaratan. In this fourteenth session there will be performances by Mónica Castelo and Lousy Stereo.
_____________________________________________________
MÓNICA CASTELO > 19H00
Instruction manual to disappear.
Part of the idea of the nameless, the indefinite, the refusal of identity.
A free deconstruction of video poetry and theater that is not intended to be titled ... of course!
https://m.facebook.com/story.php?story_fbid=10216314074715987&id=1577675171
LOUSY STEREO > 20H00
The project Lousy Stereo is looking for a way to get away from the sound of their first 5 albums, which are markedly alternative rock '80s, something with great inspiration in The Cure, Bauhaus, Sisters Of Mercy and Joy Division. They only look for it without getting nowhere, because in fact these traces are still perfectly identifiable in their last work, in spite of the more raw sound > to be published in the end of the spring.
https://www.youtube.com/watch?v=gc_rJ2xcmsA&fbclid=IwAR2iHy0milUdAYD31zbYQqZO03cWSGn97VtSzf5byI2Io20yC928Bm6ldY0