Darsombra, Eschata, NÃO
26 Abril 2019 19h00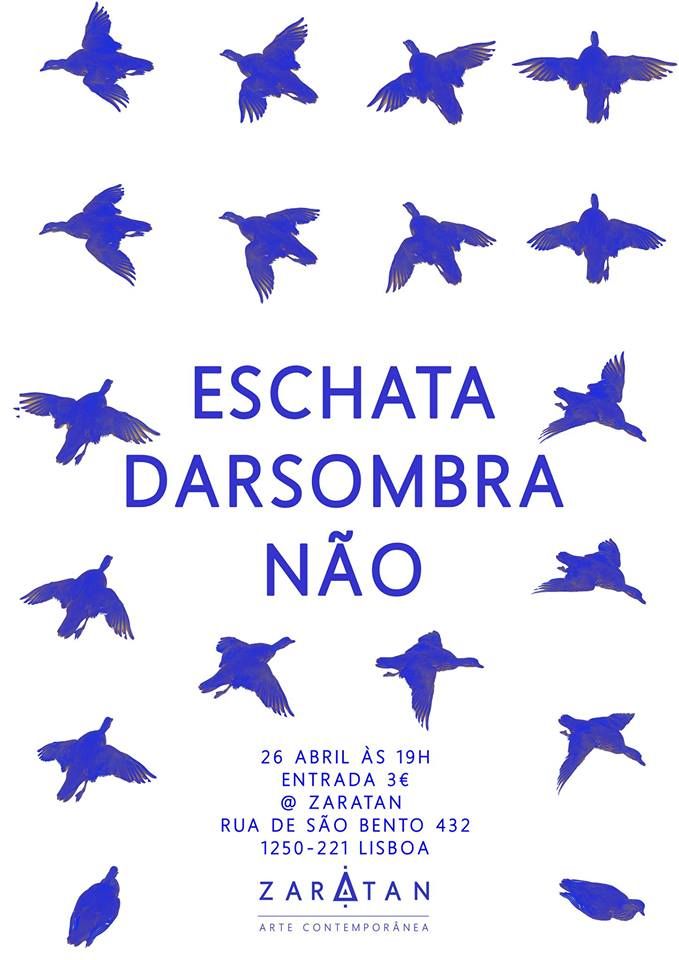 DARSOMBRA (us) + ESCHATA (at) + NÃO (pt)
Concerts
April 26 at 7 pm
Entry 3€ (monthly member fee)
>>> DARSOMBRA (us)
"Described by its creators as specializing in "trans-apocalyptic galaxy rock," Darsombra navigates multiple sonic vistas, from drone-fueled doom and twisty progressive rock to lush, ambient psych-pop."
- James Christopher Monger
Darsombra (Baltimore, Maryland USA) is Brian Daniloski on guitar, vocals, effects pedals, and Ann Everton on synthesizer, vocal, gong, and video. Experienced live, it's a symbiotic audio-visual show that creates a temporary reality, woven by sight, sound, and movement.
Prolifically touring for well over a decade, Darsombra has performed throughout North America, Asia, and Europe, at music venues, dive bars, house shows, galleries, festivals, city ruins, and storage units, as well as their legendary pop-up generator shows at national monuments or just by the side of the road.
Following releases on At A Loss, Public Guilt, and Exile on Mainstream, Darsombra most recently worked with Translation Loss and Sonic Meditations for their 2016 release, "Polyvision."
https://www.darsombra.com
>>> ESCHATA (at)
You can hear scraping, swishing, rustling, throbbing, ringing, cracking, hissing, sizzling – in their duo "Eschata", Gloria Damijan & Günther Albrecht move at low volumes through freely improvised sound landscapes, in which sometimes even music seems to shimmer through.
The two musicians first met participating at the project 'Ears Wide Open' at V:NM Festival Graz 2015. Since then, they have played many rehersal / recording sessions and concerts: Nadalokal / smallforms, P&B / Strenge Kammer, Setzkasten, DerBloedeDritteMittwoch #66@rhiz – the recording of the first Duo concert at Signalzirkus can be heard here:
https://soundcloud.com/gwalbrecht/signalzirkus/s-WHub2
Theie concert at Zaratan is supported by the Austrian Arts Council (BKA).
https://itunes.apple.com/at/album/eschata-ep/id1250781237
>>> NÃO (pt)
"Formed by three of the most active protagonists of the new generation of experimental musicians in Portugal, (...) a very honest, in-your-face, almost punk-ish, dramatization of a nightmare, each minute coming with a surprise." – Travassos, Clean Feed
NÃO is a trio of experimental music composed by Alexandre Vaz (guitar, saxophone and keyboards), João Silva (keyboards and electronics) and Vasco Marques (bass and electronics).
Testing the limits of avant-garde, free jazz and industrial sounds.
We live between the two worlds of studio composition/recording and live improvisation.
Always interested in collaborating with likeminded artists.
Our first album, "ARCANA", was released by Shhpuma / Clean Feed in March 2019.
http://shhpuma.com/product/nao-arcana/