Perfussom #16 | Helena Espvall + Rita Cardoso
16 Março 2019 19h00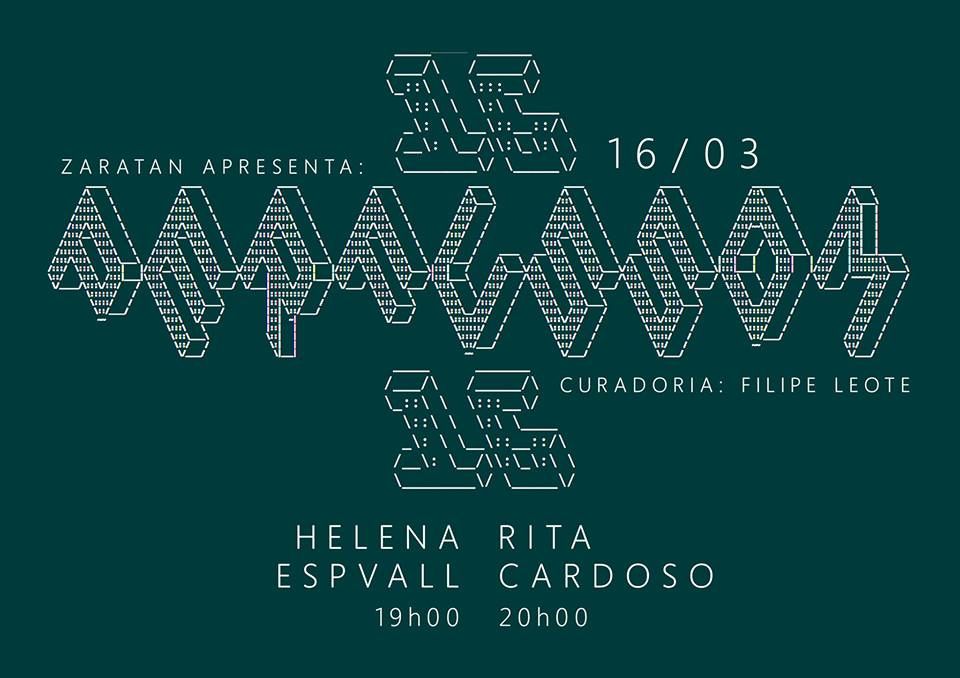 PERFUSSOM (16)
Helena Espvall + Rita Cardoso
March 16th at 7pm
Entry 3€ [monthly member fee]
PERFUSSOM is a cycle of live events between performance, music and poetry. PERFUSSOM follows a nomadic and undisciplined path, proposing the mixing of several expressive languages. With curatorship of Filipe Leote, it happens once a month at Zaratan. In this fourteenth session there will be performances by Helena Espvall and Rita Cardoso.
_____________________________________________________
HELENA ESPVALL > 19H00
Helena Espvall is a Swedish-American experimental cellist, based in Lisbon since 2012. When she is not busy playing concerts with various improvisational ensembles or with the band Beautify Junkyards, on rare occasions she performs the melancholic Swedish traditional songs she learned while growing up in North Sweden, on vocals and guitar. Saturday March 16th is such an occasion.
https://www.youtube.com/watch?v=NyuHjzgc1pY&fbclid=IwAR0-jXdO1WU72XDczio4-Fc68ISDKqauR7H2eXZ0HHnHZx9Lb0aG5M2lWAM&app=desktop
RITA CARDOSO > 20H00
After three years since the last concert, Rita Cardoso comes out of the hole and plays for the people like the one who puts the head outside to get more balance in order to bury it better.
From his CV are recorded some journeys to Paredes de Coura, Sudoeste and Caganças, the winning of competitions like "Termómetro", an EP, composition of music for amateur theater, Rain of Stars, collaborations with good artists and other things that would fit well here but we do not have time.
https://www.youtube.com/watch?v=6dxHzMlKV6I
https://soundcloud.com/rita-cardoso