FESTIVAL MÙLTIPLO | 13 - 14 - 15 AUGUST
13 Agosto 2015 16h00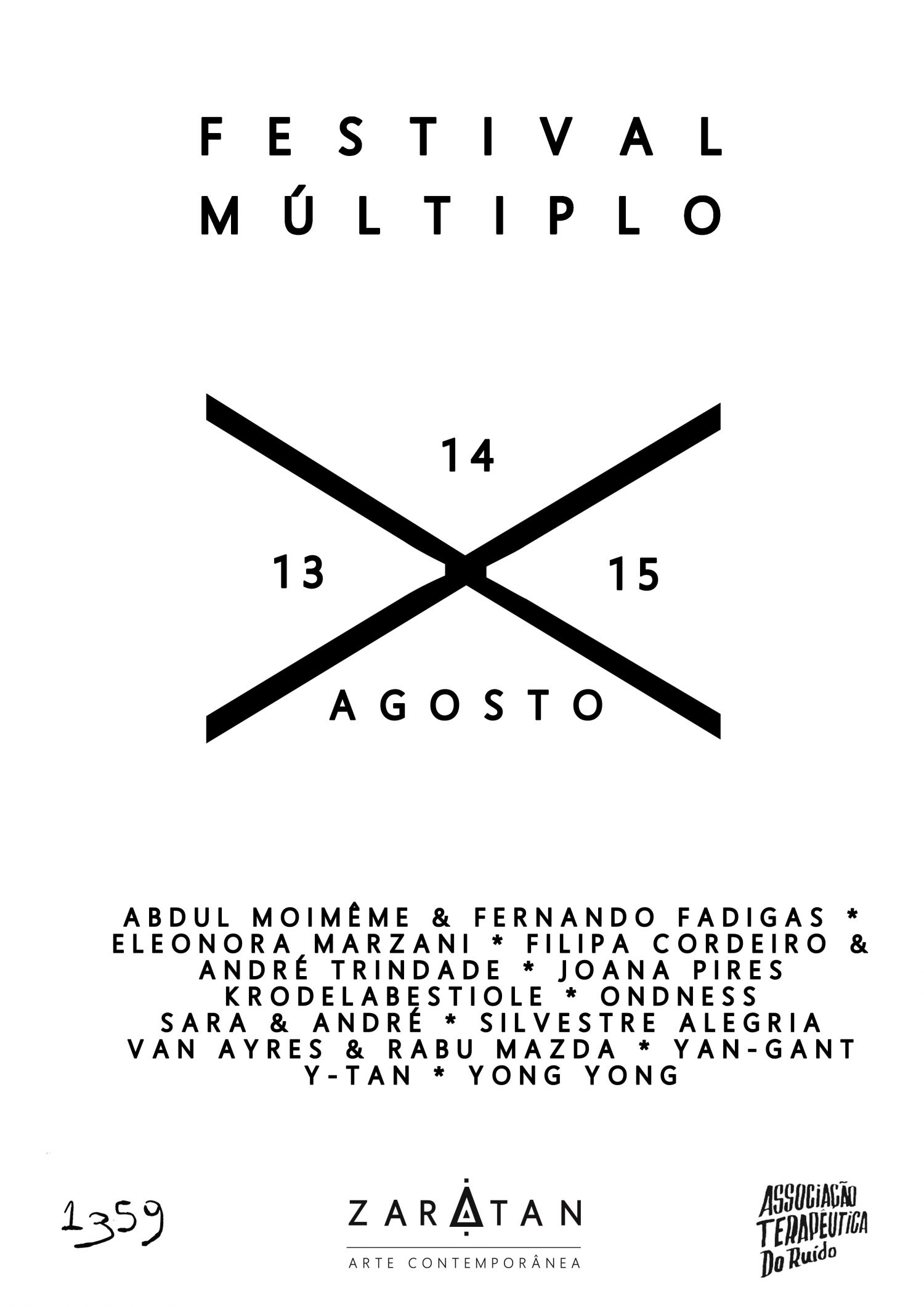 The gallery Zaratan - Arte Contemporânea, the publishing house 1359 and the music promoter Associação Terapêutica do Ruído present "Espaço Múltiplo", a new space of plural identities and cross-references that aims to promote the dissemination of independent cultural production. "Espaço Múltiplo" is a collective, a shop and a laboratory at the same time, it seeks to engage in a sustainable and interdisciplinary way a selection of individuals, entities and artists of the most interesting and avant-garde in the panorama of contemporary art, publishing and music.
The bookstore and atelier of independent editions 1359 focuses on short-run publishing and investigates the independent editorial scene between Portugal and Brazil. Beside acting as a prints house for artists multiple and publisher, 1359 is also proposed itself as a meeting point for books, illustration, photography, fanzines and artists' objects. The Associação Terapêutica do Ruído – A.T.R. ("Therapeutic Association of Noise") is an informal and shapeless entity devoted to the production and promotion of experimental music, driven bya DIY spirit. After months of programming with Zaratan - Arte Contemporânea and the publisher 1359, which resulted in cycles as the "Pré-Go" or "Sessões na Carvoaria", ATR setteld its headquarters in Espaço Múltiplo with its discs distributor and with its therapists of noise.
The production of artists multiple, small publications and editions has been an important part of the curatorial practice of Zaratan - Contemporary Art, in order to solidify, materialize, expand and multiply the experiences shared with the artists. With the opening of multiple space becomes visible this collection and creates a place to explore the reality of production, circulation and distribution of works of art.
For the opening of this new space, a Zaratan will host the "Festival MÚLTIPLO" on 13-14 - 15 of August. Organized in synergy with 1359 and ATR, we present three days of presentations and intersections between music, publications and multiple artists.


16h00 | Performance
"Q.d.P_ QUALCOSA DI PERSONALE" by Eleonora Marzani


17h00 | Concerts + Risographies launch
SESSÃO NA CARVOARIA #10 – Concertos de música voyeurista
Van Ayres & Rabu Mazda * Yong Yong * Abdul Moimême & Fernando Fadigas * Silvestre Alegria
16h00 | Multiple artwork launch
Sara & André
18h00 | Concert + book launch
LEITMOTIV #3 – Ciclo de Música Escriturada
Krodelabestiole (composer) + Joana Pires (artist) + Ondness (musician)
15 AGOSTO
16h00 | Book and tape launch
PRÉ-GO
18h00 | Screening + Concert
SESSÕES DA BUGANVÍLIA #3
Video: Verão Eterno (01:04:05) by Filipa Cordeiro & André Trindade
Concert: Yan-Gant Y-Tan

20h00 | Performance
"Q.d.P_ Qualcosa di Personale" by Eleonora Marzani
During the three day festival it will be open the individual exhibition "A Strange Form of Life" by Marta Alvim.