Sara & André | "Uma Breve História da Curadoria"
12 Janeiro 2019 18h00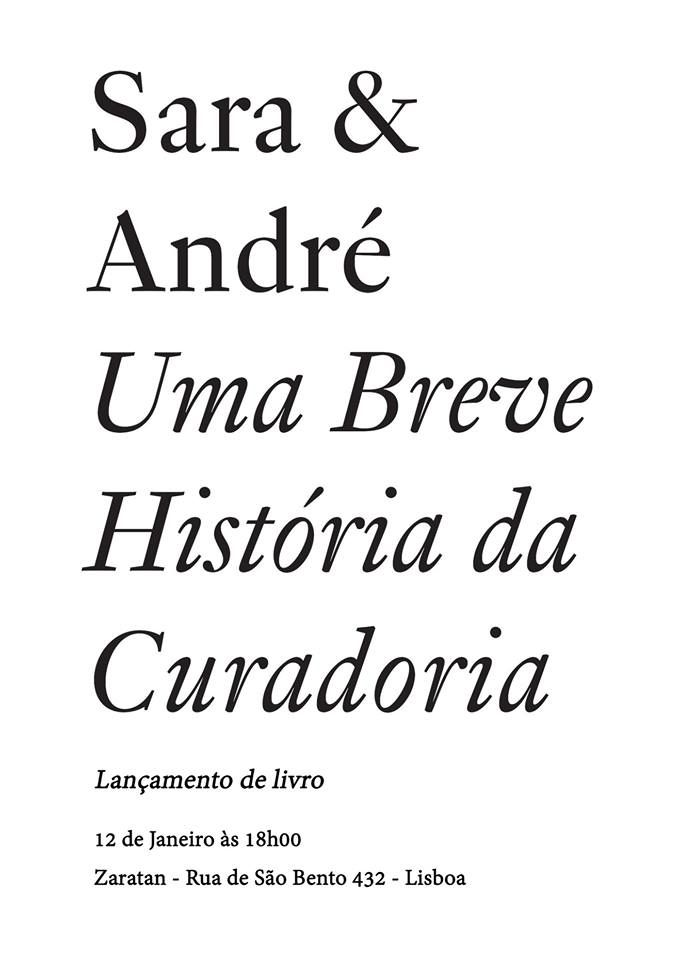 Sara & André | "Uma Breve História da Curadoria"
Book release
Zaratan is pleased to invite you to he book launch of "Uma Breve História da Curadoria"("A Brief History of Curatorship").
This publication is part of the exhibition cycle "Curated Curators", developed in Zaratan (May - August, 2017) by Sara & André around curatorship.
It documents the set of objects, works and stories presented by the participating curators, complemented by a series of interviews, which allows to peer individual and logical motivations of action.
These contributions, which are joined by a number of new names that for various reasons could not participate in the exhibitions, risk to map out the recent curatorial activity in the field of visual arts in Portugal.
On the occasion of the launch there will be concerts of the Llama Virgem and the trio composed by João Madeira, Paulo Curado and Nuno Rebelo.
BIO:
Sara & André (Lisbon, 1980 and 1979) studied respectively, Scenography at Escola Superior de Teatro e Cinema (Lisbon, 1999-2005) and Fine Arts at Escola Superior de Arte e Design (Caldas da Rainha, 1999-2005) . They exhibit regularly since 2006.